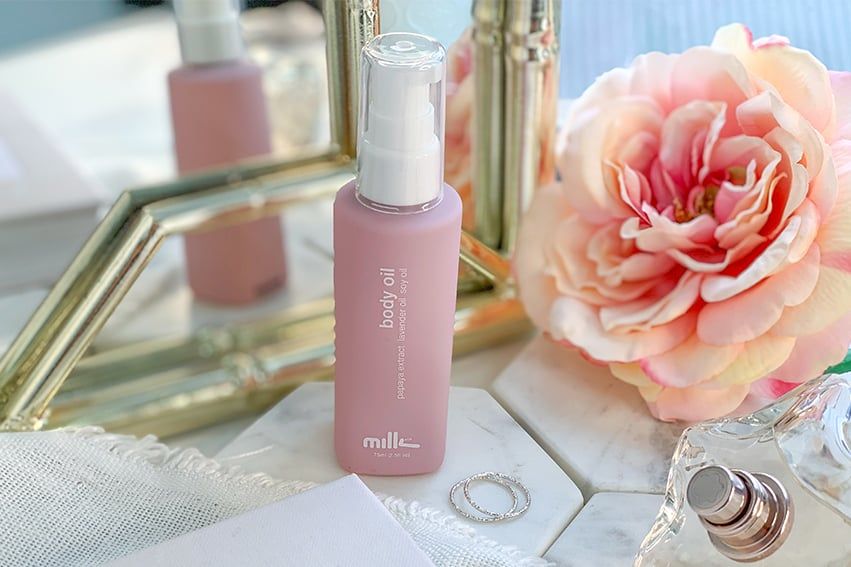 Summer is sadly over and as we head into the cooler seasons focusing on hydrating our skin will be paramount, The cold days bring a trifecta of skin irritants – the heating and the wind and constantly wearing long pants/jeans or stockings all mean that the moisture from our body is totally zapped. 
To combat the winter blues, daily hydration is key. But not all moisturisers or oils are created equal. So we went in search of one that ticks all the boxes. 
Milk and Co is an Australian owned and made brand and their goodies are naturally derived and contain effective formulas. Best of all their products are SIMPLE. Meaning no over powered fragrances, artificial colours or paraben.
This winning formulation combines the skin-loving benefits of Vitamin E, Vitamin A, Soy Oil, Calendula Oil, Lavender Essential Oil, Papaya and Rosemary Leaf Extract to lock in hydration and assist with the appearance of scars and stretch marks.
Calendula extract has been included for its unique and effective anti-inflammatory properties. 
Nourishing Vitamin E, papaya and rosemary leaf extracts help to improve the appearance of skin imperfections and uneven skin tone. 
Moisturising Soy oil is a great source of antioxidants and is proven to help protect skin from UV rays and treat skin damage caused by the sun. 
Free-radical fighting Vitamins E & A have also been included to protect the skin from environmental pollutants and UV damage.
Lightly scented with essential oil of Lavender, this body oil reminds us of holidays! 
Designed for skins of all types & ages; Milk & Co Body Oil is Paraben free, vegan, made in Australia and uses 100% recyclable packaging and is not tested on animals.