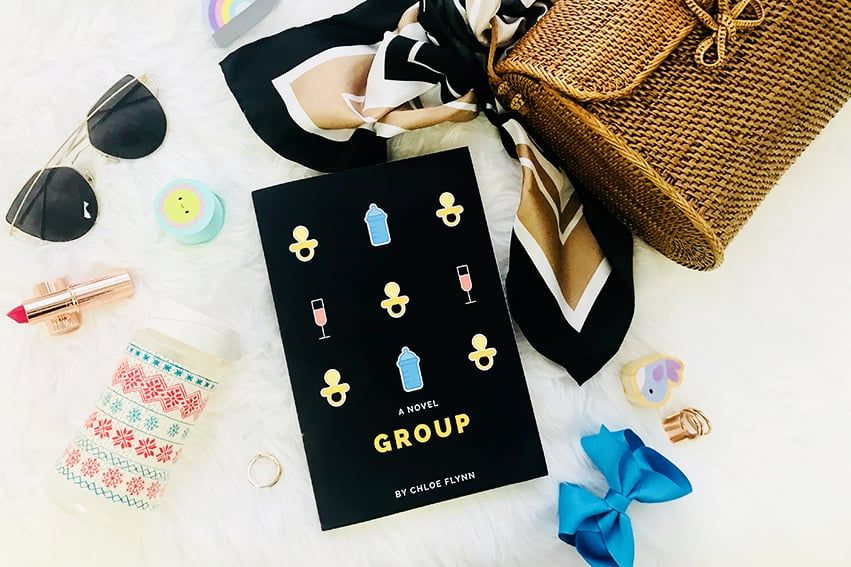 We relish our summers to get through our book bucket list. There's nothing better than sitting outside with a good book and a bowl of chopped mangoes and peaches getting lost in a completely different world. It's one of our favourite summer rituals.
One book that you definitely need to add to your summer book bucket list is 'Group' by Chloe Flynn. We cannot even begin to tell you how funny this book is; it'll have everyone, and mothers in particularly, rolling on the ground laughing. It's a tongue-in-cheek look at the weird and wonderful world of Mother's Group, which we're sure a lot of you will know is a secret domain dominated by mummy bloggers, alternative parenting methods, kiddie fashion shows and LOTS of activewear hahaha.
The book chronicles the life of Liv Huntley, who never saw herself as the Mother's Group type. In fact, there was no way she was going to become one of "those" mums. But with husband Hugo always at work and bestie Sophie distracted with her latest fling, the realities of life at home with daughter Annabelle soon starts to grate, and Liv begrudgingly joins her local bub's club.
To keep her brain from atrophying whilst on maternity leave, Chloe Flynn wrote Group to capture the sheer ridiculous of those early months as an inexperienced new mum. Chloe says Group is 'Chick Lit plus 10 years, a mortgage, a baby, and a lot less sex', which is probably the best description of a book we've ever heard haha!
Group is a humorous look at love, friendship, motherhood and finding allies in unlikely places. Oh, and coffee – lots of coffee. Always coffee!
If you love a good scandal like us, you'll seriously love this book. It's like Gossip Girl for mums. Throw in the isolation new mums face and the unseen challenges of motherhood with the hilarity of 21st century parenting and you've got yourself a cracking summer read!
To get your hands on a copy of Group, you can order a hard copy through the US's Amazon print on demand service or you can buy it as an e-book. We ordered the paperback version and it came within a week; it surprised us how fast the shipping was! If you download Group as an e-book, you can read it on your Kindle or simply download the free Kindle app for your device.
Get Group here and make sure you let us know how you like it!