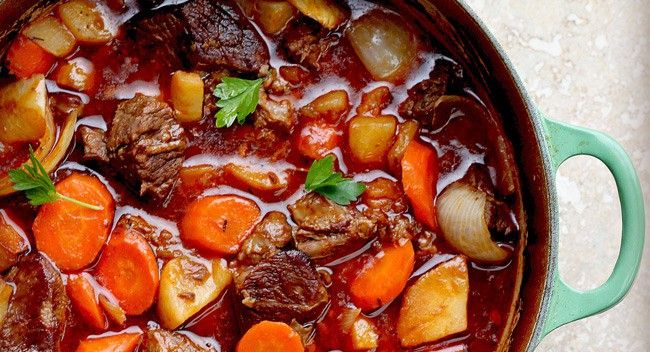 You know the drill. You get home from work, exhausted. There's laundry to do, bills to sort through and dinner needs to be prepped – pronto.
That's when I find myself looking for dishes like these – good, simple, honest meals that don't have you buried in washing up dishes an hour after dinner's over. Don't get me wrong – I love my fine dining, but during the week especially, I want a nutritious and satisfying meal that can be prepped and cooked in minimal time with minimal fuss – set and forget before you can say "what's for dinner?".
Here are a few of our favourite one dish wonders that'll have your mouth watering:
Basil, lemon and garlic roasted chicken (serves 2)
This is one fast, fresh, tasty dish. It's also a great one for entertaining!
What you'll need:
¼ cup chopped basil leaves
2 tablespoons lemon zest
2 cloves garlic, crushed
¼ cup (60ml) olive oil
2 x 250g chicken breast fillets, skin on and wingtip attached, trimmed
2 zucchini (courgettes), sliced
250g cherry tomatoes
¼ cup basil leaves, extra
lemon wedges, to serve
What to do:
Preheat oven to 220°C (425°F)
Place the basil, lemon zest, garlic and oil in a bowl and stir to combine.
Place the chicken and zucchini on a baking tray and spoon over the basil mixture. Roast for 10 minutes.
Add the tomatoes and roast for a further 5 minutes or until the chicken is cooked through.
Top with extra basil leaves and serve with lemon wedges
Sausage and lentil one pot (serves 4)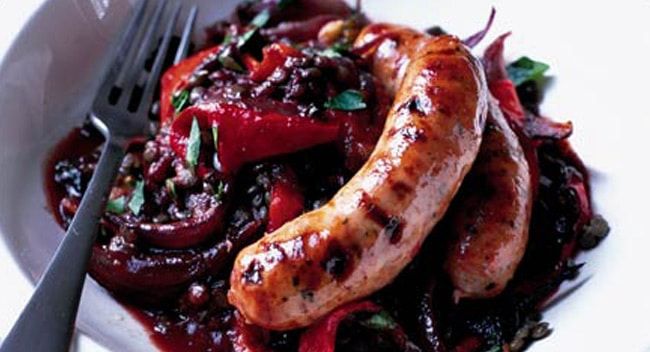 Nobody does comfort food like the Brits so this classic is sure to hit the spot on those extra chilly nights!
What you'll need:
1 tbsp olive oil
400g pack sausages
1 onion , finely chopped
1 garlic clove , crushed
1 red pepper , sliced
250g lentils (I like to use dried lentils, that I soak before cooking but if you're short on time you can use pre-cooked tinned lentils)
150ml vegetable stock
125ml red wine or extra stock
What to do:
Heat oil in a pan, cook the sausages until browned, then remove. Tip in remaining oil, onion, garlic and pepper, then cook, about 5 mins more until softened. Add lentils and sausages to the pan with the stock and wine, if using.
Bring up to the boil, then simmer for 20 mins or until lentils have softened and sausages are cooked through. Serve with plenty of crusty bread.
*tip: You can add additional veges to this dish, like frozen peas or broad beans plus a chopped carrot or two.
Fish in a bag (serves 2)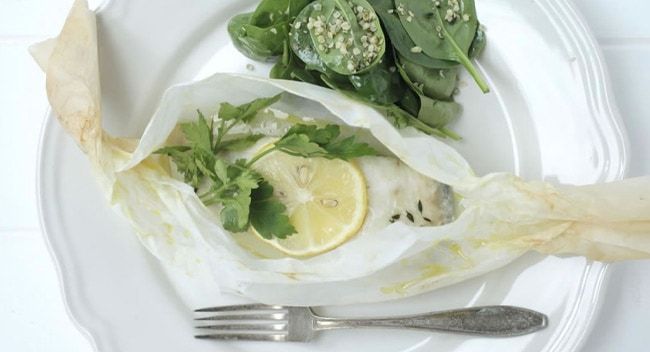 This is a quick, easy and super tasty dish that is also sure to impress your foodie friends. This couldn't be easier or more delicious.
What you'll need:
2 x 180 g fish fillet – (blue eye, salmon, ocean trout, barramundi, snapper)
2 teaspoons olive oil' • pinch sea salt'
1 lemon • thyme'
2 x pieces 40 cm x 30 cm baking paper
What to do:
Pre-heat your oven to 200 C.
Lay the two pieces of baking paper onto a working bench. Place a fish fillet into the middle of each piece of baking paper.
Spoon over 1 teaspoon olive oil onto each piece of fish. Season the fish with a little sea salt. Slice over a piece of lemon. Lay over a little thyme.
Enclose the fish with the baking paper by firstly folding both ends into the middle. Seal the ends, twisting the paper like a cracker.
Place onto a baking tray. Bake for 12 minutes until cooked through – this depends on the thickness of the fish.
Remove and place onto a serving plate. Serve with leafy greens or steamed green vegetables and enjoy.
White beans with cherry tomato and zucchini (serves 4)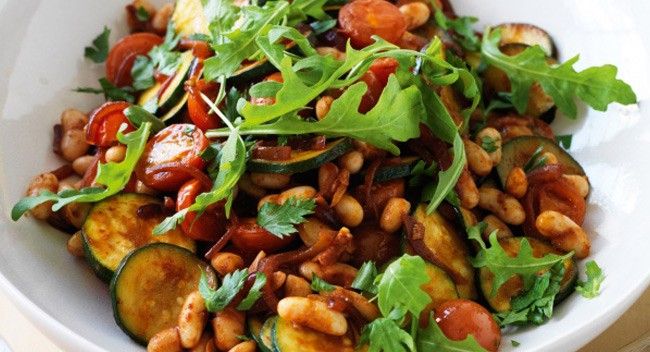 This dish is perfect when you're really pressed for time, or for a weekend lunch. It's filling and satisfying without loads of preparation. The leftovers even taste great the next day.
What you'll need:
1 tablespoon olive oil
1 medium red onion, halved, sliced
2 garlic cloves, thinly sliced
1 tablespoon mild paprika
250g cherry tomatoes, halved
1 medium zucchini, thinly sliced
420g can cannellini beans, drained, rinsed (or soaked and cooked beans)
1 teaspoon balsamic vinegar
1/2 cup fresh flat leaf parsley leaves, chopped
80g baby rocket
4 slices wholegrain low-GI bread, toasted, to serve
What to do:
Heat oil in a large frying pan over medium heat. Cook onion, stirring, for 5 minutes or until softened. Add garlic. Cook, stirring, for 1 minute. Add paprika. Cook for 30 seconds or until fragrant.
Add tomatoes and zucchini. Cook for 3 to 4 minutes or until tomatoes start to collapse. Add beans and vinegar. Cook for 5 minutes or until heated through. Stir in parsley. Season with pepper. Serve with rocket and bread.
*tip: Try adding in extra veges like broccoli (stalks included) to bulk up the dish some more and get extra nutritional value.
Recipes courtesy of taste.com.au, bbcgoodfood.com, thehealthychef.com and donnahay.com.au