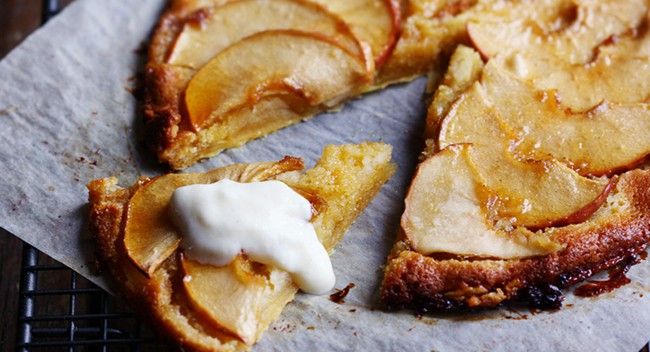 Ahhh the wonder of one dish desserts! Desserts are supposed to be the finale of the meal so the last thing you need is something complicated to create requiring 67 different bowls! The good news is that there are desserts out there that taste great without the clean up. The only downside to using one dish – only one bowl to lick!
Here are some of our favourite desserts using just one bowl, pan or dish:
Tarte Tartin (serves 6)
What you'll need:
500g puff pastry
5 small green apples
100g caster sugar
100mL of apple juice (subtitute for brandy if the kids aren't around)
1 vanilla pod
50g butter
What to do:
Preheat your oven to 190ºC.
Roll out your puff pastry until it's nice and thin (about 0.5cm thick).
Peel all your apples, take out the core and cut them in half length ways.
Take an oven-safe pan and pop it on a medium heat.
Add sugar, apple juice (or brandy) and vanilla pod sliced open.
Once the sugar has dissolved and it's gone a deep red colour, add your apples, coating them in the caramel.
Cook for a further 5 minutes until apples start to soften.
Add butter, cut into cubes, and lay the pastry over the top – carefully tucking the edges around the pan.
Bake in the oven for 25-30 minutes.
Flip it over onto a serving plate and serve with cream or ice cream.
Cheesecake for Cheaters (serves 4)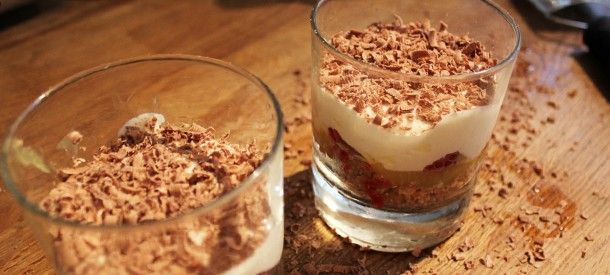 What you'll need:
8 Anzac biscuits
250mL tub of creme fraiche (or light sour cream)
1 teaspoon icing sugar
1 capful vanilla extract
1 jar of lemon curd (store bought is fine)
1 punnet raspberries
1 block of chocolate
What to do:
Wrap up biscuits in a tea towel and crush them with a rolling pin.
Divide the biscuits between 4 serving glasses and push it down firmly with the end of the rolling pin.
Take your tub of creme fraiche (or sour cream) and add the icing sugar and vanilla to it.
Dollop some lemon curd into the bottom of the serving glasses, then a few raspberries, then some of the creme fraiche mixture.
Repeat step 4.
Finish with a couple of raspberries on top and some shaved chocolate.
Poached Fruits (serves 4-6)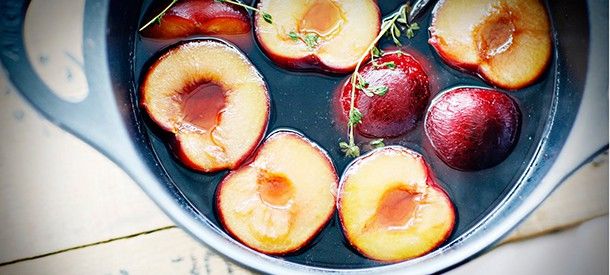 What you'll need:
2 of each: peaches, nectarines and plums
1 cup of water
4 tablespoons of Grand Mariner
1/4 cup caster sugar
1/5 cup Demerara sugar (available at supermarkets)
1 vanilla bean
1 cinnamon quill
What to do:
Preheat oven to 180ºC.
Cut fruit in half long ways and remove stone.
Take a deep baking dish and add water, Grand Mariner, caster sugar, vanilla bean and cinnamon quill.
Place fruit, cut side up, into the baking dish.
The poaching liquid should come about 1/4 of the way of the fruit. You may need to add more or less water depending on the size of your baking dish.
Sprinkle the Demerara sugar over the cut face of the fruit.
Place the baking dish into oven for 25-35 minutes, or once the fruits look soft and slightly caramelised on top.
Cool slightly in poaching liquid and serve warm with ice cream or cream.
*recipes courtesy of Jamie Oliver and adapted from Australian Food