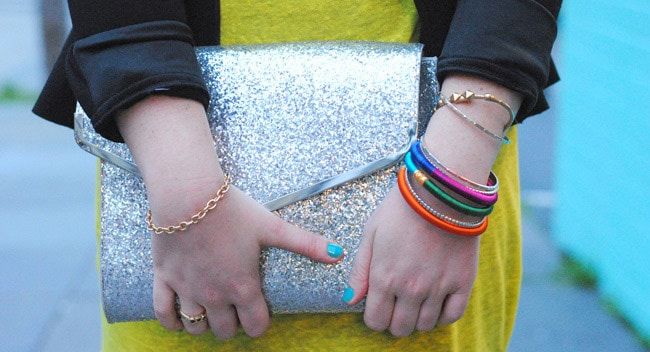 The Christmas presents are done, the party season is in full swing – but are you prepared for the very last (and first) party of the year?  Here's what we'll be packing in our party purse to make sure that our entry to 2014 is filled with glitter and kisses! 
 

On The Go Mouthwash

Too much onion dip before midnight? No problem! This incredible powdered mouthwash from Supersmile is apparently a favourite of Cameron Diaz, Jennifer Lopez and Justin Timberlake, and comes in a small sachet that fits easily in your purse! $25.00, pkt 24.

 

Lip Gloss

You want to check your lip gloss but the queue for the bathroom is waaaay too long. Well, no need to worry – this amazing ModelCo Lip Lights Ultra Shine Gloss features a mirror AND a light (I know, incredible!) so that you can sneakily (and accurately, more to the point) get your lips looking gorgeously kissable just before midnight. Lip gloss, $19.95.

 

Illuminiser

Maintain a shimmery, youthful glow by spraying ModelCo Shimmer Airbrush Illuminiser over the top of your makeup. It will leave you feeling refreshed and rejuvenated when you start to feel yourself fading later in the night! Illuminiser, $11.95.

 

Party Feet

Ohhh, those heels are to die for. Until you've been on your feet all night and all you want to do is go home and plunge your tired tootsies into a nice warm bath! Scholl have the answer, thankfully!  The best for wearing with heels we've found are the Ultra-slims, $10.99.

 

Foldable Flats

Love these gorgeous roll-up flats from Tipsy Toes that fit neatly in your clutch. No tipsy tripping over in heels for you! Plus your weary feet will thank you when you're walking home from your fab party! Our faves are the Bright Spark Silver, $5.50.

 

Phone charger

Want to send a bunch of happy new year texts?  Have someone special to call at midnight?  Then make sure you take a charger with you.  If your standard charger is too big then take a battery extender instead… you'll be grateful! 

 

Hangover helpers

No matter where you end up on January 1st, it's likely that you'll not be at your sparkly best, even if you haven't been drinking!  Make sure you've got easy access to some painkillers, Berocca, refreshing eye-drops and a bottle of water – preferably without having to leave your bed!
Happy New Year!!