If you're like us, you've probably tried every nail trend in the book… French nails, acrylic nails, shellac nails, SNS nails, matte nails, nails that change colour, nails that clean the kitchen… okay, we made that last one up, but you get the point. Ha ha!
The issue is, no matter how many new nail trends we try, we always run into the same old issue – dry, damaged, unhealthy-looking nails.  Don't get us wrong, there's always that initial post-mani period where your nails look healthier than ever.  But fast-forward a couple of weeks and it's a whole-nother story…they've gone from totally snap-worthy to, well, almost snapping off!  
Unfortunately, this is because most nail polishes actually contain some pretty harsh ingredients that don't do your nails any good.  To us, this just doesn't seem right.  I mean, we live in the age of wrinkle-reducing makeup and strand-strengthening hair dye.  So why can't we get a gorgeous polish that nourishes our nails at the same time?  
We know we're not the only ones who feel this way.  In fact, this insight is exactly what inspired Sally Hansen's latest innovation in nail polish…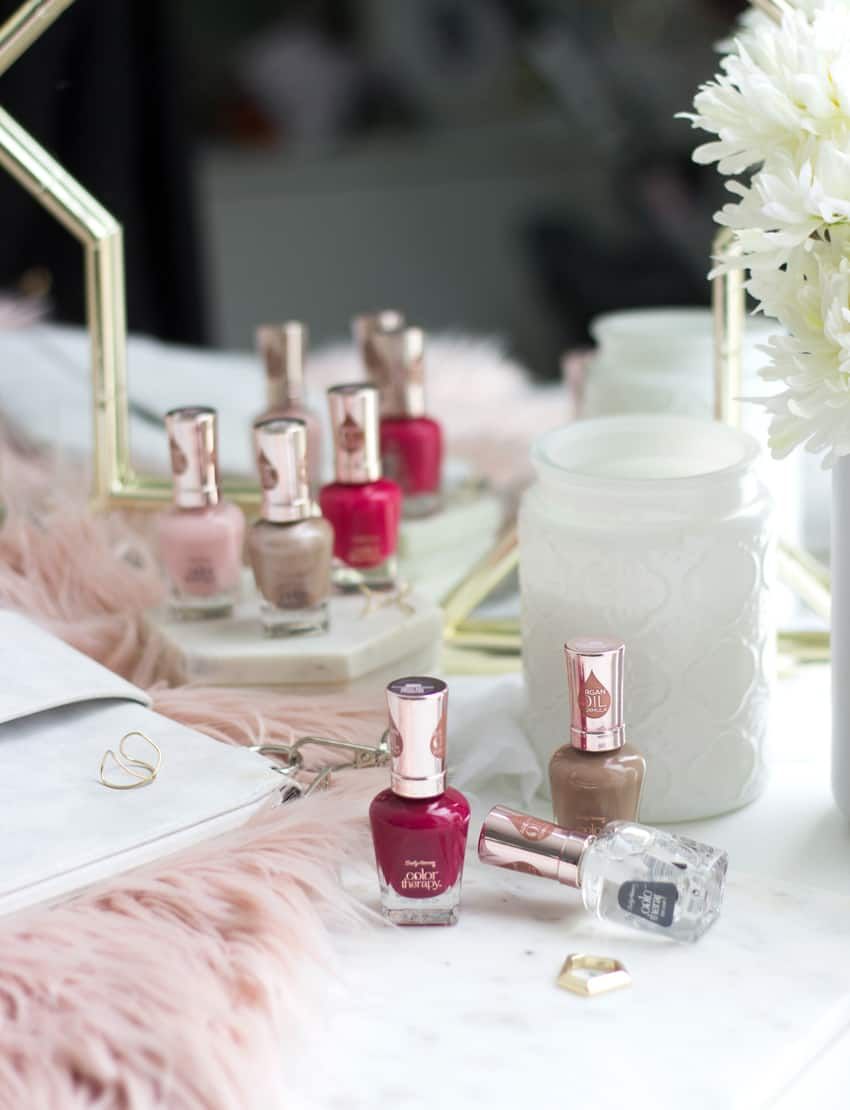 Say hello to Colour Therapy – the cool new nail polish that 'cares while you wear'.  Yep!  According to the experts at Sally Hansen, this polish has a special micro-delivery system that infuses your nails with a nourishing blend of Argan, Acai and Evening Primrose Oil, which helps to moisturize, and strengthen your nails from with in.  How amazing is that?
We were super excited when we found this polish.  But of course, there's always a bit of skepticism when you buy 'natural' or 'healthy' beauty products – sure, I know it's good for my nails, but does it work as well as the others?  So we decided to put it to the test to see if it matched up with some of our salon favourites like shellac.
The first thing we noticed is that the whole application process is super easy.  First, you apply 2 coats of the colour polish, then you apply the top coat and lastly, you brush on 1 coat of the nail and cuticle oil.  We love this process because although it only takes about 10 minutes tops, it helps to create that leisurely, salon-like experience, without even having to leave the house!  And the fact that the polish comes with a stunning, rose-gold bottle top only adds to the whole luxury experience.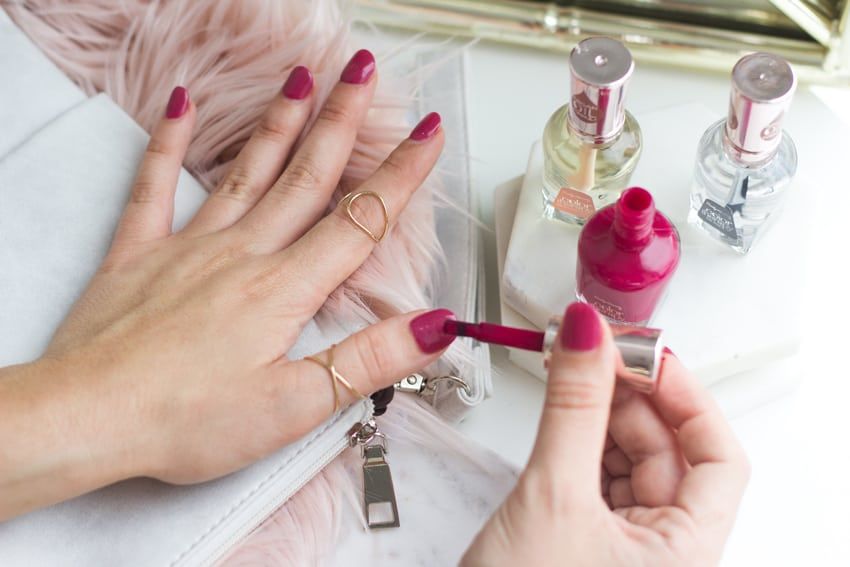 As soon as the polish dries, the colour is absolutely popping.  And even after 10 days, it's still sleek, shiny and free from any chips or scratches.  We are super impressed, to say the least.  This Colour Therapy polish seems to hold up even better than some of our old faves, PLUS it cares for our nails at the same time.  Got to love that double-duty!
With 14 gorgeous colours to choose from, there's a Colour Therapy polish to suit every mood.  We personally love 'Chai On Life' (a warm, calming, taupe shade) for a classic everyday look.  If we're heading out at night for an event, we like to use more vibrant colours like 'Ohm My Magenta' (a lustrous maroon shade) or 'Ready to Glow'(a medium red tone).  
If you like the idea of an easy, salon-like experience at home that leaves you with healthy, strong, perfectly polished nails, then you've got to try this new Colour Therapy polish by Sally Hansen. You can pick yours up from Priceline, Terry White Chemists, Chemist Warehouse and other independent pharmacies all across Australia.
Trust us, you won't look back!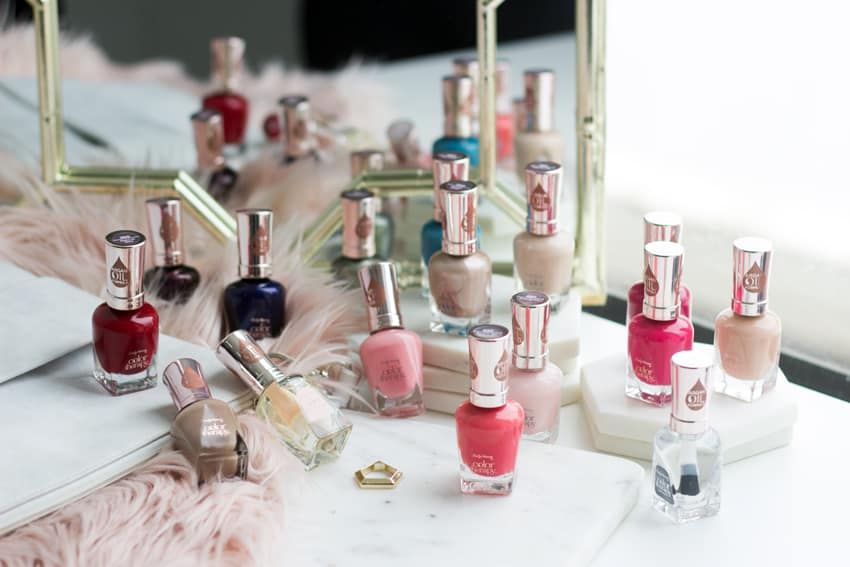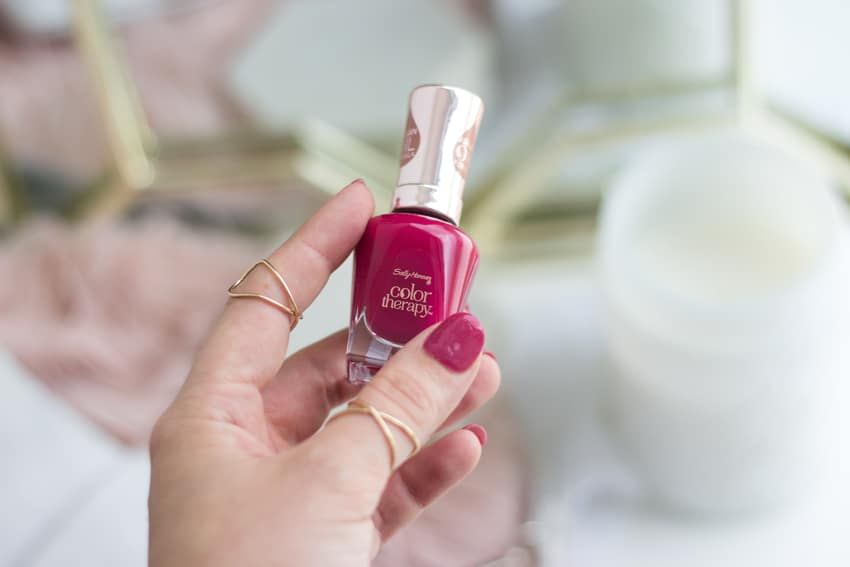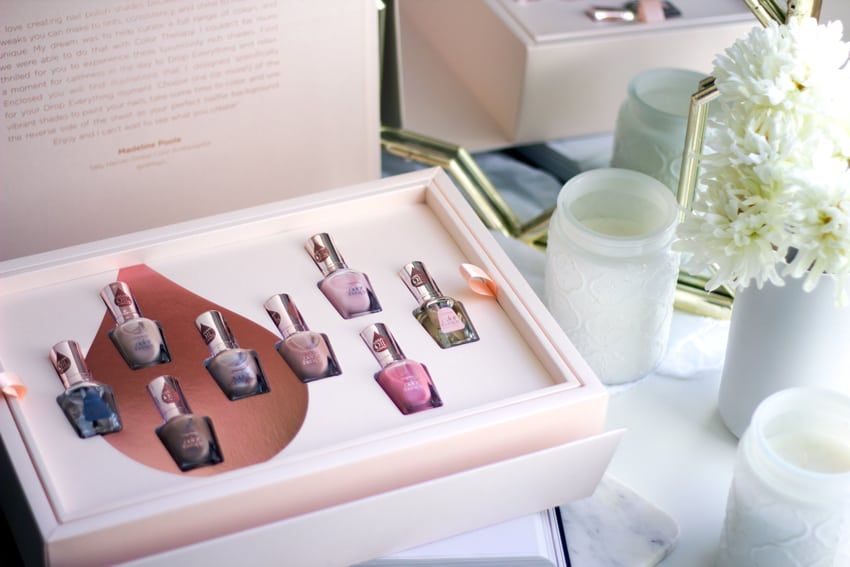 This post is sponsored by Sally Hansen but all thoughts and opinions are our own.