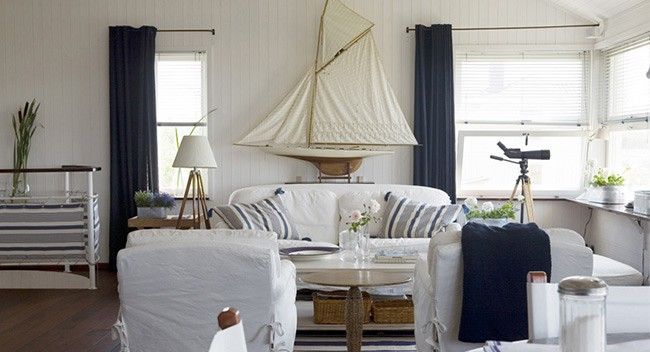 I love being seaside – it's therapeutic, calming and refreshing, so it's no wonder that I love bringing a touch of the sea to my home. Adding a nautical accent is so easy and can really change the feel of a room or house.
For an instant change incorporate a nautical colour palette. Start with white walls, and add shades of blue, cream and even scatter pops of red throughout.
We love anchors, paddles, stripes and a mixture of textures like woven materials, sea grass, bamboo and wood.
Feeling inspired by the beauty of the sea? Us too! Shop our top picks to bring a touch of nautical life to your home…. 
Storm Light Nautical Desk Light

 

This gorgeous lamp adds a hint of old-world sailing to your desk or table top. A perfectly understated statement. $275.00, find it here.

Navy Stripe Quilt Cover

 

Want to bring a touch of the high seas to your bedroom? We recommend this gorgeous quilt cover set for a fresh look. A steal at just $69.95, find it here.

Red Stripe Floor Rug

 

This floor rug is subtle enough to blend in with most interiors yet will still give your home that rustic, sea worn feel. Love the simplicity of this piece. $149.95, get it here.

Driftwood Bowl

 

This bowl is beyond gorgeous! The perfect decorative piece. Just $89.95, find one here. 

Ocean Coral Candle

 

This Michael Aram Ocean Coral Candle looks gorgeous and smells like the fresh ocean air – $79.00, David Jones. Get it here.
Nautical Wall Art

 

These handmade burlap prints can be customised to your choice of colour. $22.18, Etsy.

Stripe Cushions

 
 

Love these bright yellow stripe cushions – they're water resistant so can be used outdoor as well. $54.95, Zanui. Get it here. 
Check out our gallery for more nautical interior inspiration…