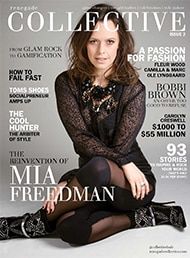 The incredible Mia Freedman, of mamamia.com.au graces the cover of the current issue of one of my favourite mags, Renegade Collective.
Mia is so genuine and so authentic, that not only does she open up about needing to reinvent herself after many years working in magazines, but her photo on the cover of the mag is 100% her i.e. no retouching! It's so refreshing, and frankly, Mia is so gorgeous, as if she needs her photo retouched anyway!
What I love about the article is that Mia is so candid – she openly discusses her battle with anxiety and borderline depression that came after she left the world of magazines and then tried her hand at TV. The move to TV didn't really work out and left Mia unsure of what to do next. She used an online blog to reclaim her identity and find her voice, and the rest as they say, is history.
Mamamia.com.au is undoubtedly a much loved blog in Australia and in the article, Mia shares some excellent advice with budding entrepreneurs.
Renegade Collective is on sale now.