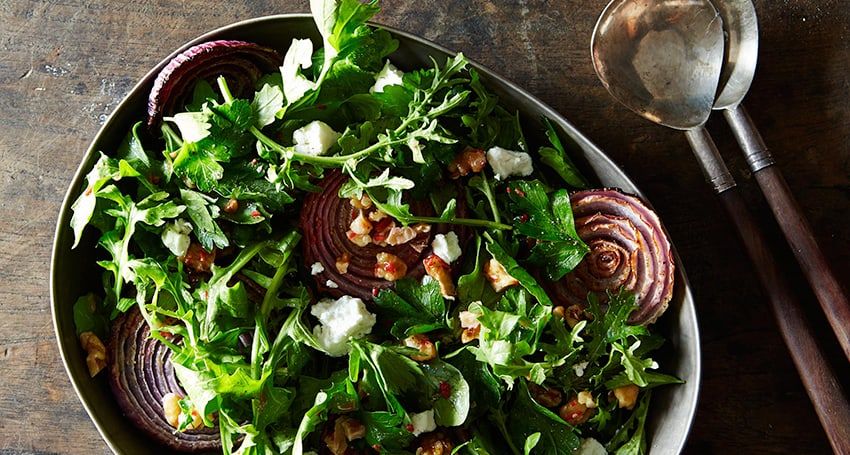 You know I love my veggies (hello Super Green Smoothies!). Lately, I've taken it one step further and have been going one day a week with absolutely no meat following the Meat Free Monday movement.
Why? Well first off, there are the clear health benefits including a stack of vitamins and nutrients from all the extra veggies I consume. We're always being advised to eat more veggies and this is one easy way to do it – knowing that every Monday will be meat-free, it just becomes a habit.
It also helps take the pressure off factory-farmed arnimals and by doing one day a week meat free we're helping to reduce the global greenhouse gases emitted from livestock production.
Thirdly, I love the challenge of coming up with new veggie recipes – I'm getting creative in the kitchen with fresh winter produce, beans and grains.  One of my fave celeb chefs, Jamie Oliver also promotes meat free Mondays, and has  developed some insanely yum recipes to back it up.
It's no wonder that a heap of celebs like Gwyneth Paltrow, Stella McCartney, Kevin Spacey and Ricky Gervais have also gotten on board.
So if you're still not sure if the whole meat-free thing is for you, here are a few mouth-watering recipes that might just help you make up your mind…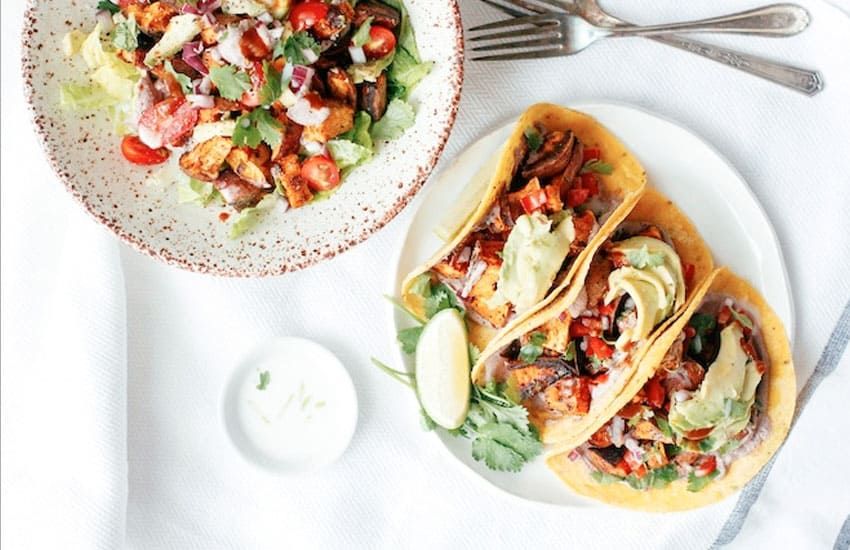 SWEET POTATO PECAN TACOS

Ingredients:

Instructions:

4 cups diced sweet potatoes

BLACK BEAN PECAN CREAM

½ cup canned light coconut milk

2 cups cooked or canned black beans, well rinsed

1 cup pecans

Juice of 1 lime

½ teaspoon ground cumin

¼ teaspoon ground sumac

½ teaspoon sea salt

2 garlic cloves

½ jalapeno

Freshly ground black pepper

4 corn tortillas

LIME COCONUT CREAM

Juice of 1 lime

½ canned light coconut milk

Pinch of sea salt

GARNISH: chopped romaine, chopped jicima, sliced radish, fresh cilantro, sliced avocado, jalapeno

Preheat the oven to 200C. On a lined baking sheet, add chopped sweet potatoes and drizzle about 1-2 tablespoons of olive oil, sprinkle with sea salt, freshly ground black pepper, ground cumin, and a pinch of ground cinnamon all to taste. Bake for 35-40 minutes or until tender. Set aside.

In the meantime, make the black bean pecan cream in a food processor by combining coconut milk, pecans, and black beans to create a paste. Add fresh lime juice, ground cumin, garlic, jalapeno, ground sumac, sea salt and black pepper. Adjust seasonings to taste.

To make the lime cream, in a small bowl pour the coconut milk and squeeze fresh lime juice and a pinch of salt, stir to combine.

To serve: gently warm corn tortillas in the oven (or on a skillet), dollop about 2-4 tablespoons of the black bean cream onto 1 corn tortilla, place roasted sweet potatoes on top, drizzle lime coconut cream and add whatever garnishes you like. Easy, delicious, nutritious and meat free!

 

 

Original recipe

here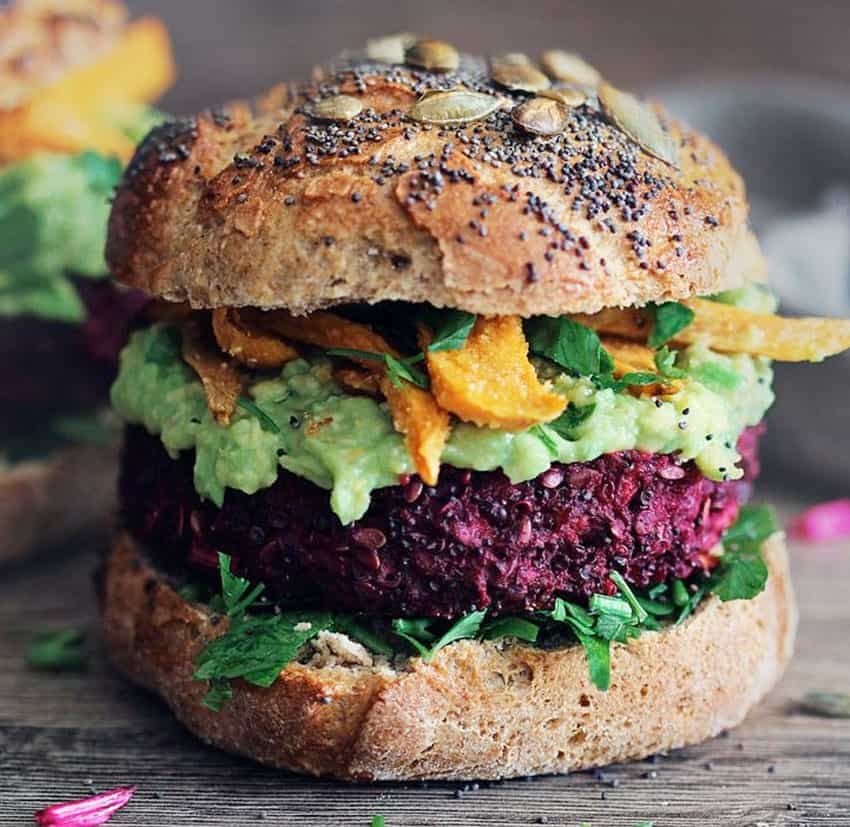 THE ULTIMATE VEGIE BURGER & FRIES

Ingredients:

Instructions:

For the Burgers

1 cup beetroot, peeled and cut in cubes

½ cup red quinoa (white is just as fine), cooked

1 tbsp olive oil

1 egg

1 onion, finely diced

2 garlic cloves, crushed

2 tbsp wholemeal bread crumbs

1 tbsp flax seeds

1 tsp coconut oil, melted

2 tbsp lemon juice

¼ tsp chili flakes

1 tsp pink Himalayan salt

For the Dressing

1 ripe avocado

2 tbsp tahini (sesame paste)

3 tbsp lime juice

1 garlic clove

¼ tsp pink Himalayan salt

For the Fries

2 sweet potatoes, peeled and cut in ¼-inch long slices, then ¼-wide inch strips

1 tsp olive oil

1 tbsp cornmeal

For assembling

4 Wholemeal buns

1 bunch of parsley, finely chopped

Preheat the oven at 175°C

Place the beetroot cubes on a lined baking tin, rub with olive oil and roast for 30 minutes.

Remove from the oven and set aside to cool.

Place the roasted beets in a food processor and pulse two or three times – you need some texture for the burgers, so make sure you don't mash them completely.

Transfer the beets into a large bowl, add all the other ingredients and stir to combine. If the texture is too mushy add more bread crumbs until you obtain the desired consistency.

With slightly wet hands, shape the burgers and place them on a lined baking sheet.

Bake in the oven for 15 minutes on one side, then flip over and bake for 15 more minutes.

Place the sweet potato strips on a lined baking sheet, rub with olive oil, than sprinkle with cornmeal and toss to combine.

Bake for 25-30 minutes, or until golden brown. They will be ready in the same time with the burgers.

While the burgers are baking, prepare the dressing.  Place all the ingredients in the food processor and process to obtain a creamy sauce.

Assemble the burgers immediately after removing from the oven.

Cut the bun in halves, spread bun bases with dressing, add the beet burger and sweet potato fries, top generously with avocado dressing, parsley and put on the bun top.

Serve immediately.  Enjoy!

Original recipe

here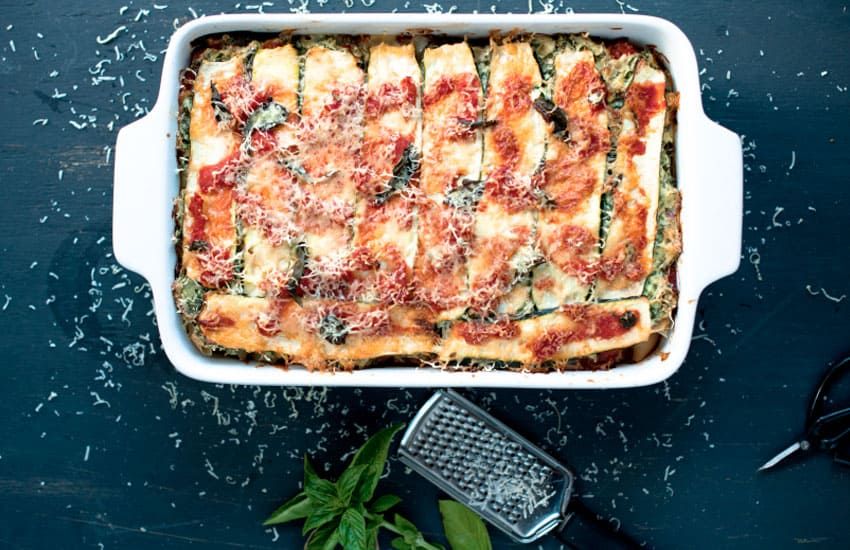 SUPERFOOD LASAGNE

Ingredients:

Instructions:

600g Pumpkin peeled, chopped 2 cm pieces

Olive oil

300g ricotta cheese

1 bunch kale, finely chopped and stalks removed

1 egg

½ brown onion, finely diced

1 clove garlic crushed

4-5 medium zucchini, cut into ribbons

1  tin organic diced tomato

1 cup gluten free pasta shells or 1 cup re-cooked quinoa

3 sprigs basil leaves

¼ cup chicken stock

1 handful of coriander leaves

Salt and pepper

Parmesan/tasty cheese grated

Preheat oven to 200C

Place the pumpkin in a heat-proof glass dish, coat with the olive oil, season with salt and pepper.

Roast for 40 minutes until soft and coloured. Remove and set aside.

In a small frying pan add a dash of olive oil and bring to a medium heat.

Add the diced onion and cook for 7 minutes until soft and translucent.

In a bowl combine the ricotta, cooked onion, 1 egg, kale and garlic, salt and pepper, mix until fully incorporated.

In a ceramic rectangular baking dish add 1 tablespoon of the diced tomato and spread it across the base to reduce the chance of sticking.

Add a layer of zucchini to cover the base completely, yet evenly.

Top with the roast pumpkin in a single even layer

Repeat with another single but even layer of zucchini.

In a single layer, evenly distribute the pasta or quinoa

Pour over 1/3 of the diced tomato

Sprinkle with some shredded basil leaves.

Repeat with another layer of zucchini ribbons.

Spread the ricotta and kale mixture evenly to cover with the back of a spoon or rubber spatula.

Pour over the 2nd 1/3rd of the diced tomato.

Top with the final layer of zucchini ribbons.

Pour over a 1/4 cup of chicken stock.

Pour over the remainder of the tomato, swirl around with a back of the spoon to evenly disperse.

Scatter the basil leaves randomly over the top.

Sprinkle with the finely grated Parmesan/tasty cheese.

Bake in the middle of oven for 1 hour or until done and golden.

Original recipe

here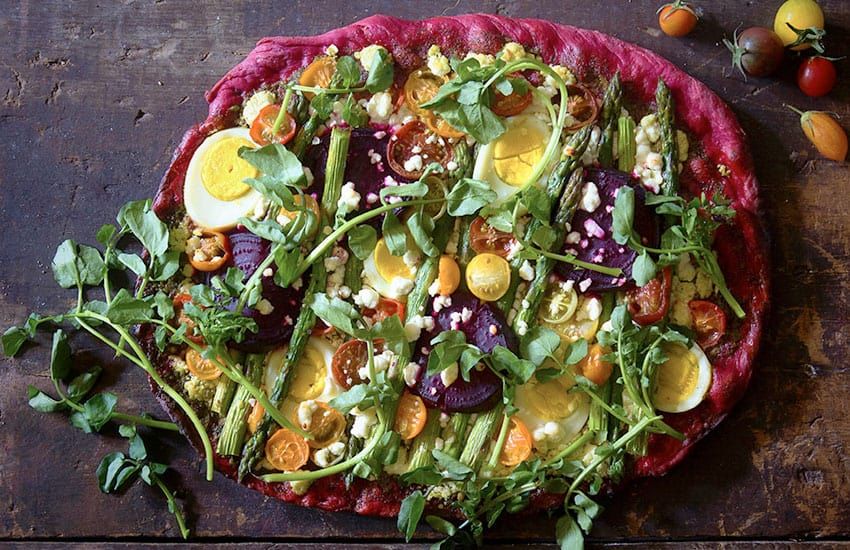 BEET CRUST PIZZA

Ingredients:

Instructions:

Crust (makes two 30cm crusts)

1 cup lukewarm water

2 teaspoon active-dry

2 cups unbleached all-purpose flour

1.5 teaspoons sea salt

2 teaspoons honey

¾ cup pureed beetroot (about 2 large beetroot, roasted and peeled)

Topping

115g goat cheese

10-12 stalks of asparagus, trimmed, blanched and then tossed in 1 tablespoon of olive oil and ¼ teaspoon of salt and pepper

3 soft boiled eggs, sliced

1 roasted beetroot, sliced

Approx. 120g mini heirloom tomatoes, halved

3-4 tablespoons pesto (optional)

1 handful of watercress (optional)

To make crust:

Place pizza stone on lower middle rack. Heat oven to 260° C.

Combine and stir water and yeast in a mixing bowl until mixture resembles miso soup. Add flour salt, honey and pureed beets to yeast mixture and combine until dough just comes together.

Turn the dough onto a lightly floured surface. Knead the dough until the flour is incorporated, about 5 minutes or until it is smooth and elastic. The dough should be moist and slightly tacky. (If it's sticky, add in more flour 1 tablespoon at a time until smooth). Form dough into a ball. Lightly oil a bowl and place dough in, turning once to coat dough with olive oil. Cover with plastic wrap and set aside in a warm area to double in size, about 1.5 to 2 hours. Once doubled evenly divide dough in half and refrigerate one half for another time or double the topping recipe to make two 30cm pizzas.

Lightly grease a sheet of parchment paper with olive oil. Transfer one ball of dough to parchment and stretch it out by hand as much as possible. Lightly brush olive oil on another piece of parchment paper and place it on top of hand-flattened dough. Use a rolling pin and work from the middle of the dough outward to flatten dough to ½ cm thickness. Peel off top parchment paper.

Assembly:

If using pesto, evenly spread it on the crust with an offset spatula or the back of a spoon, leaving 1cm border. Top with about 85g goat cheese and layer with asparagus, soft boiled egg slices, mini heirloom tomatoes and remaining 30g of goat cheese.

Slide the pizza (with the parchment underneath) on to the hot pizza stone. Bake for 3-5 minutes until pizza crust starts to slightly brown. Rotate the pizza once and remove parchment, continue to bake for another 3 minutes.  Remove from oven. 

Optional: Garnish and with watercress, or any choice of greens you prefer.  Slice and serve.