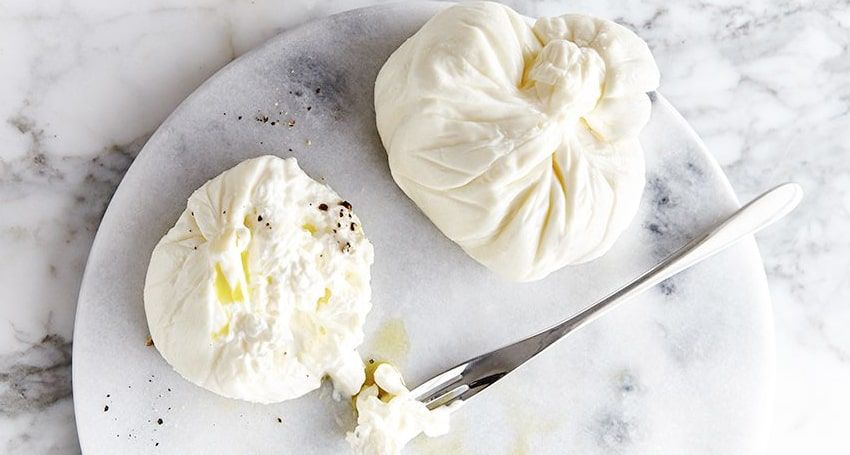 When having friends over for lunch or dinner, one of my must-haves on the menu is always a cheese dish – whether as a starter or a side, there's nothing better than catching up and chowing down on all that delicious goodness.
I'm practically drooling just at the thought right now! I know quite a few people who avoid cheese because they think it's a total indulgence that will go straight to their thighs. It doesn't have to be like that, though. There are plenty of types out there that are actually quite low in fat and high in the good things like calcium and protein.  Which makes the addition of cheese to a delicious salad or other vege-based dish a healthy option! HOORAY!
If you're a bit of a cheese fanatic like myself, you might like to consider swapping out meat in some dishes for a cheese instead of having both. This will help to limit the amount of calories you're consuming but you won't lose out on any flavour. Bonus!
Don't know where to start?  We've picked out some super yummy, low-cal recipes for you to try. Sweet dreams are made of cheese…
Ricotta
I absolutely love ricotta, mainly because it's so versatile!  The mild flavour and creamy texture go well with just about anything. It is often used in desserts, baked ricotta cheesecake anyone?!  Ricotta is a whey protein so its made from the left over whey used to make mozzarella and provolone.  It's high in protein, low in fat and has about 5 times as much calcium as cottage cheese!  You can definitely afford to go a little crazy with this one…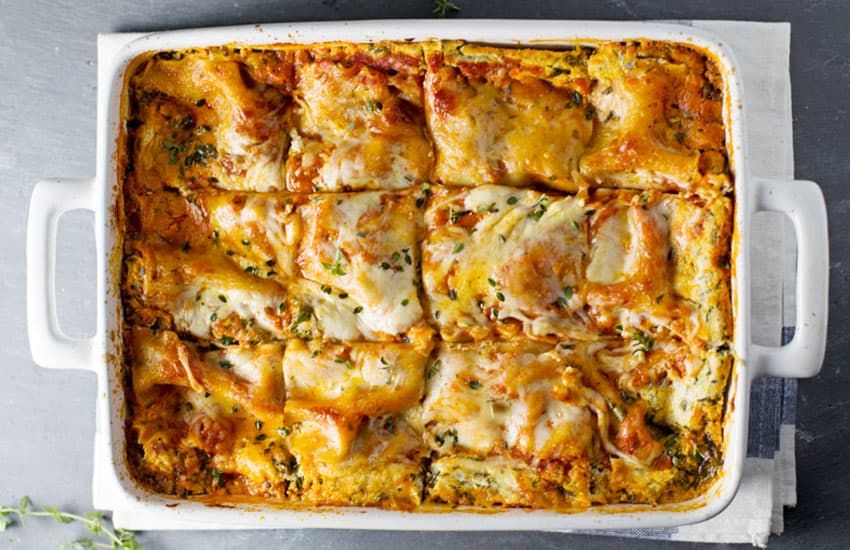 SKINNY SPINACH LASAGNE
Serves 12
INGREDIENTS
METHOD

1 tablespoon minced garlic
2 teaspoons minced fresh thyme
170g fresh spinach
500g ricotta cheese
1 egg
½ teaspoon salt
¼ teaspoon nutmeg
A squeeze of lemon juice (optional, to taste)
12 no-boil lasagne sheets (replace with sliced eggplant for a gluten-free option)
700g jar of spaghetti sauce
2 cups shredded mozzarella cheese

Melt the butter in a large pan over medium heat. Add the garlic and thyme, saute for 2-3 minutes. Add the spinach, saute until just barely wilted, about 2 minutes. Remove from heat.
In a large bowl, combine the ricotta, egg, salt, nutmeg, and a squeeze of lemon juice. Add the spinach and stir to combine. Transfer some of the mixture to a food processor and pulse a few times to break up some of the spinach pieces (totally optional, but makes for a really nice texture).
Preheat the oven to 190C. Spread a little bit of tomato sauce in the bottom of a 23cm x 33cm pan. Layer with 3 lasagne sheets (or sliced eggplant), ' of the spinach mixture, ¼ of the tomato sauce, and ¼ of the cheese. Repeat and pour ½ cup water over the two layers. Repeat once more, ending with lasagne sheets (or eggplant), sauce, and cheese. Pour ½ cup water over the whole thing again and cover tightly with oiled foil.
Bake for 30-40 minutes; when the liquid is bubbling and the lasagne sheets (or eggplant) have softened, remove the foil and bake uncovered for 10 more minutes. Let stand for 10-15 minutes before serving so that the lasagne sheets (or eggplant) can soak up all the extra moisture. Serve with a green salad. Troppo buono!

*Original recipe here
BURRATA
Burrata is a little less common than some of these other cheeses but boy is it delish. This fresh Italian cheese is made from both mozzarella and cream.  It's high in protein and calcium, but reasonably low in calories.  The best part about it though is definitely its thick, creamy inside.
The unique flavour and different textures within a burrata ball make it perfect for a salad, drizzled with olive oil or with a slice of crusty bread.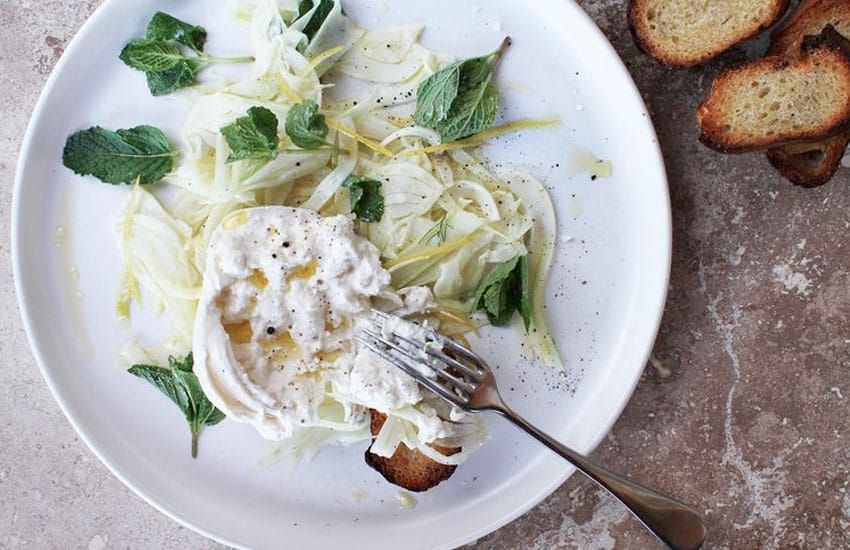 LEMON OLIVE OIL MARINATED FENNEL WITH BURRATA MINT
INGREDIENTS
METHOD

2 medium heads fennel, cored and very thinly sliced
2 tablespoons olive oil, plus more for serving
6 strips lemon zest, thinly sliced
2 tablespoons lemon juice
230g burrata
½ cup fresh mint leaves
Salt and freshly ground black pepper
Grilled bread slices, for serving

Place fennel, oil, zest and lemon juice in a shallow dish; season with salt and pepper. Let stand 10 minutes. (Meanwhile, grill bread slices, if serving.) Just before serving, arrange fennel salad on a large platter. Scatter burrata and mint over fennel. Drizzle with additional olive oil, if desired. Heap onto bread and enjoy!

*Original recipe

here
Buffalo Mozzarella
It's called 'Buffalo' mozzarella because it's traditionally made from the milk of Italian buffalo.  These days though its mainly made from cow's milk.  Mozarella is thick and chewy and tastes amazing with pizza, pasta or grilled vegetables or just by itself.
Always try and get fresh mozzarella if you can, it is best eaten within a day after it is made (I guess that means we have to eat it all now, right? Like I always say, never eat tomorrow what you can eat today hahaha!)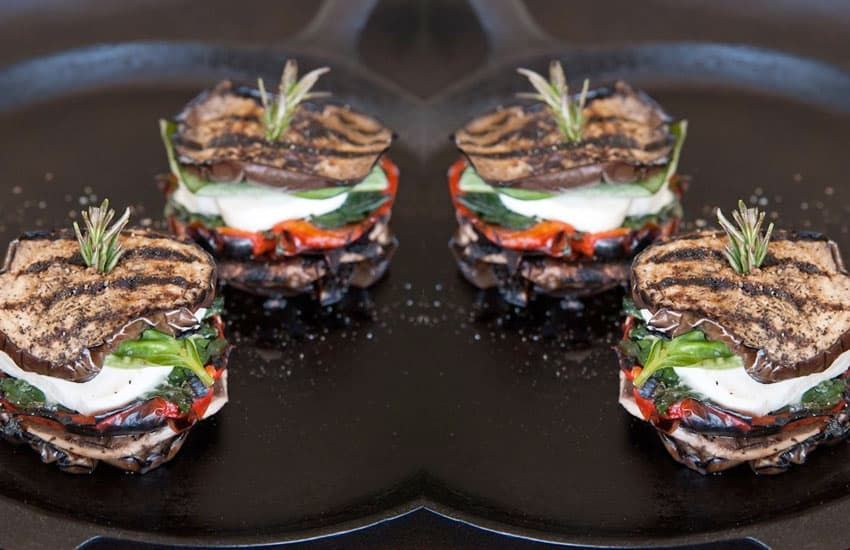 GRILLED VEGETABLE AND MOZZARELLA STACKS
INGREDIENTS
METHOD

2 red capsicums
2 medium sized eggplants
Olive oil, to brush
2 x 200g balls of fresh buffalo mozzarella
2 tablespoons basil or flat-leaf parsley leaves
1 tablespoon basil pesto
2 tablespoons extra virgin olive oil

Preheat the grill to high. Slice each eggplant crossways into four thick rounds, discarding ends.  Cut four 'walls' from each capsicum, discarding core and seeds. Brush eggplant and capsicum (skin side up) with oil and grill for 10 minutes, then turn eggplant only and grill for 5 minutes or until tender.
Drain mozzarella and cut into eight slices. Stack a slice of mozzarella and capsicum on each slice of eggplant. Heat under grill for 30 seconds or until mozzarella is just melting.
Place 4 stacks on top of the other 4 stacks, then scatter with basil, salt and pepper.
Mix pesto with the extra virgin olive oil. Drizzle stacks with pesto oil and serve.

*Original recipe

here
Feta
The first cheese on our list that is actually not Italian!  That doesn't make it any less yummy though. This full-flavoured, salty, crumbly white cheese originates from Greece.  It usually has a pretty low fat content too, which is a major plus!
POMEGRANATE KALE WILD RICE SALAD WITH WALNUTS AND FETA
Serves 4
INGREDIENTS
METHOD
SALAD

1 cup pomegranate seeds
2 cups chopped baby kale
2 cups cooked wild rice (you can use leftover rice or buy precooked)
¼ cup toasted walnuts
¼ cup feta cheese

DRESSING

½ cup minced onion or shallot
2 tablespoons olive oil
2 tablespoons water
2 tablespoons honey

½ tablespoon apple cider vinegar
½ teaspoon salt
1 squeeze lemon or orange juice

Prep the salad ingredients (chop, rinse, toast, etc). Chill the ingredients in the fridge while you're making the dressing if you want a cold salad.
Mince the shallot or onion and saute in ½ tablespoons olive oil to reduce the bite. When soft and fragrant, remove from heat and transfer to a food processor. (If you want a stronger flavor for your dressing, skip the sauteing altogether. The shallot in particular works well for this.)
Pulse the onions or shallot with the remaining olive oil, water, honey, apple cider vinegar, salt, and orange juice until smooth and creamy. Taste and adjust. Add additional olive oil or water to keep the mixture moving through the food processor.
Toss the salad ingredients together with the dressing just before serving. I prefer to serve this at room temperature or chilled slightly.

*Original recipe here