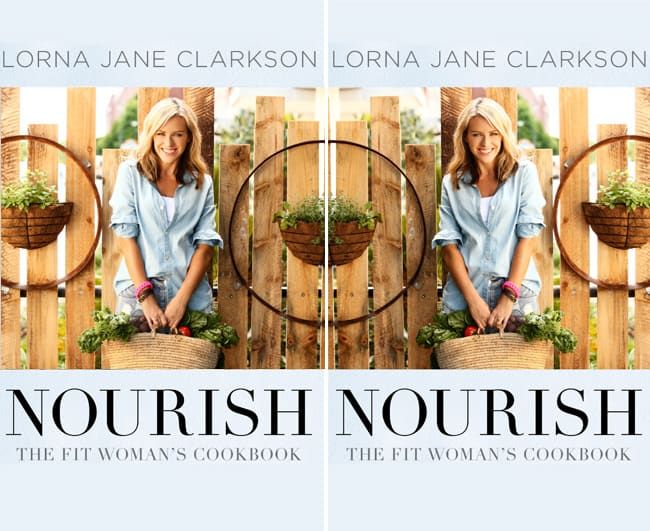 If there is one thing we all know about Lorna Jane Clarkson, it is that her activewear label makes awesome workout gear. But, unsurprisingly, she also knows a thing or two about keeping in shape (just at look at that bod!!). So lucky for us who love to cook, Lorna Jane has just released a new book, 'Nourish: The Fit Woman's Cookbook' and as longtime supporters of LJ, we are thrilled she sent us her book.
A passionate advocate of healthy living, Lorna wants us all to ditch the diets and start enjoying our food (can we get an amen!). LJ wants every woman to make the healthy choice and to help us on our way. So she has put together a bunch of her favourite recipes and some helpful tips for creating our own healthy eating habits, and they look delish.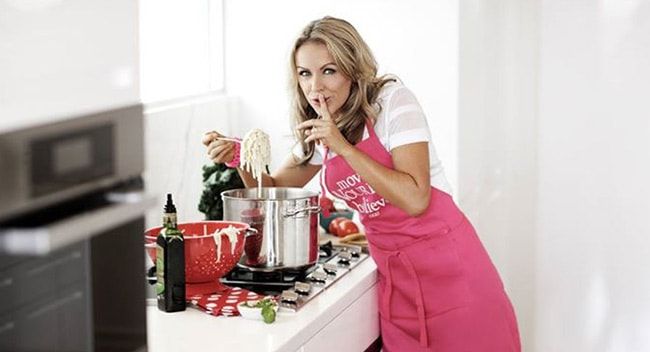 Here's one of our most favourite recipes from 'Nourish: The Fit Woman's Cookbook'. Trust us, you will loooove this!
Seafood Paella
Prep Cook Time: 1hr 40mins
Serves: 2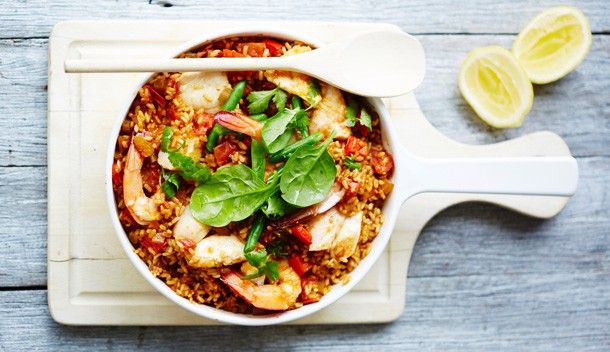 Ingredients
What to do

1 tbsp cold-pressed extra-virgin coconut oil

1 small red onion, chopped finely

2 stalks celery, trimmed and diced

1 medium red capsicum, diced

1 tsp each ground fennel, ground cumin and paprika

1 cup brown short-grain rice

3 medium tomatoes, chopped coarsely

75g green beans, trimmed and chopped coarsely

1 cup baby spinach leaves

300g firm white fish fillets, cut into 5cm pieces

6 uncooked medium king prawns, shelled, deveined, tails intact

1/4 cup loosely packed fresh flat-leaf parsley leaves

Heat oil in a medium deep frying pan. Cook onion and garlic, stirring, until onion softens. Add celery, capsicum, fennel, cumin, paprika and tomato paste; cook, stirring, until vegetables are tender.
Add rice, saffron and bay leaf; stir to coat rice in vegetable mixture. Add tomatoes and 1 cup of the water and stir until liquid is absorbed. Add remaining water and tamari; cook, covered, over medium-low heat, stirring occasionally, about 45 minutes or until liquid is absorbed and rice is tender.
Stir beans and spinach into rice mixture. Top with fish, prawns and scallops. Cook, covered, about 5 minutes or until seafood is just cooked through. Season to taste.
Cover paella; stand 5 minutes. Sprinkle paella with parsley; serve with lemon wedges.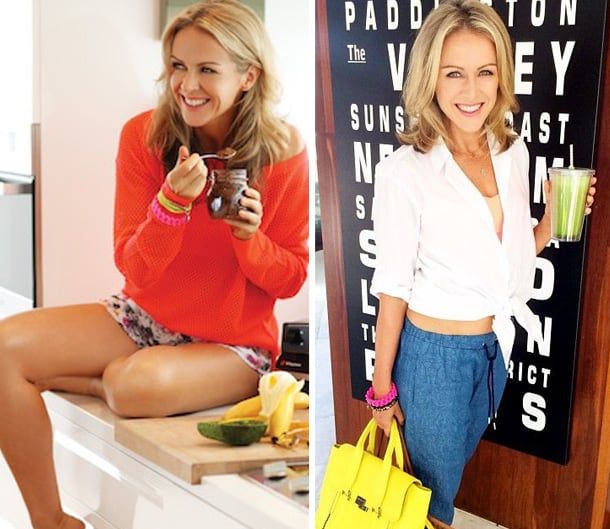 We love LJ's 'Move, Nourish, Believe' mantra, which aims to guide you towards a healthier and happier existence through active living. Just like us here at swiish, the LJ philosophy hopes to encourage and inspire women and so we thought we'd catch up with the fit, fierce and fabulous woman herself to see what else we have in common!

We all know who you are but how would you describe yourself?
The real deal!
What does the phrase/notion of 'having it all' mean to you?
I don't think I'll ever consider myself to 'have it all'. Anyone that knows me knows only too well that I'm always on the search for ways to improve my life and the lives of those around me.
What's your favourite saying, and why?
Never, never, never give up! When Bill and I were building Lorna Jane there were plenty of great times, but also countless obstacles. When times got tough I remembered this mantra and it helped inspire me to roll up my sleeves and keep working towards our dream.
What are three tips you can share with us for maximizing your day?
– Nourish your body with healthy food to fuel your body and mind.
– Make exercise a non-negotiable part of your day – do it in the morning for increased energy and mental   clarity.
– Take time out for yourself every single day – whether it be reading a book or a yoga session.
What advice would you give to those who look up to you as their role model?
Dream big, the bigger and crazier the better and never, never, never give up!
Do you believe in brutal honesty or sometimes lying or omitting truth to spare someone's feelings?
I think honesty is under-rated in the modern world. Authenticity is so important for me personally, and it is the same with the Lorna Jane brand. You can't put a price on authenticity.


Best business tip you were ever given?
My husband Bill (CEO of Lorna Jane) provided me with the best business advice. It was simply 'dream big.' Bill has always seen the potential in Lorna Jane and knew that it could be a global brand if we were willing to put in the hard work. Thank goodness for those simple words, as now we have 137 stores in Australia, 26 in the United States and 40 international stockists.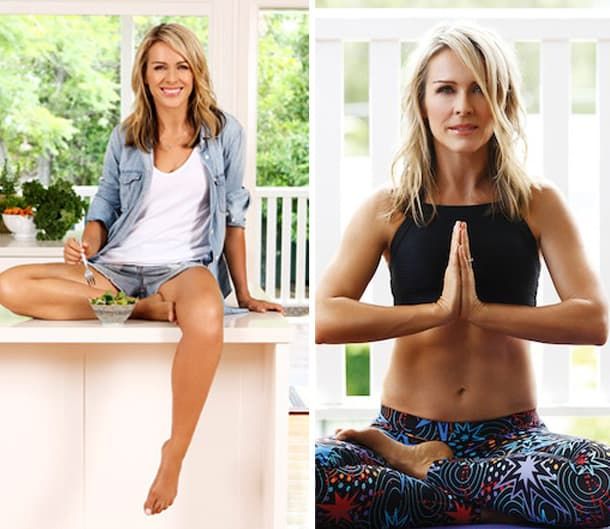 What song best describes your personality?
Ain't nothing going to break my stride! 
What are you currently obsessed with?
Healthy soups! Now that the weather is chilly I can't get enough of delicious hot soups. For lunch today I have my peanut butter and kumara soup which features in Nourish. Not only is it nutritious, but it is absolutely delicious and sure to get rid of the winter chills.


What's your best fitness tip?
Strength training. Not only does it energise me for the day ahead, but it's also great for body tone and improving bone density.
What does your fallback, never-fail outfit look like?
It has to be activewear because I need to be ready to move at a moment's notice! A good quality pair of black tights is a modern woman's essential as it can be dressed up or down and worn just about anywhere. I like to wear my tights with Isabel Marant sneakers and a top from the latest Uniquely Lorna Jane collection. The Uniquely range suits my lifestyle perfectly as it's fashionable, but super relaxed and sporty at the same time.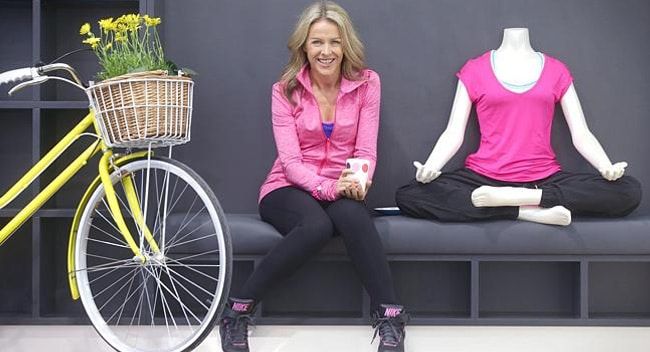 What's your best kooky or unusual beauty tip?
Coconut oil. I eat it and use it as a make up remover, moisturiser and hair conditioner… and that's just the beginning.  It's an absolute must-have and perfect for travelling because it can be used for so much!


What's the one food you love so much that you would still eat even if you dropped it on the floor?
A piece of my home-made raspberry and hazelnut chocolate. I couldn't bear to see it go to waste. Once you taste it, you'll understand why!

Can you share a selfie that embodies who you are?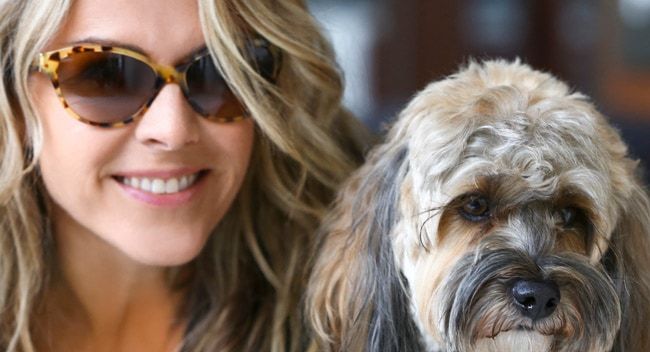 Get your hands on a copy of Lorna Jane Clarkson's new cookbook 'Nourish: The Fit Woman's Cookbook' here.