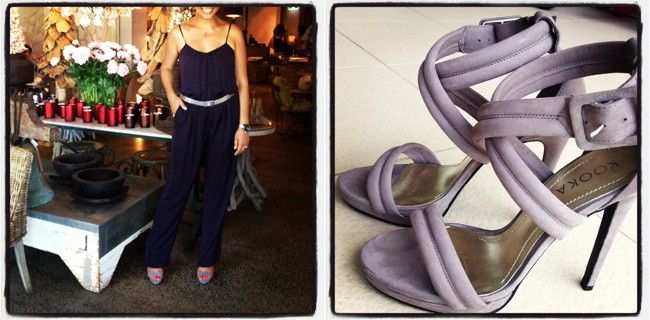 I recently took Marcus and Annabelle to La Croix, a little slice of France in Sydney. It's a gorgeous cafe and retail space, stocking antiques and collectibles from France and Belgium. We had a really special lunch in the cafe, just the three of us.
Not surprisingly, I once again worked out my outfit around my shoes… these ones are from Kookai. They're current season and at $160 are not exactly a bargain, but grey shoes are hard to come across and the last time I bought a pair, about three years ago, I wore them down to the ground. They look really fresh with navy, black and also brights. That's why when I saw this pair I snapped them up. I expect to get heaps of wear out of them all summer.
The jumpsuit is from two years ago, it's a Cooper Street jumpsuit. I absolutely love the Cooper Street brand; I think it's a really fashion forward, affordable brand and I always snap things up from the range, that just last and last (case in point this 2 year old jumpsuit!).
Stay tuned for my latest snaps from the new Cooper Street summer range.