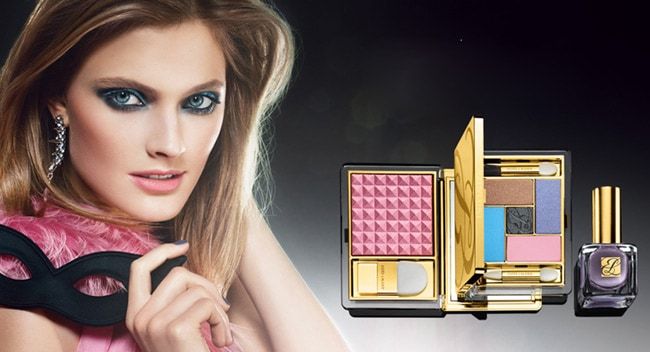 Estée Lauder know beauty. Having been around for over 60 years, the brand embodies a philosophy that we at swiish absolutely love – and that is, that the most beautiful face in the world is yours.
With celeb fans including Liz Hurley, Jennifer Lopez and Gwyneth Paltrow to name a but few, it's no surprise that this incredible label which started out with just 4 products is now well and truly a leading beauty and skin care brand.
These are a few of swiish's favourite picks of amazing Estée Lauder beauty buys:
Pure Colour Stay-On Shadow Paint, $42.00

Ooooh how we adore these gorgeous, bright colours that pop! These shadows are fab for mixing to create your own unique look, and they're soooo easy to apply. They shadow pigments and pearls are silky smooth to the touch and last for 12 hours without creasing. I especially love using these Shadow Paints when I know I have a day of filming ahead of me where I won't get a chance to check and fix my makeup – I don't need to with these. The shimmer finishes are so glam and mean that you can amp up your look further for night just by adding dark liner and loads of mascara.
Advanced Night Repair Eye Serum Infusion, $105.00

We've talked before on swiish about serums and the powerful effect that they can have on your skin. These beauties hold huge amounts of antioxidants and vitamins, helping our skin to stay hydrated and look younger. Estée Lauder were pioneers in skincare research so have used their years of expertise to develop their Advanced Night Repair Eye Serum Infusion. It's a fast-acting, super-potent serum, made specifically for the sensitive, delicate skin around our eyes, which is actually 40% thinner than the rest of the skin on our face. That means we are more prone to environmental damage in that area. This serum manages to inhibit ozone damage, reducing visible signs of ageing including fine lines, wrinkles, puffiness, dark circles, dryness and uneven skintone. The result is radiant, silky smooth skin. Love it!
Pure Colour Crystal Lipstick, $45.00

Everything you want in a lipstick – a gorgeous hue, with a smooth, soft and moisturising feel. I love that these lippies work on all skin tones and are a perfect pop of colour for day or night. Plus a little of bit of shine for that extra-plump lip look never goes astray! My personal favourites? Alluring Pink and Crystal Coral. Pow!
Private Collection Tuberose Gardenia Eau de Parfum, $150.00

This perfume for me evokes many happy memories of my childhood. My mum was obsessed with always having fresh gardenia flowers in the house and this eau de parfum brings the scent, that time and those memories flooding back. This perfume is classic, timeless and so wonderfully rich and exotic. Even the cap of the perfume bottle is a work of art itself, with it's hammered gold texture. Luxe and beautiful.
 And it's not just the products that the swiish team are fans of. Estée Lauder is so much more than just a beauty brand. Not only was Estée herself a strong, stylish, inspirational woman, but also the company has raised huge amounts of awareness and critical funds towards cancer research, meaning that they have an extra special place in my heart.
For more information or to buy online, visit Estée Lauder, David Jones or Myer.