For some strange reason, many people I know don't really like LA, which I find incomprehensible. I LOVE LOVE LOVE it there. The shopping is fabulous – every label under the sun, at prices my accountant approves of; the celeb spotting is guaranteed, the food is fantastic and it's just plain fun! A week there and I feel totally inspired. I can never understand why people complain – "it's so fake", "there's nothing to do", "it's fine for a few hours as a stop over". But perhaps that's because they don't know the real LA.  So the next time you find yourself in the city of angels, be it a stopover or a destination, take an inside look at LA, the swiish way.
Stay:
I like to split my time in LA between the city and the beach. A few days in West Hollywood, close to shopping and nightlife, followed by some time in Santa Monica for the fresh ocean air and the wild people watching at Venice Beach.
Hotels in West Hollywood such as the bohemian Petit Ermitage (8822 Cynthia Street, West Hollywood, Los Angeles, 90069) or the so-hip-it-hurts Standard West Hollywood (8300 Sunset Boulevard, Los Angeles, 90069) will have you sleeping soundly.
In Santa Monica, I love splurging on a night at the Shangri-La (1301 Ocean Avenue, Santa Monica, CA 90401), right on the beach. They also have a cool rooftop bar where you can sip cocktails whilst watching the sun set into the Pacific. Bliss.
Eat:
Joan's on Third (8350 West 3rd Street, Los Angeles, CA 90048) is an absolute favourite of mine.  Grab an outside table and watch tanned celeb wanna-be's with their giant sunglasses get out of their giant SUVs to enjoy Joan's delicious deli fare. If you have a sweet tooth then you absolutely cannot pass up on a bag of caramel covered marshmallows. You can thank me later.
With stunning interiors and absolutely delicious steaks, Boa Steakhouse has two locations (9200 Sunset Boulevard, West Hollywood, CA 90069 and 101 Santa Monica Boulevard Santa Monica, CA 90401). If you're in Hollywood, I recommend grabbing a drink at the nearby icon that is Chateau Marmont.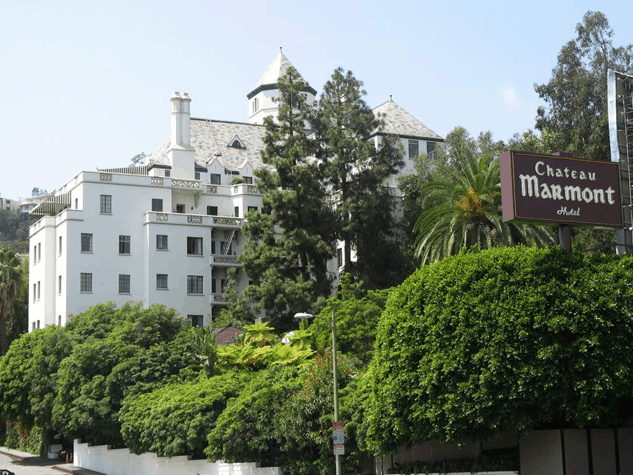 Embrace the LA lifestyle by chowing down on fresh sushi at Katsuya (6300 Hollywood Boulevard Los Angeles, CA 90028). Keep an eye out for the stylish Lauren Conrad – this is her favourite LA restaurant.
Mall Trawl:
If it's malls you're after, head straight to The Grove (189 The Grove Drive, Los Angeles, CA 90036) and the Beverly Center (8500 Beverly Boulevard  Los Angeles, CA 90048) where you will find the likes of Gap, Zara, J. Crew, Banana Republic, Forever 21, Victoria's Secret and Sephora. Most malls are open till 10pm so don't feel the need to rush through. Take your time and buy, buy, buy!
For boutique shopping, Robertson Boulevard is the way to go. Celeb favourites Intermix and Kitson are here, as well as Alice & Olivia; and Paige (she of the premium denim jeans). Even our Aussie friends Zimmerman have a store here.
Do you have any favourite places in LA? Please share!!!