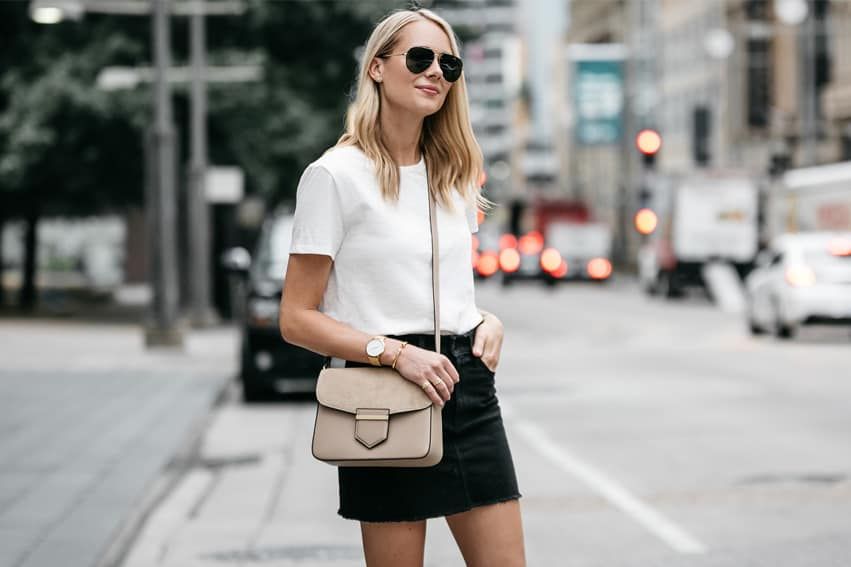 Without doubt, a white top is a MUST in every single person's wardrobe. We can't count how many white tops and tees we have and just like a stripe tee, every white tee is different.
As summer starts to roll around, the possibilities are endless on how we can wear a white top. There's nothing quite as chic as wearing a crisp white shirt with… well, anything really! Just be careful not to spill your morning coffee on yourself (not that we're speaking from experience or anything haha!).
It seems that with every year that goes buy, we still count a white tee and a pair of blue denim jeans or shorts as one of our favourite outfits. We don't think it can get any more chic, which is why this combo is one that stands the test of time.  For work, we can't go past a structured white top with a pair of black pants and killer pumps. Talk about #wardrobegoals!
We've rounded up a few other ways to wear a white shirt and we're telling you now that the choices are endless. You could style a white top differently everyday for two weeks and still have leftover outfits.
If you're yet to own the perfect white top, you can find our favourite one here. It's ideal because you can wear it to work and wear it for play! Yay!
(function(){var scriptURL='https://sdks.shopifycdn.com/buy-button/latest/buy-button-storefront.min.js';if(window.ShopifyBuy){if(window.ShopifyBuy.UI){ShopifyBuyInit();}else{loadScript();}}else{loadScript();}
function loadScript(){var script=document.createElement('script');script.async=true;script.src=scriptURL;(document.getElementsByTagName('head')[0]||document.getElementsByTagName('body')[0]).appendChild(script);script.onload=ShopifyBuyInit;}
function ShopifyBuyInit(){var client=ShopifyBuy.buildClient({domain:'swiish-by-sally-obermeder.myshopify.com',apiKey:'b9bcd77eea223a9ac3df9c0117588ac0',appId:'6',});
ShopifyBuy.UI.onReady(client).then(function(ui){ui.createComponent('collection',{id:1162575885,node:document.getElementById('collection-component-ae0312c1720'),moneyFormat:'%24%7B%7Bamount%7D%7D',options:{"product":{"variantId":"all","contents":{"imgWithCarousel":false,"variantTitle":false,"description":false,"buttonWithQuantity":false,"quantity":false},"styles":{"product":{"@media (min-width: 601px)":{"max-width":"calc(25% - 20px)","margin-left":"20px","margin-bottom":"50px"}},"button":{"background-color":"#ff95a2",":hover":{"background-color":"#e68692"},":focus":{"background-color":"#e68692"}}}},"cart":{"contents":{"button":true},"styles":{"button":{"background-color":"#ff95a2",":hover":{"background-color":"#e68692"},":focus":{"background-color":"#e68692"}},"footer":{"background-color":"#ffffff"}}},"modalProduct":{"contents":{"img":false,"imgWithCarousel":true,"variantTitle":false,"buttonWithQuantity":true,"button":false,"quantity":false},"styles":{"product":{"@media (min-width: 601px)":{"max-width":"100%","margin-left":"0px","margin-bottom":"0px"}},"button":{"background-color":"#ff95a2",":hover":{"background-color":"#e68692"},":focus":{"background-color":"#e68692"}}}},"toggle":{"styles":{"toggle":{"background-color":"#ff95a2",":hover":{"background-color":"#e68692"},":focus":{"background-color":"#e68692"}}}},"productSet":{"styles":{"products":{"@media (min-width: 601px)":{"margin-left":"-20px"}}}}}});});}})();