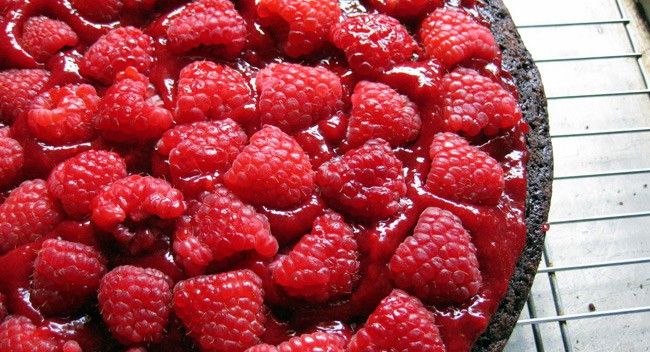 Though you may associate fresh raspberries with summer, they are still available at this time of year. Before we fully accept that autumn is here and we transition to the fruits of the colder months, try a few of these delicious recipes:
Watermelon, Raspberry & Mint Salad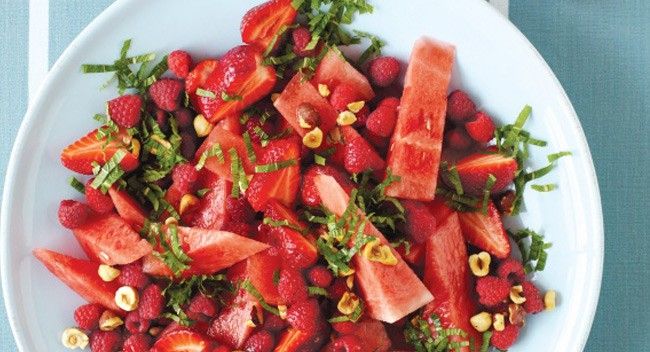 Ingredients:
75g (1/2 cup) hazelnuts
160ml (2/3 cup) water
80ml (1/3 cup) fresh lime juice
100g (1/2 cup) caster sugar
1/2 small (about 400g) watermelon, rind removed, cut into thin wedges
'2 x 120g punnets raspberries
1 x 250g punnet strawberries, washed, hulled, halved
1/4 cup finely shredded fresh mint
Method:
Preheat oven to 180°C. Spread the hazelnuts over a baking tray. Bake in oven for 8-10 minutes or until toasted. Place hazelnuts on a clean tea towel and rub to remove the skins. Coarsely chop.
Meanwhile, stir the water, lime juice and sugar in a medium saucepan over low heat for 5 minutes or until sugar dissolves. Set aside for 15 minutes to cool.
Place the watermelon, raspberries, strawberries and mint in a large serving bowl. Drizzle with lime syrup and gently toss to combine. Cover with plastic wrap and place in the fridge for 1 hour to chill and develop the flavours. Sprinkle with hazelnuts to serve.
Raspberry Dacquoise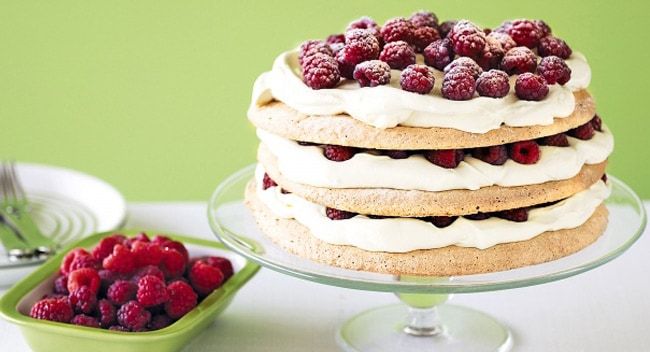 Ingredients:
7 egg whites
270g (1 1/4 cups) caster sugar
1 tsp cream of tartar – you can find this in the baking section of your local supermarket
100g (1 cup) hazelnut meal
1 x 600ml carton thickened cream
2 x 125g punnets raspberries
'Icing sugar, to dust
Method:
Preheat oven to 160°C. Line 3 baking trays with non-stick baking paper. Draw an 18cm disc on each.
'Use an electric beater to beat the egg whites in a clean, dry bowl until firm peaks form. Gradually add caster sugar, 1 tablespoon at a time, until the sugar dissolves and the mixture is thick and glossy. Gently fold in the cream of tartar and hazelnut meal. Divide the meringue mixture evenly among the prepared discs. Use the back of a spoon to smooth the surfaces. Bake for 50 minutes or until the meringues are crisp. Turn oven off. Leave the meringues in oven, with the door ajar, for 1 hour to cool completely.
'Beat the cream in a bowl until soft peaks form. Place 1 meringue disc on a cake stand or serving plate. Spread with one-third of the cream. Top with one-third of the raspberries. Continue layering with remaining meringue discs, cream and raspberries. Dust with icing sugar.
Mini Raspberry Melting Moments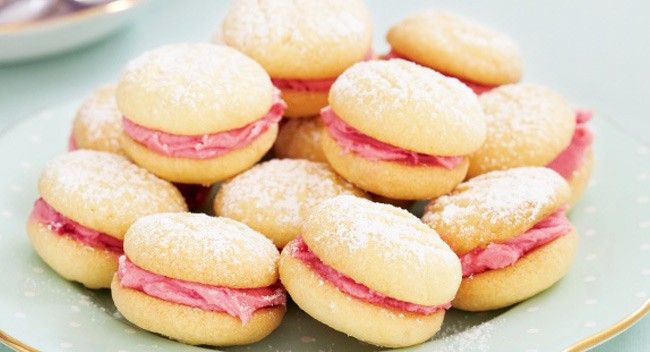 Ingredients:
125g unsalted butter, softened
1/3 cup pure icing sugar, sifted
1/2 teaspoon vanilla essence
1 cup plain flour
2 tablespoons custard powder
pure icing sugar, to serve
Raspberry Filling:
60g unsalted butter, softened
1/4 teaspoon vanilla essence
3/4 cup pure icing sugar, sifted
6 small raspberries
Method:
Preheat oven to 160°C/140°C fan-forced. Line 2 baking trays with baking paper. Using an electric mixer, beat butter, sugar and vanilla until light and fluffy. Sift flour and custard powder over butter mixture. Stir with a wooden spoon until just combined and a soft dough forms.
Using 1 heaped teaspoon of dough per ball, make 30 balls. Place on prepared trays, leaving room for spreading. Using a fork dipped in flour, lightly flatten each biscuit until 1cm thick. Bake for 15 to 20 minutes or until light golden. Cool on tray for 10 minutes. Transfer to a wire rack to cool completely.
Meanwhile, make raspberry filling: Using a whisk, beat butter in a bowl until light and creamy. Add vanilla. Whisk to combine. Add icing sugar. Whisk until well combined. Stir in raspberries.
Spread the flat side of 1 biscuit with 1 teaspoon filling. Sandwich with 1 biscuit. Repeat with remaining biscuits and filling. Serve dusted with icing sugar.
Raspberry Swirl Frappe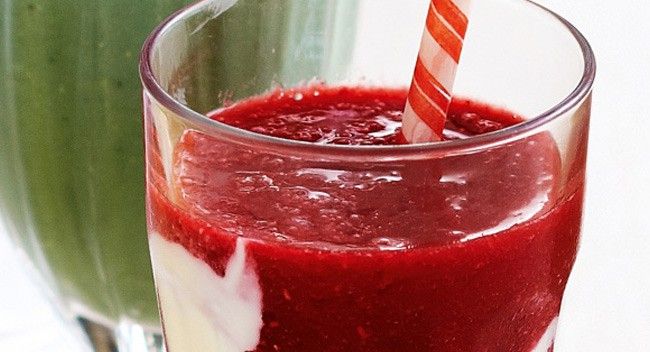 Ingredients:
2 cups raspberries
1 1/4 cups apple juice
1/2 cup plain Greek-style yoghurt
Method:
Blend raspberries and apple juice together until smooth. Place 1/4 cup yoghurt in the bottom of each of 2 large chilled glasses. Top with raspberry mixture. Using a spoon, swirl yoghurt through raspberry mixture. Serves 2.
*recipes courtesy of taste.com.au