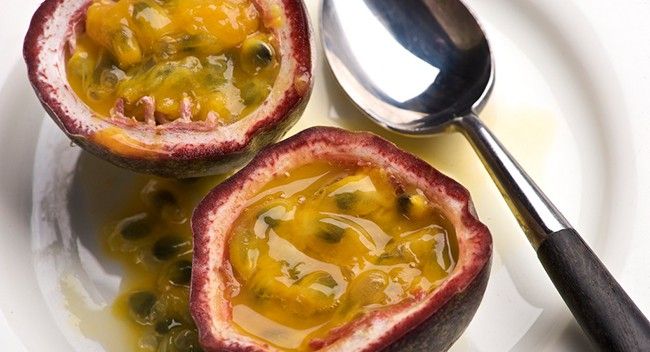 We love passionfruit – not only are they delicious, but they're so good for you. Rich in vitamins, minerals, fibre and antioxidants there are so many health benefits offered by this small fruit and best of all, it tastes amazing. Eat them on their own, add them to your next green smoothie or try one of these delicious recipes.
Apricot and Passionfruit Trifles (serves 4)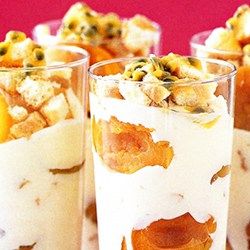 You will need:
150mL thickened cream
600g carton vanilla custard
6 large sponge finger biscuits, chopped
825g can apricot halves in natural juice, drained
½ cup fresh passionfruit pulp (note: you will need 6 passionfruits to get 1/2 cup of pulp)
What to do:
Beat the cream with an electric mixer until soft peaks form. Add custard and gently stir until combined, Spoon 1 tablespoon of the custard mixture into each base of four 1¾ cup capacity serving glasses.
2. Top with one-third of biscuits and half the apricots. Drizzle with a little passionfruit pulp and top with half the remaining custard mixture. Repeat layers. Finish with a dollop of custard mixture and remaining biscuits. Drizzle with remaining passionfruit pulp. Serve.
Citrus Passionfruit Delicious Pudding (serves 4)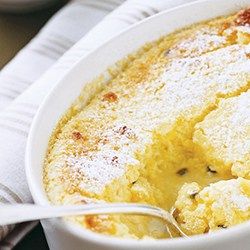 You will need:
60g butter, softened
¾ cup caster sugar
2 eggs, separated
1 large lemon, rind finely grated, juiced
2 tablespoons passionfruit pulp
1 cup milk
¼ cup plain flour
pure icing sugar, to serve
What to do:
Preheat oven to 180ºC. Grease a 5cm deep, 15cm x 23cm (base), 6-cup capacity baking dish. Using an electric mixer, cream the butter and sugar in a bowl until light and fluffy. Add egg yolks, one at a time, beating well after addition.
Stir in lemon rind, ¼ cup lemon juice, passionfruit and milk. Sift flour over mixture and stir until combined.
Using clean blades, beat egg whites in a bowl until soft peaks form. Fold into passionfruit mixture until just combined.
Pour batter into baking dish. Place dish in a baking pan. Pour boiling water into pan so it comes halfway up sides of dish. Bake, uncovered, for 45 minutes or until pudding is just firm on top and light golden.
Remove dish from baking pan and stand for five minutes. Dust pudding with icing sugar and serve.
Baked Passionfruit Tart (serves 8)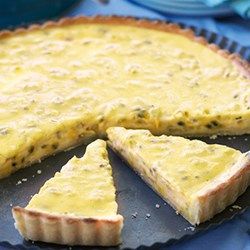 You will need:
225g (1½ cups) plain flour
60g (' cup) icing sugar mixture
125g chilled butter, chopped
1 egg yolk
1 tablespoon chilled water
250mL (1 cup) thickened cream
100g (½ cup caster sugar)
4 eggs
160mL (' cup) passionfruit pulp
What to do:
Process the flour, icing sugar and butter in a food processor until the mixture resembles fine breadcrumbs. Add the egg yolk and water. Process until the dough just starts to come together. Turn onto a lightly floured surface and knead until smooth.
Roll out the pastry on a floured surface to a 4mm-thick disc. Line a 3.5cm-deep, 22cm (base measurement) fluted tart tin, with removable base, with the pastry and trim any excess. Place in the fridge for 30 minutes to rest.
Preheat oven to 200°C. Place tin on a baking tray. Line the pastry case with baking paper and fill with pastry weights or rice. Bake for 10 minutes. Remove the paper and weights. Bake for a further 10 minutes or until crisp and light golden.
Meanwhile, whisk the cream, caster sugar and eggs in a medium bowl. Stir in the passionfruit pulp.
Reduce oven to 160°C. Pour egg mixture into the pastry case. Bake for 35 minutes or until set. Place in fridge overnight to chill.
Orange and Passionfruit Cooler (serves 6)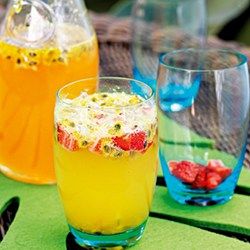 You will need:
1 cup orange juice (3 oranges will make one cup)
¼ cup lemon juice (1 lemon will make ¼ cup)
1′ cups caster sugar
1 passionfruit, halved
6 strawberries, hulled and chopped
2L sparkling mineral water, chilled
What to do:
Place orange juice, lemon juice, sugar and ¼ cup cold water in a saucepan over medium-low heat. Cook, stirring for 4 minutes or until sugar has dissolved. Increase heat to medium-high. Bring liquid to the boil. Reduce heat to medium-low. Simmer for 15 to 20 minutes or until slightly thickened. Remove from heat. Stir in passionfruit pulp. Pour into a heatproof bottle or jug. Cool refrigerate, covered, for 30 minutes or until chilled.
Divide strawberries between serving glasses. Add ¼ cup juice mixture to each glass. Top with mineral water. Serve.
All recipes and images courtesy of taste.com.au.