It can become habit to turn to comfort foods that are high in fat and salt for a warming treat. That's why we're trying to work cauliflower into more of our dinner-time repertoire at the moment. It's in season and is just as satiating as other options, as well as being super nutritious.
Cauliflower is high in vitamin C, which makes it a great antioxidant, plus it's high in fibre, folic acid and potassium. A number of studies have found cauliflower to be a cancer fighter as well, because of its phytochemicals that naturally block cancer growth. Even though cauliflower is quite bulky and satisfying it's got no fat content so it can it makes for the perfect comfort food if you're trying to watch what you eat.
Here are our top three cauliflower comfort food dishes:
Roasted Cauliflower & Cheddar Soup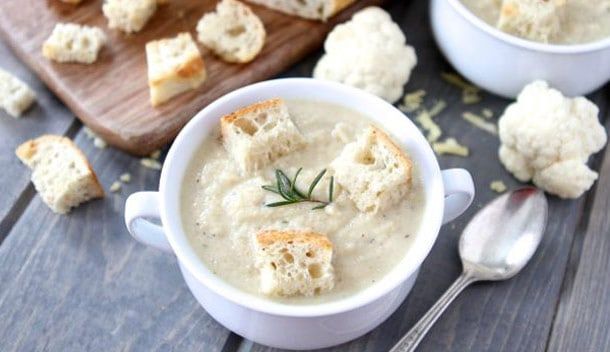 This is a delicious hearty and warming soup that's very low in fat, yet it tastes super buttery and creamy (without using any butter or cream) – amazing!
 

What you'll need:




•

1 head of cauliflower, cut into florets


•

3 cloves of garlic


•

2 tbs olive oil


•

1 onion, diced


•

2 stalks of celery, diced


•

3 ½ cups vegetable stock


•

2 tsp thyme, chopped


•

1 tbs rosemary, chopped


•

½ cup grated cheddar cheese


•

Salt and pepper

What to do:
1. Preheat oven to 200°C. In a large bowl toss cauliflower, garlic and olive oil together until well coated. Place on a large baking sheet in a single layer. Roast the cauliflower until lightly golden brown (20-30 minutes). Set aside.
2. Heat a little extra olive oil over medium heat and sauté the onion and celery for 5-7 minutes or until tender.
3. Chop the roasted garlic and cauliflower and add it to the onion and celery. Then add the stock, thyme and rosemary and bring to the boil. Reduce to a simmer and cook for 20-25 minutes or until the cauliflower is tender.
4. Take off the heat and blend in batches until the soup is smooth.
5. Stir through the cheddar cheese until it's melted though. Season with salt and pepper and then ladle it out!

*Recipe adapted from Two Peas and Their Pod.
Cauliflower Smash with Caramelised Leeks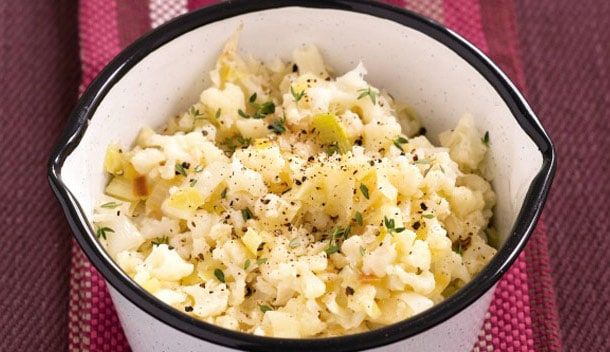 This is a great alternative to the standard mashed potatoes which are typically loaded with butter, and it's actually tastier too!
 

What you'll need:




•

1 large head of cauliflower


•

2 tsp olive oil


•

2 medium leeks, washed and thinly sliced


•

1 garlic clove, crushed


•

2 tsp thyme


•

2 tbs cream

What to do:
1. Rinse cauliflower. Place with a little water in a microwave-safe dish and cover. Heat on high for 4 minutes or until tender. Drain of excess water.
2. Heat olive oil in a frying pan over medium-low heat. Add leek and cook for 10 minutes or until soft and lightly golden. Add garlic and thyme and cook stirring for 1 minute.
3. Place cauliflower in a large bowl and mash it a bit with a potato masher. Mix through the leek mixture and cream. Season with salt and pepper to your liking!

*Recipe adapted from taste.com.au
Cauliflower & Potato Curry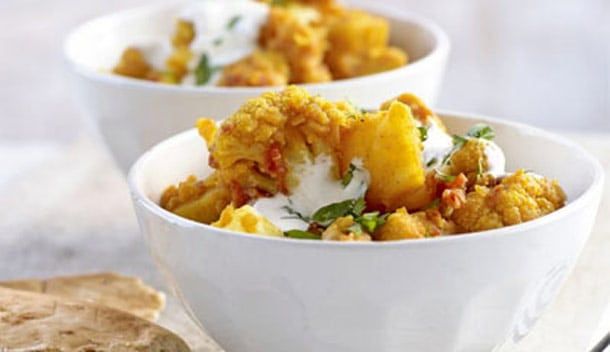 I love the heat from the chilli and spices in this curry and at just 212 calories per serving it's great for the waistline too.
 

What you'll need:




•

2 tbs vegetable oil


•

1 onion, chopped


•

1 chunk of ginger, grated


•

3 garlic cloves, finely chopped


•

½ tsp turmeric


•

1 tsp ground cumin


•

1 tsp curry powder


•

400g can chopped tomatoes


•

½ tsp sugar


•

1 cauliflower, cut into florets


•

2 potatoes, peeled and cut into chunks


•

1 small green chilli, halved lengthways


•

Squeeze of lemon juice

What to do:
1. Heat the oil in a saucepan. Cook the onion for 10 minutes until soft and then add the ginger, garlic and other spices. Cook for another minute before adding the tomatoes and sugar. Add the cauliflower, potatoes and chilli. Season to taste.
2. Cover with a lid and gently cook for a good 30 minutes, stirring occasionally until the vegetables are tender. Add a small amount of water if necessary.
3. When vegetables are cooked and tender remove the chilli. Serve with the squeeze of lemon juice and coriander. We also recommend having this curry with a good naan and a dollop of plain yoghurt – yum!

*Recipe adapted from BBC Good Food