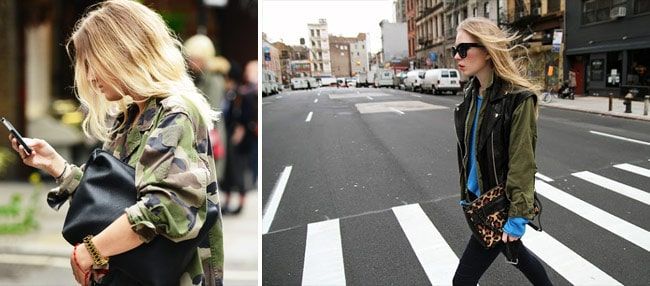 Camouflage is back y'all! The military trend has come full circle and is firing at full force.
This hot trend has taken a strong hold on the fashion world, and everyone's getting involved, especially the celebs! Rihanna, Jess Alba and Rita Ora are totally working it, and you'll be hard pressed to find a fashion mag without a military feature in it right now.
Whether you choose to rock major camouflage a la Rihanna, or work more subtle hints of khaki into your daily look, it's a trend that is so easy to take on with the smallest of wardrobe additions.
For more understated chic, keep it simple and invest in a khaki coloured tee, or knit and pull it on with black skinny jeans. Dress it up for the office with a blazer, chunky statement necklace, and a pair of killer black stilettos.
There are plenty of gorgeous hues that work well with the trend – think tan, beige, navy, maroon and black. If you're going for camouflage skinny statement pants, then work one of these block colours on top to anchor the look.
When dressing up military colours and patterns, incorporate leather to give it a sexy, hard edge.
There's nothing cooler than leather leggings and a khaki tee with heels. We love that so many of our favourite Aussie stores are embracing the look, so for a quick fix, head straight into Sportsgirl, Country Road, Seed Heritage or General Pants. You can also shop the trend at French Connection and Topshop.
swiish hot picks: