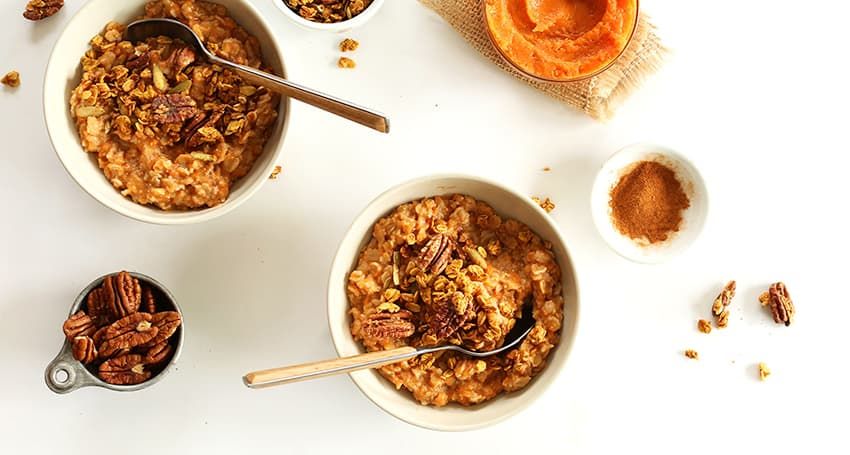 There's nothing better than a delicious bowl of warm, creamy oats on a chilly winter morning.  Just the smell of them makes me hungry!  But oats shouldn't just be reserved for winter.  This multi-purpose grain makes for a perfectly healthy meal all year round (and all day long too!).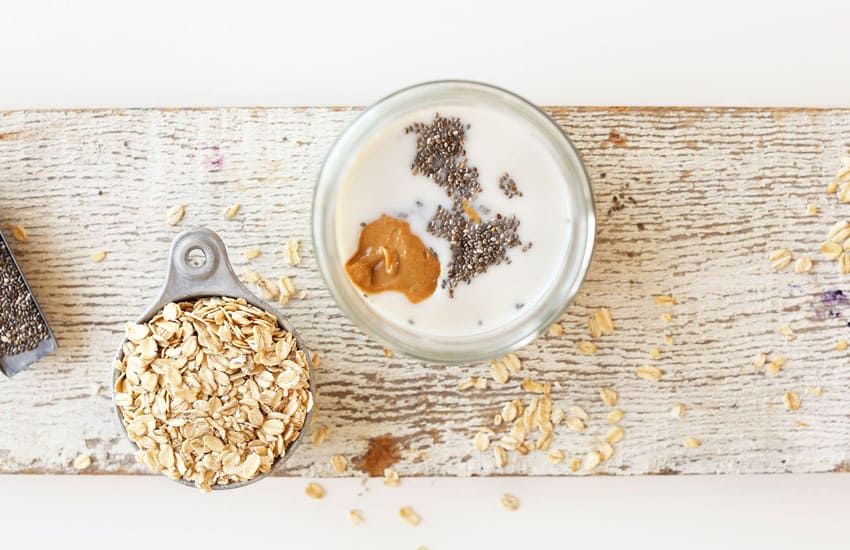 Oats have got to be one of my favourite grains, and for more reason than one!  Firstly, lets talk health benefits.  Your average humble oat is:
' Jam packed with vitamins and minerals such as manganese, phosphorus, copper, biotin, chromium and zinc
' Rich in a special dietary fibre called 'beta-gluten' that helps to remove cholesterol from the digestive system. 
' Filled with special antioxidants that prevent free radicals from damaging LDL cholesterol, thus reducing the risk of cardiovascular disease
' Naturally high in protein
' Better tolerated than other grains like rye, wheat and barley by people with celiac disease 
' Great at stabilizing blood sugar levels
' Low GI and so provides long-lasting, slow-burning energy
Not only are oats super nutritious, they're seriously yummy too!  The mild flavour means they can be used in so many different ways.  Hot or cold, sweet or savoury, blended up or even all on their own!  It's totally up to you.
The important thing to remember is that oats shouldn't just be reserved for breakfast.  Believe it or not, oats are still good for you whether you eat them for breakfast, lunch or even dinner!  So we dare you, in fact WE CHALLENGE YOU, to take a step out of that boring brekky comfort zone and try something a little less conventional.  
Here are some of our favourite recipes that we feel really highlight the versatility of this humble grain.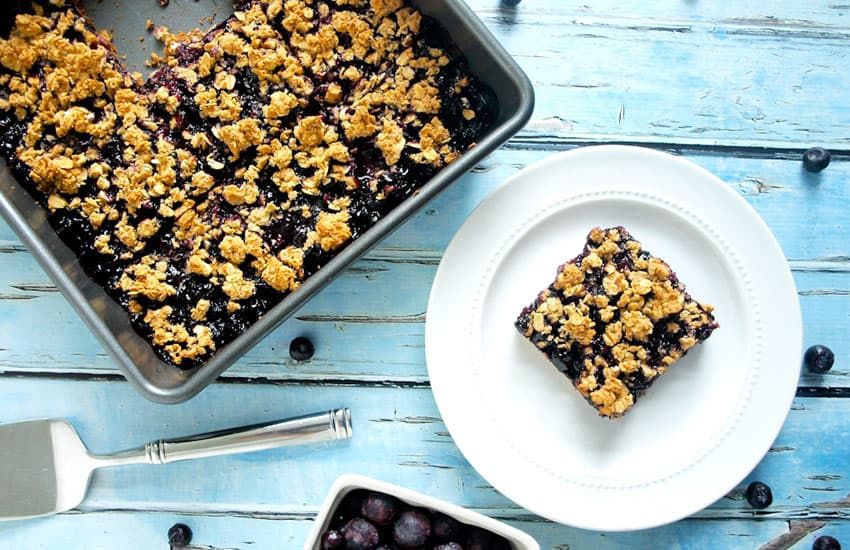 VEGAN BLUEBERRY OAT BARS
INGREDIENTS 

475g blueberries
1/4 cup agave nectar
1/8 cup lemon juice
1/8 cup water
1/2 teaspoon vanilla extract
2 tablespoons arrowroot plus 2 tablespoons cold water 
For the crust/topping
3 cups rolled oats (not instant), divided
1/2 teaspoon cinnamon
1 1/2 teaspoons baking powder
1/4 teaspoon salt
1/3 cup unsweetened apple sauce
1/3 cup agave nectar
1 teaspoon vanilla
2 tablespoons coconut oil

METHOD

Preheat your oven to 190 degrees C.  Oil a 20cm x 20cm inch baking dish and set aside.
In a saucepan, bring blueberries, agave nectar, lemon juice, and water to a boil over medium high heat.  When it boils, stir in the vanilla and arrowroot mixture.  Remove from heat and allow to cool.  
Process 1 1/2 cup of the oats in a food processor until they are a fine powder.  Combine the processed oats, the remaining 1 1/2 cups of rolled oats, cinnamon, baking powder, and salt in a bowl and mix well.
Add the applesauce, agave nectar, and vanilla and mix until everything is well combined.  Add the coconut oil and use your hands to incorporate it into the mixture evenly until mixture resembles cookie dough.
Press about half of the mixture firmly down into the bottom of your baking dish to form a crust.  Pour the blueberry mixture on top of the crust layer. Sprinkle the rest of the oat mixture on top of the blueberry mixture in crumbles.  Bake for 30 minutes in the preheated oven.  Allow to cool before cutting into squares.  Store in the refrigerator.  Enjoy!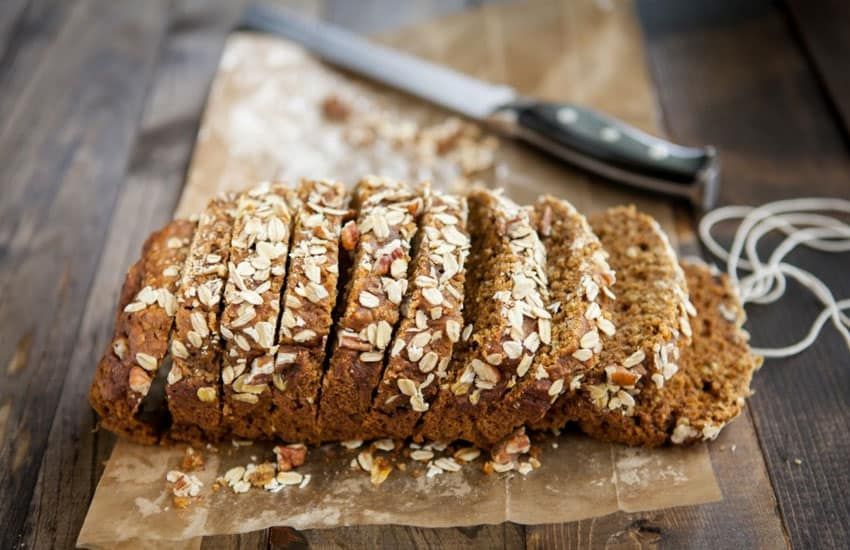 PUMPKIN OAT BREAD
INGREDIENTS

¾ cup old-fashioned oats
1 cup whole wheat pastry flour
1 teaspoon baking soda
½ teaspoon salt
½ teaspoon nutmeg
½ teaspoon ginger
1 teaspoon cinnamon
½ cup crushed pecans or walnuts
1 cup pumpkin puree
¾ cup maple syrup

'

 cup pecan or walnut oil

2 eggs
Oatmeal and nuts to top

METHOD 

Preheat oven to 190 degrees C and generously butter/oil a 20-22cm loaf pan.
In a food processor, pulse oats until almost flour- I still like little pieces of oats left. Pour into a large bowl and add wheat flour, spices, baking soda, and nuts.
In a separate bowl, whisk together pumpkin puree, maple syrup, oil, and two eggs. I like to extra nuttiness the nut oil adds but you can also use melted butter or coconut oil. Pour into dry ingredients. Stir until just combined (don't over stir!)
Pour into prepared pan and sprinkle with oats and nuts. Bake for 50-60 minutes. Top should spring back lightly and when a knife is entered, it should come out clean. Let cool and slice!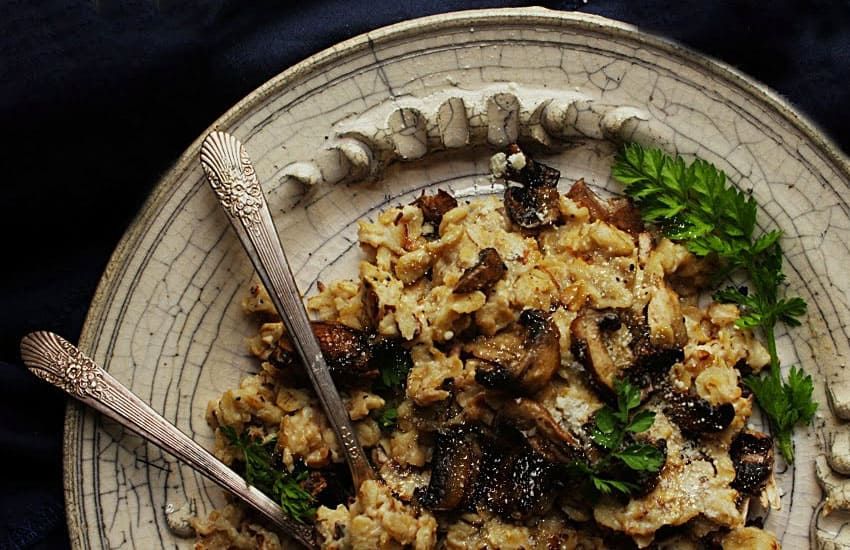 CREAMY MUSHROOM OAT-RISOTTO
INGREDIENTS

1 tbsp. olive oil, or cooking spray
About 2 tbsp. chopped onion, finely diced (alter depending on tastes)
3-4 four portabella mushrooms, washed thoroughly and thinly sliced
½ tsp. thyme, chopped
½ cup oats
Pinch of salt
½ cup vegetable stock
¼ cup milk of choice
¼ cup white wine (or more milk)
2 tbsp. parmesan cheese 
Salt and pepper to taste
Dash of paprika (optional)
Parsley to garnish (optional)

METHOD

In a sauté pan, heat the olive oil or thoroughly cover with cooking spray. When the pan is hot, toss in the onions and cook until golden and fragrant, about 2 minutes. Add in the mushrooms and thyme. When everything is a deep bronze colour, turn off the heat and transfer to a plate.
In the same pan, heat the oats dry, over low heat, so that they begin to toast. Stir them continuously; they will burn very easily if you're not careful. When they begin to smell nutty and darken, slowly add in the liquids. Stir for about 1 minute, and then turn the heat off, cover the pan, and leave the oats to absorb the liquid for a few minutes.
Once most of the liquid is absorbed, add in the sautéed vegetables, and heat together. The oats should be creamy and pretty thick. At the last moment, sprinkle in the parmesan cheese and stir like crazy!
Transfer to a bowl or dish and season to taste. Enjoy.