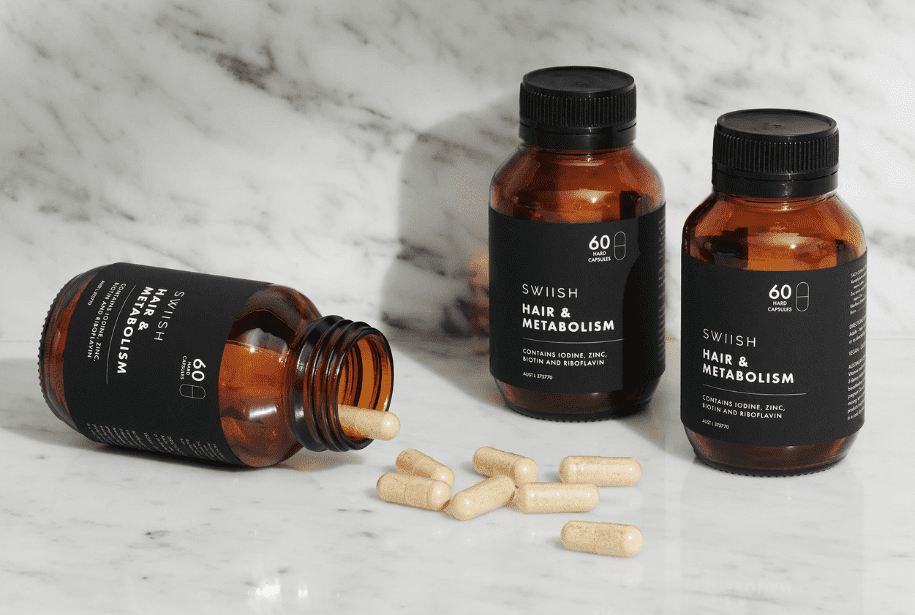 SWIISH Hair & Metabolism™ has been scientifically formulated to support two key areas of inner and outer wellbeing: hair growth and health, and metabolism function. Containing naturally derived Iodine from the seaweed algae Ascophyllum nodosum and a mighty mix of Zinc, Biotin (Vitamin B7) and Riboflavin (Vitamin B2)
Using a specially formulated combination of  Zinc, Biotin, and Riboflavin, Hair & Metabolism is designed to support hair health and hair growth whilst supporting your overall metabolism.
The Ingredients:
Biotin supports new hair follicle formation which contributes to hair growth, strength and maintenance. Biotin also assists in the regrowth of lost hair.
Riboflavin is known to support hair health as its flavoproteins (the building blocks of riboflavin) are essential for hair growth.
Zinc rounds out this powerhouse supplement thanks to its ability to maintain healthy hair.
Iodine supports your metabolism, energy production and healthy thyroid hormones
The results:
Within the initial 30 days, SWIISH Hair & Metabolism will start to lay the foundations as your body begins absorbing and utilising the supplement. Results may vary from person to person, but from 30-60 days is when results typically start with hair growth and health. Then, by 90 days most customers experience noticeable results and sustained differences in their hair health, as well as additional benefits including nail health.
WANT MORE? EXPLORE OUR ENTIRE WELLNESS RANGE HERE