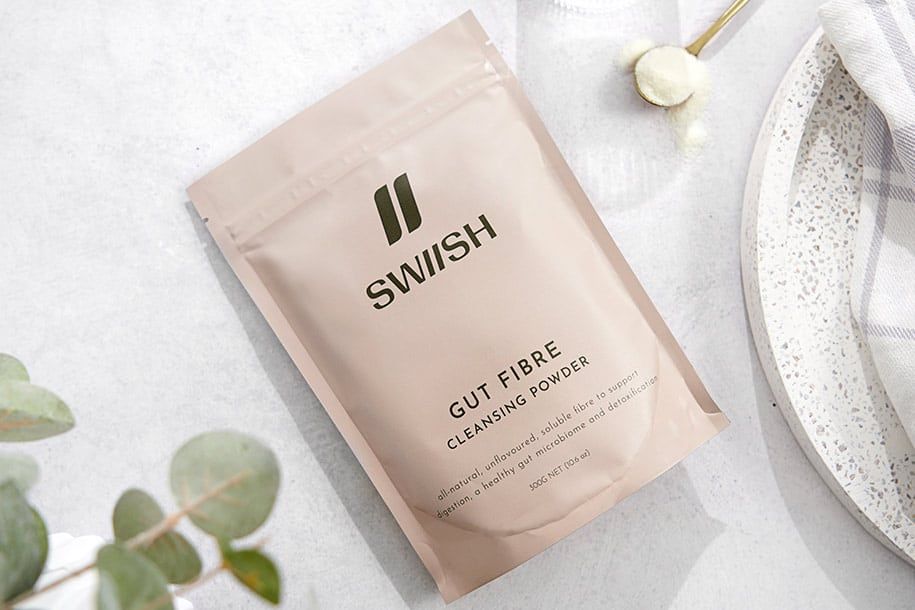 The Gut-Skin Connection
What's your skin like – dry and flaky? Red and inflamed?  Dull and lacking radiance? What about your gut – ever feel bloated or sluggish? Do you struggle to digest certain foods? Or, simply feel like your tummy's a little bit off? The two are more connected than you may think. Introducing the gut-skin connection.
Your skin is a direct reflection of what's going on in your gut. If your gut is inflamed, it's likely that your skin will be too. If you're experiencing gut dysbiosis (an imbalance of the good and bad bacteria) then your skin won't be receiving all the nutrients it needs to stay plump, nourished and hydrated. After all, skin needs feeding too!
Gut Support
The best way to support the gut-skin connection is through nutrition – and fibre is at the top of that list. SWIISH GUT FIBRE Cleansing Powder is soluble fibre that's incredibly gentle on the body, making it a go-to, especially for anyone with an irritated, bloated gut. GUT FIBRE helps strengthen and diversify the gut microbiome by feeding and maintaining a balance of good and bad bacteria in the gut. Soluble fibre also bulks out stools, which helps daily bowel movements which are essential for gut health and avoiding that general sluggishness that none of us want.
There's more…
Fibre is essential for more than just gut health – it also helps with hormone health.
Bile, a digestive fluid, is used to eliminate excess hormones that are unused by the body. The body needs fibre as it's the fibre which bonds to the bile to excrete the unused hormones. As well as this, adequate fibre creates a balance of healthy bacteria to help deactivate oestrogen and other hormones that have been used by the body, so they are not reabsorbed into circulation as old hormones throw the body out of balance.
WANT MORE? EXPLORE OUR ENTIRE WELLNESS RANGE HERE