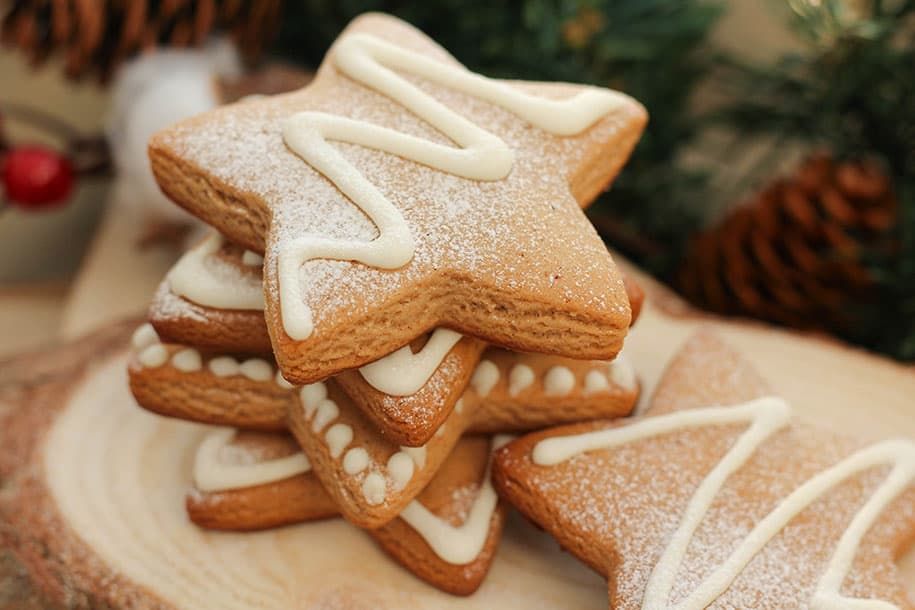 These are a healthy little festive treat. High in protein from the collagen, gluten-free but most of all, delicious!
INGREDIENTS
2 teaspoons of GLOW Marine Collagen Powder
1/2 cup almond flour
2 tablespoons coconut flour
1 teaspoon cinnamon
1/2 teaspoon ginger
1/2 teaspoon allspice
1/4 teaspoon nutmeg
1/4 teaspoon cloves
pinch of salt
1 tablespoon melted coconut oil
1 tablespoon molasses
1 teaspoon vanilla extract
1/8 teaspoon liquid monk fruit sweetener (or sweetener of choice)
1-2 tablespoons water
Icing sugar for topping (optional)
Method
Combine all the ingredients in a medium bowl except the water and stir until combined.
Add water 1/2 tablespoon at a time until dough comes together and holds in a ball.
Place in the refrigerator for 10 minutes to chill.
Meanwhile, preheat oven to 180°C and line a small baking sheet with parchment paper.
With a rolling pin, roll dough flat and use a cookie cutter to get your desired shape. Alternatively you can roll the dough into 6 even sized balls and slightly flatten. Place onto the baking sheet.
Bake for 10 minutes.
Remove from oven and transfer to a cooling rack to let cool.
If coating in optional icing sugar, create a paste with sugar and water (adding the water slowly to get the desired consistency) and top the cookies.
WANT MORE? CHECK OUT OUR RECIPES SECTION AND OUR BOOKS FOR MORE NUTRITIOUS TASTY TREATS.