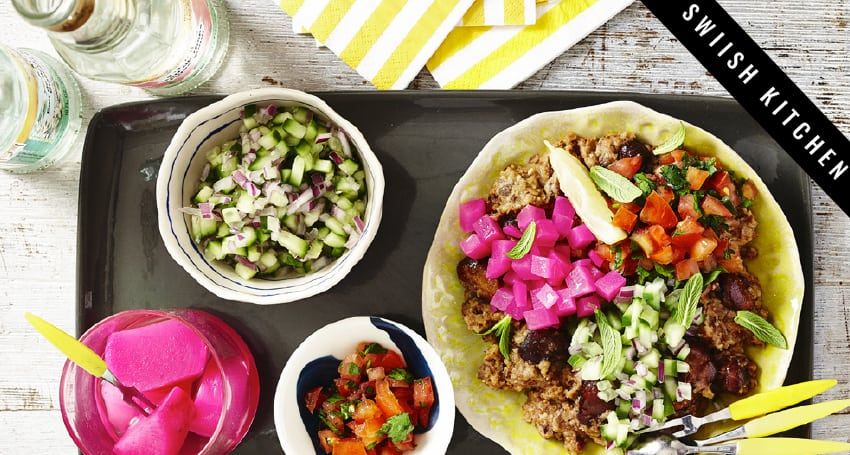 When the cold weather hits, we're in the mood for something warm, spicy and full of flavour.  Oh and of course, packed full of immune boosting ingredients, because those winter colds aren't going to ward themselves off!  
Ful Medames is a traditional Egyptian breakfast dish made from cooked fava beans.  With garlic, cumin, onion, fresh lemon juice and mint, this dish is absolutely bursting with flavour.  Growing up, this was always one of our favourite brekkie dishes – we remember waking up and smelling that mouth-watering mix of herbs and spices as it drifted through the house.
On top of being super tasty, Ful Medames is an awesome dish to help jump start your day.  Packed full of protein, fibre, healthy fats and low GI carbohydrates, Ful Medames makes for a perfectly balanced breakfast and is guaranteed to keep you going all day long.  Oh and on top of all that, our recipe is also dairy-free, gluten-free, nut-free, sugar-free and vegan.  Hooray! 
We all love our poached eggs and overnight oats, but if you feel like shaking things up a bit, we totally recommend giving our Ful Medames recipe a go. You can pick up fava beans (they're tinned) at the supermarket from the International aisle, or from middle eastern grocers. You won't regret it!
PS. You'll find heeeeeaps more lean, healthy, delicious, quick and easy recipes in our cookbook, THE GOOD LIFE, which you can pick up now from our online store right here.