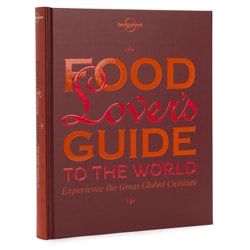 A lifelong obsession with pasta has always left me dreaming of summers in the Italian countryside. If, like me, you love food and travel, then The Food Lovers Guide To The World is the book for you!
Packed with tonnes of images of food from around the world and recipes to try, you will not be able to put The Food Lovers Guide To The World down. You're completely transported to each country that's covered, where you'll find a description of popular foods from the area. There are tips on what to eat and where to find it, along with information about the history of the food from the area.
There's information on the world's top food markets, restaurants and even cultural and practical how-to-eat etiquette tips.
The Food Lovers Guide even has everything you need to know about different types of chocolate and cheese (yum!).
Ultimately, The Food Lovers Guide To The World is well written, with gorgeous photography and makes a perfect gift for anyone who likes to travel or who is a true foodie.
Available from Booktopia, $29.50