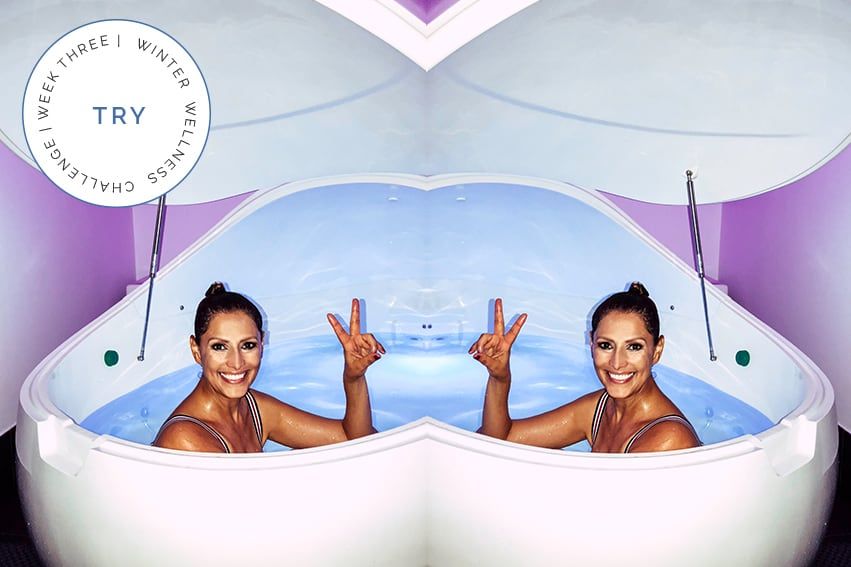 What if we told you that you could float your way to better health? Sounds crazy, right? But hear us out on this one.
Floating is the latest wellness trend to hit the streets and we are 100% obsessed with it. And no, we're not talking about going to your local pool to float around for half an hour; we're talking about floating in a controlled tank where the environment around you has been designed to be free of distractions or obstacles of any kind.
Floating involves lying in a lightless, soundproof float tank filled with 25cm-deep saltwater solution heated to the skin's temperature. Created by neurophysicist Dr. John C. Lilly over 60 years ago, floatation therapy involves lying in a specifically designed floatation tank that is filled with 1000 litres of water warmed to your skin temperature at depth of 25 centimetres. Dissolved in the water is 600kgs of pharmaceutical grade Epsom salt, which results in an incredibly dense solution. This enables people of all body types to float effortlessly and escape the pull of gravity.
It's designed to help eliminate any outside distractions such as sight, sound, tactile sensations and gravity (due to the buoyancy of the water). The result? It literally feels like you are floating in space because you lose track of where your body ends and where the water begins.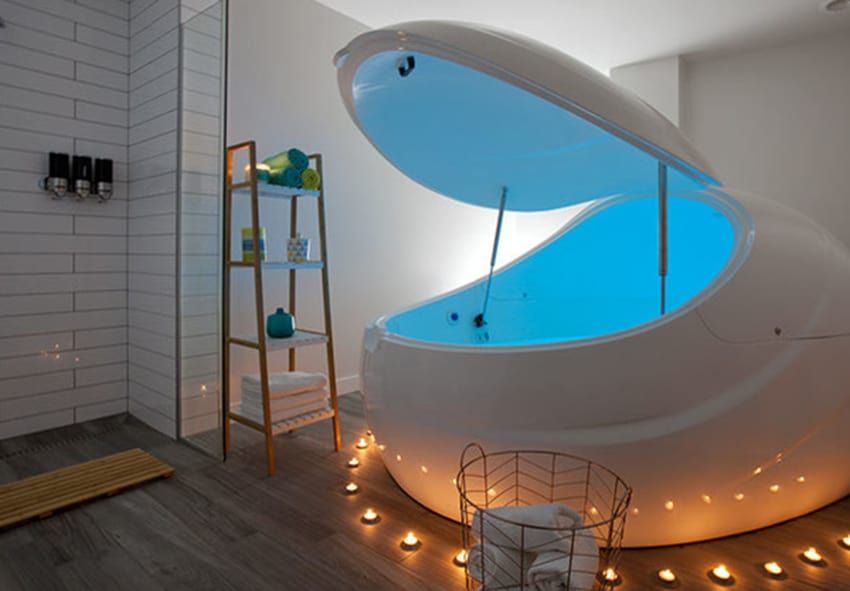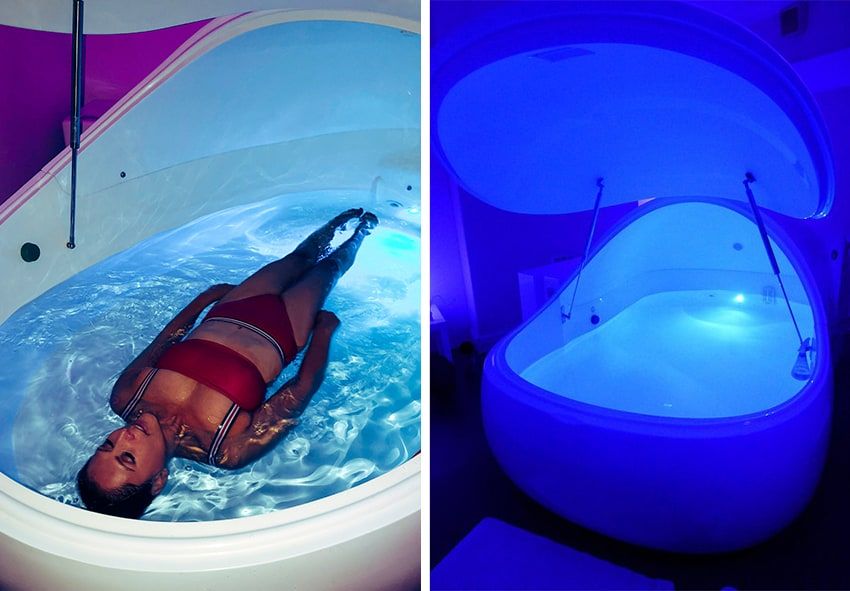 Due to the reduced stimulation, your mind and body are transformed into a complete state of relaxation. Not only does this ease the mind, but it allows your body to fully absorb the magnesium from the water, which is what relieves tension, aches, pains and sore muscles within your body. It also increases circulation and can even help to regulate blood pressure. As your physical ailments begin to fade, your mental state then follows suit, allowing you to be incredibly relaxed. Trust us on this; the relaxation levels after our floating session were a high ten. 
We visited Sydney Float Centre for our float session and we couldn't have had a better time. Upon leaving, our bodies were in a total state of relaxation and our muscle aches from working out were noticeably gone. To reap all the benefits, we would recommend going to three to five times to fully understand how you can use floating to the absolute maximum. 
After visiting Sydney Float Centre, we thought we would give you all our insider tips on what to do for your float visit. We know that when it comes to trying new things in the health & fitness area it can sometimes be daunting, which is it helps to insider knowledge. You can consider us your besties who are here to help.

Eat beforehand. Yep, priorities, ha! If you don't eat beforehand, chances are that you'll spend your entire float session thinking about your next meal. Don't eat right before your session because you'll feel bloated and full but you might like to eat something light an hour before your float begins.

Take really comfy clothes to change into once you finish your float. We would recommend booking in your float session in the late afternoon so you can head home afterwards. You want to take your favourite trackies, a sweater and ugg boots. When you've finished floating, you're in a complete state of relaxation so to keep that momentum going, wear your relaxed clothes and head straight home.

Further to the point above, to keep the relaxation momentum going, have your dinner prepared when you get home. Trust us, you will not feel like cooking or preparing dinner when you finish your float. Instead, you'll feel like curling up on the lounge with a good book or TV show with a pre-prepared dinner ready to go!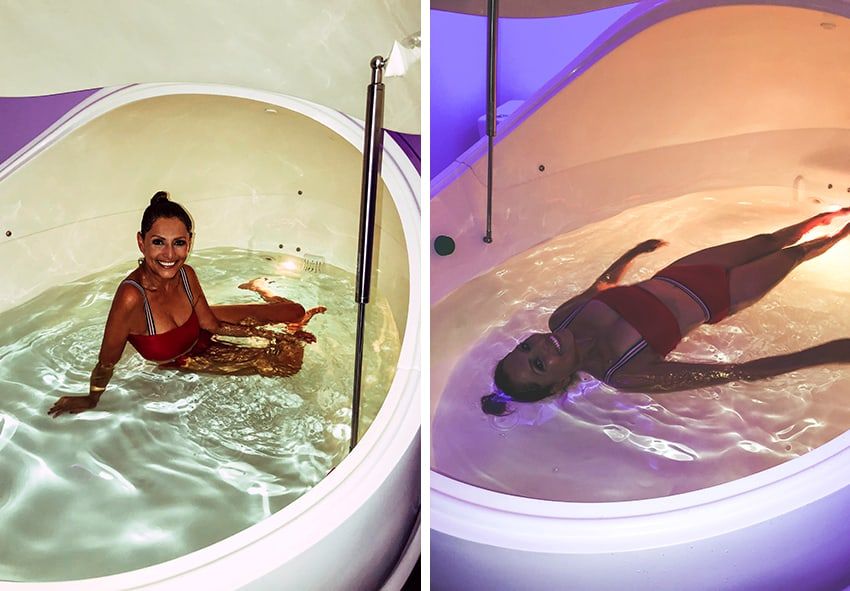 Get there early!

Sydney Float Centre recommends getting there at least fifteen minutes before your session commences. Like any gym or workout class you go to for the first time, you want to get there early so you can familiarise yourself with the space. The staff at the float centre will also go through the floating instructions and any tips before you start. Arriving early will ensure you maximise your float time.

 

Don't rush out of the float centre afterwards. Utilise the chill out room at your float centre and use the time to make yourself a cup of tea and to really unwind.

After your float, you'll notice that your skin will be velvety soft and luxuriously smooth. Invest in a beautiful body oil to use post float. You won't regret it. 
If you're in Sydney, we can't recommend Sydney Float Centre enough. Everything about it was sublime and we can't way to go back! If you're not in Sydney, we've rounded up more float locations for you below.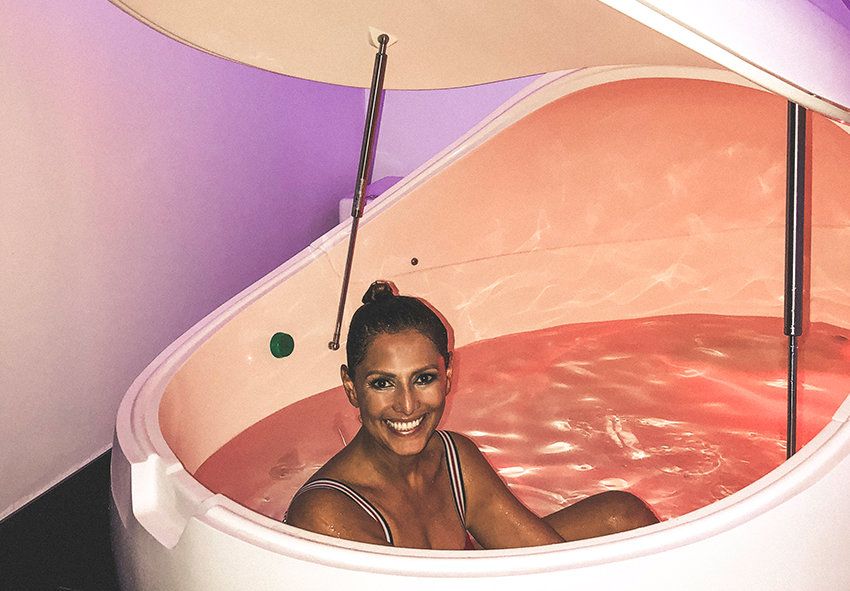 Sydney Float Centre – 66 Riley Street, Darlinghurst, NSW 2010
Flow Revive – 50 Oxford Street, Paddington, NSW 2021

Beyond Rest – 18 Rokeby Street, Collingwood, Victoria 3066
Elevation Floatation and Yoga – 167 Camberwell Road, Hawthorn East, Victoria 3123

Beyond Rest – 125 Edward Street, Perth, Western Australia 6000

Beyond Rest – 3/58 Holdsworth Street, Coorparoo, Queensland 4151

Blue Lagoon Float & Spa – Shop 2, 137 – 139 Brebner Drive, West Lakes, South Australia 5021
The Float Room – 69 Finniss Street, Marion, South Australia 5043

Hobart Float and Spa – 80 Bathurst Street, Hobart, Tasmania 7000