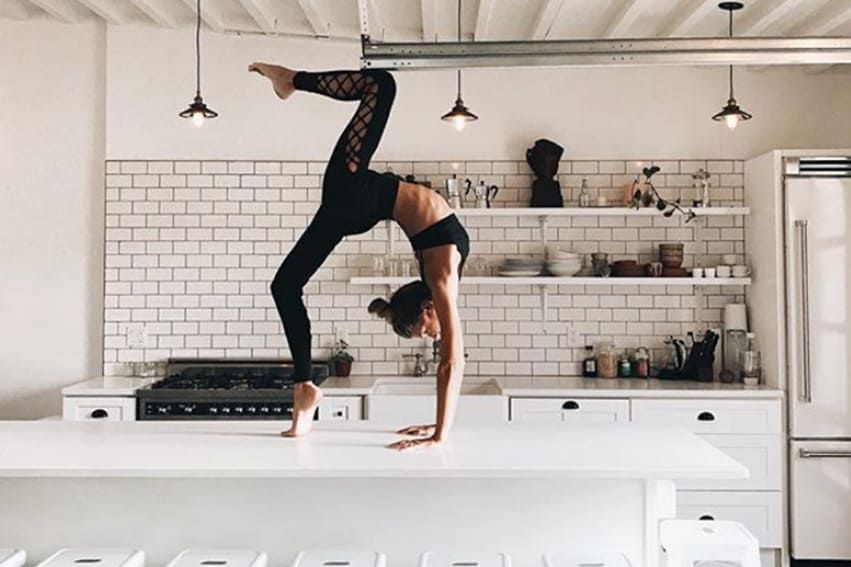 If you've been a reader of SWIISH for a while, you'll know that at the start of this year, we made a goal to dedicate more time to self-care. 
The first five years of running a business are no joke and usually every spare minute we had outside of being with our family (and for Sally, her TV role), we would dedicate to the business. This year, though, we decided to actively commit to looking after our health and fitness. 
You've probably seen on Instagram that we've been training at Base Body Studio a couple of times a week and we also have a personal trainer, Christa, come to our office or house once a week. We're in a good routine now but sometimes, there are days where we just can't get to the gym, or if we're travelling, we need a quick workout that can be done in a hotel room.
Enter: YouTube workouts. 
Yes, YouTube workouts. Now, hear us out because we can hear all of you wondering whether they actually work and we're here to tell you that they absolutely do – if you find the right one. Whilst, we of course would prefer to workout at the gym or with a trainer, these YouTube workouts are ideal for when we don't have time or if we're away.
Here are our five favourite workouts that will save you time and money. Plus, you don't even need to change out of your PJs!

Best for: if you're short on time, this 7-minute abs workout will be your new bestie. We love doing this workout when we're travelling or if we have a super busy day. It's also particularly good if you're in a hotel room as you don't need much space at all. Everyone can spare seven minutes in their day so there really are no excuses not to do your workout with this one. 
Duration: 7 minutes

Best for: working on flexibility and stretching sore muscles. If you've had a long week of workouts and your muscles are feeling tight (we hear ya!), this workout will show you how to get more flexibility in your legs, your hips, your back, your chest, and all the tight areas of your body.
Duration: 18 minutes

Best for: if you're new at yoga or haven't done it in a while, this workout is for you. We find this workout incredibly energising so we like to do it first thing in the morning. 
Duration: 20 minutes 

Best for: if you want a full body workout that will help you strengthen and tone. It will leave your body burning but we guarantee that you will feel amazing afterwards.
Duration: 30 minutes

Best for: when you're in a rush but want to have a full body workout, you can't go past this routine that will push you to the max. The best thing is that it's done in 5 minutes and you don't need any equipment!
Duration: 5 minutes