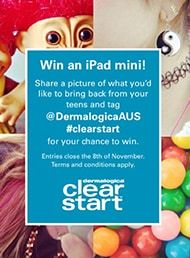 We're huuuuge Dermalogica fans at swiish, and now you can win a fab gift pack including an iPad mini! Woo hoo!
All you have to do is visit Dermalogica on Instagram @DermalogicaAus and complete the sentence – "When I was a teen, my top priority was…." Share a photo of what you'd love to bring back from your teen years for the chance to win a gift pack, valued at $500! AMAZING!!
Make sure that you tag @DermalogicaAus and #clearstart. The competition closes on 8 November, so be quick! GOOD LUCK!