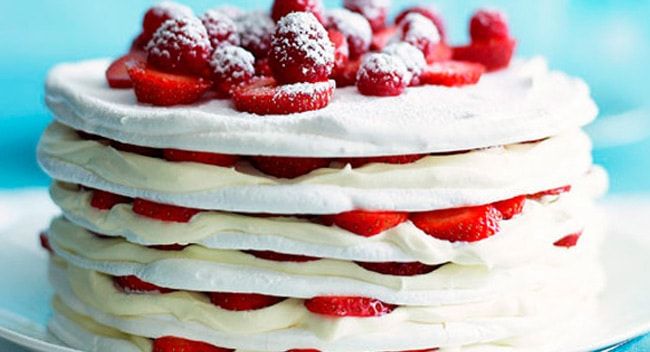 Sweets and treats don't have to be off limits if you're aiming for a low calorie diet. I get my sweet tooth from my dad, so whenever we have a family dinner and dessert time rolls around, we've always been the first two ready to go!
But when you're on a bit of a health kick, as Marcus and I have been this year, you want to be able to enjoy dessert without piling the kilos back on. Here are a few of our favourites:

Light Chocolate Cake (Serves 12)
What you'll need:
75g unsalted butter, softened
1 cup caster sugar
2 eggs
1 1/2 cups self-raising flour
1/3 cup cocoa powder, sifted
1/2 teaspoon bicarbonate of soda
1 cup reduced-fat milk
cocoa powder and mixed berries, to serve
What to do:
Preheat oven to 180°C/160°C fan-forced. Grease a 22cm fluted ring pan.
Using an electric mixer, beat butter, sugar, eggs, flour, cocoa, bicarbonate of soda and milk on low speed for 1 minute or until just combined. Increase speed to high. Beat for 2 minutes or until thick and creamy.
Spoon mixture into pan. Smooth top. Bake for 45 to 50 minutes or until a skewer inserted in the centre comes out clean. Remove from oven. Stand cake in pan for 5 minutes. Turn out onto a wire rack to cool.
Place cake on a plate. Dust with cocoa. Top with berries. Serve.

Apple Custard Tarts (Serves 4)
What you'll need:
1 small (180g) granny smith apple, peeled, cored and finely chopped
1 teaspoon lemon juice
2 sheets filo pastry
Canola oil cooking spray
1 tablespoon almond meal
1 tablespoon caster sugar
1/4 teaspoon ground cinnamon
Custard:
1 tablespoon custard powder
2 teaspoons caster sugar
1 cup low-fat milk
What to do:
Preheat oven to 180°C/160°C fan-forced. Grease 4 holes of a 6-hole, 1/3 cup-capacity muffin pan.
First off to make the custard: Combine custard powder, sugar and 1 tablespoon milk in a saucepan over medium-low heat. Stir in remaining milk. Cook, stirring, for 5 to 7 minutes or until mixture thickens and coats the back of a wooden spoon. Remove from heat. Cover surface with plastic wrap. Allow to cool. Combine apple and lemon juice in a bowl. Place 1 sheet of filo pastry on a flat surface. Spray with oil. Top with remaining sheet of filo pastry. Fold filo pastry in half crossways. Cut into 4 squares. Press each square into 1 hole of prepared pan. Sprinkle almond meal over filo. Top with three-quarters of the apple mixture. Sprinkle with caster sugar and half the cinnamon.
Bake for 10 to 15 minutes or until pastry is golden. Allow to stand in pan for 2 minutes, then transfer tarts to a wire rack. Cool for 5 minutes then spoon prepared custard into cases. Top with remaining apple and remaining cinnamon. Serve as desired.

Lemon Crème Meringues With Passionfruit (Serves 4)
What you'll need:
3 egg whites
Pinch of cream of tartar
100g (1/2 cup) caster sugar
2 x 150g ctns Vaalia Low Fat Lemon For the Crème Yoghurt
'80ml (1/3 cup) light thickened cream
'2-3 passionfruit, halved, pulp removed
What to do:
Preheat oven to 150°C. Line 2 baking trays with non-stick baking paper. Draw four 8cm discs on each lined tray. Turn the paper ink-side down.
Use an electric beater to beat the egg whites and cream of tartar in a bowl until firm peaks form. Add the sugar, 1 tablespoonful at a time, beating constantly until the sugar dissolves and the mixture is thick and glossy.
Divide mixture among discs and use the back of a spoon to smooth surfaces. Bake for 30 minutes or until pale golden and slightly crisp. Turn oven off. Leave meringues in the oven, with the door ajar, to cool completely.
'Place the yoghurt and cream in separate bowls. Use an electric beater to beat the cream until thick. Use a large metal spoon to fold the cream into the yoghurt.
Divide half the meringue discs between 4 plates. Top with half the yoghurt mixture. Top with the remaining meringue discs and remaining yoghurt. Top with passionfruit pulp.