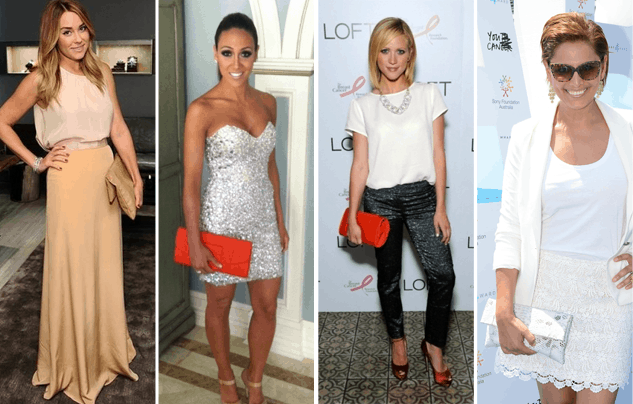 Seriously nothing wrecks a sleek after dark outfit quicker than hauling a massive oversized day bag.  You know, the one with two pairs of sunnies, four lip glosses (all the same colour) and the latest issue of Grazia.
Do yourself a favour and get a clutch. Small. Sleek. Elegant.
I think I need to add a disclaimer here. I am biased. I love clutches. I have over 40. gulp. Yes. 40. Hope husband is not reading this. Doubt he would be. OK in that case I can come clean. I think it's actually closer to 50. OMG. Cold sweat. Yes, 50.
BUT! Before you judge me, I have been collecting them for yeeeeeears. And in line with my philosophy of money doesn't equal taste, many are inexpensive.
So, the point of my story is, if you haven't already, I would start a clutch collection. A clutch can make a statement and can pull an simple outfit together, quick and easy.
So as a self confessed clutch fanatic which are my favourite? I was recently lucky enough to be given the stunning 'Grace' clutch from celeb favourite, Nnomae. This is a homegrown Aussie brand that is being carried around Hollywood by the likes of Lauren Conrad, Leann Rimes and Selita Ebanks.
These gorgeous clutches come in 12 different colours – from neutrals through to this seasons' neons. I own the tan and off white, both of which are perfect for that clean, classic look, but truthfully i have found it tough to stop at just two. Next on my list is the burnt orange. It's chic, fits all your essentials and it's perfect for day and night.
And if that isn't enough of a reason to immediately get your hands on this must-have bag, then how about free shipping within Australia? Amazing! Hmmmm… Maybe I will get the Lemon and the Navy Blue as well….
For more info check out www.nnomae.com