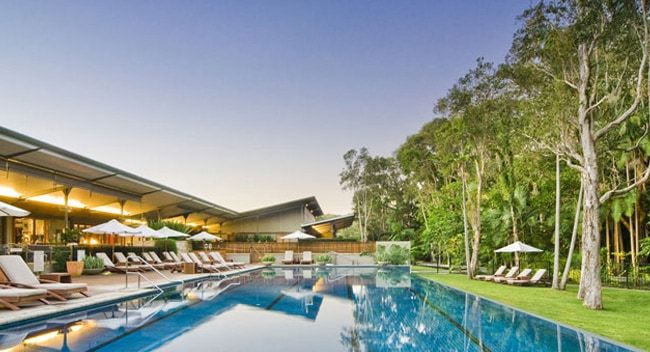 After a really huge year in 2012, Byron Bay was the perfect spot for my first ever family holiday with Marcus and Annabelle and an ideal location for us to get some much needed R & R.
After years of having it hammered into me by my old Executive Producer at Sydney Weekender, I now hate the term 'there's something for everyone' because he said it was impossible for there to be something for everyone. So sorry Alan, but I really feel that Byron has something for everyone! The foodie, the beach bum, the yoga bunny or the muso – you really can indulge in more ways than one whilst there and come back feeling truly relaxed and rejuvenated.
Sleep:
If you're staying for a week or more, our tip would be to book an apartment or holiday house as you're bound to get a better deal.
There are plenty of reasonably priced holiday rentals available on www.byron-bay.com but if it's a more luxurious holiday abode you're after, then we'd suggest hitting www.byronbaybeachhouses.com.au for some plush pads.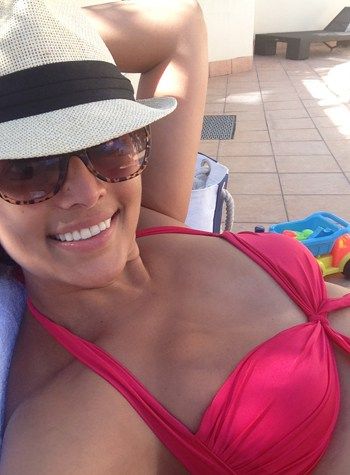 I stayed at the Bay Haven apartments, which I loved. The location is perfect – directly across from the beach and really close to cafes, restaurants and the kids playground (when you have a young child the playground is your second home).
For hotels and B&B's, we can't go past Waves Byron Bay, which is also located only a few minutes away from Byron's Main Beach.
And if you want to enjoy a luxury spa stay (who doesn't?!), then opt for The Byron at Byron. We were supposed to head home but the cyclone/flood meant that we couldn't drive home, so we had to have an emergency stay at The Byron (that's what you call turning a bad situation into something good!). After the first day, I knew I would not want to go home. I did next to nothing, which is what I recommend if you're staying there. They have free yoga classes in the morning, and treat yourself to a day spa treatment. I'm sure you'll be like me, dragged to the car kicking and screaming when it's time to go home.
Eat: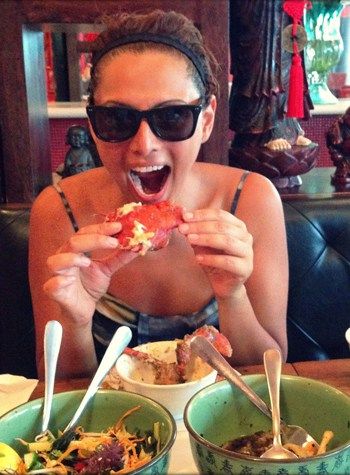 Before this trip I always believed that Melbourne was the food capital of Australia but I truly had some of the best meals of my life in Byron so I'm now on the fence about Melbourne (perhaps another trip there, just to be sure!).
Orient Express Eatery: Some of the best Asian food I've ever had. Ever. Orient Express Eatery surpassed all expectations. I ate the Two-Way Tuna – a rare seared pepper crusted tuna and a sashimi-style tuna salad that had the most delicious flavour. And then the whole crab….mmmm possibly the best crab I have ever eaten. Ever since getting home from holidays, I have dreamed of going back! Oh – and they do weekend yum cha too. So good! You'll find Orient Express Eatery at Shop 1, 2 Fletcher Street.
Traditional Thai: located next door to Orient Express, the food at Traditional Thai was also incredible. They have a Thai chef who will make you the freshest food that was truthfully better than what I had in Thailand. I'd recommend the whole fish – full of flavour, Marcus and I devoured the whole thing in what seemed like a minute! Shop 4-5, 2 Fletcher Street. Take me with you!
The Cardamom Pod: Whether you're vegetarian or not, you will love this food for an easy meal, dining in or take away. The Cardamom Pod have everything you need: salads, curries, falafels, and their cheese and spinach pastries will make you want to go back every day. A bit of hot goss for you: during the Splendour in the Grass music festival last year, Smashing Pumpkins front man Billy Corgan chose to eat here daily. You can find it at Shop 8, The Pier Arcade, 7 Lawson Street.
Balcony Bar: A place to sit and kill a few hours over refreshing cocktails and a delicious meal. Balcony Bar is fitted out inside like a relaxed yet expensive Balinese villa. It can be tricky to get a table some evenings so try and get there early. The food is tasty and the drinks are spot-on, with an extensive wine list too! It's on the corner leading up to the beach, you can't miss it: Corner Lawson & Johnson Streets.
Dip: For a hearty breakfast head to Dip at 1/21-25 Fletcher Street; the Caprese breakfast is so tasty! It's sourdough topped with basil pesto, rocket, roma tomatoes, bocconcini and poached eggs. Mmmmm! They've got everything you could imagine having for breakfast and it makes it so hard to choose! The service in this café is wonderful too. Another bonus: great coffee!!
Byron Fresh: Another breakfast option is Byron Fresh – I ate here with Annabelle most days. Fresh juices, great coffee and my pick for brekkie is the smashed avocado and tomato on sourdough or if you're super hungry then do the Big Brekkie – you won't need lunch, I promise! They're at 7 Jonson Street.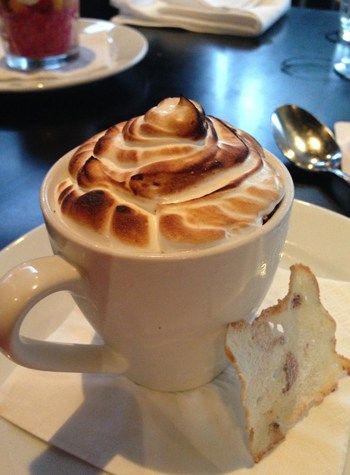 Byron Beach Café: This café has the primo location. It's a bit further away than the main street but it's right on the beach. Eat and watch the waves roll in. I had breakfast here a few times – my pick is the corn fritters with smoked salmon or the quinoa with rhubarb, yoghurt and honey. I really wanted to try the lunch menu here but didn't get around to it. If any of you go here – please report back, I'm keen to know! Byron Beach Café is located on Lawson Street, Clarkes Beach.
St Elmo Dining Room & Bar: I love tapas and St Elmo did not disappoint, it was so delicious. We ate the freshest oysters; a crunchy salad of cabbage, radish and ruby grapefruit; Catalan flat bread with caramelised onion and confit mushrooms. For dessert I had the Cappuccino De Chocolate, which is a coffee and hazelnut custard with gelato and meringue – it comes out looking exactly like a frothy cappuccino, in a coffee cup. Incredible! Is your mouth watering yet? It should be! You'll find St Elmo at 22 Fletcher Street.
Shop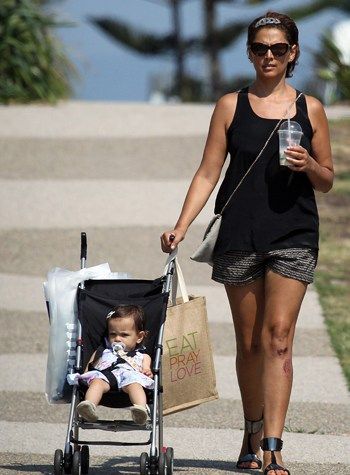 image: Matrix Media 
Byron doesn't exactly have a major shopping district however there are some great surf stores along Johnson Street, as well as Sportsgirl and Witchery too. Make sure you wander through all of the backstreets, as there are boutiques for more exclusive labels and shops tend to pop up every now and then without notice.
Towards the beach you can find some vintage stores and handmade hippie prints from locals running their own shops.
swiish recommends: check out the gorgeous clothes, shoes, accessories and homewares at Pompidou, located at Shop 7, 15-19 Fletcher Street. I also loved Nami – they stock Nicole Richie's House of Harlow as well as a cool mix of eclectic labels, including Alice McCall, Nookie, Mavi and Found. Nami have a small range of cute kids clothes too. Shop 4, 8 Lawson Street.
Music
For any musos out there, head to Threeworlds for a look around one of the coolest shops in town. This store is filled with all things that make sweet noises; didgeridoos, ukulele's, bongo drums, maracas, wooden flutes and all sorts of tropical instruments you may have never seen before. If you feel like getting really groovy, speak to the owner Sheila about when the next lessons are running and take the class. You won't regret it.
If you don't want to perform yourself but still want to get grooving to the music, head to The Northern Hotel on Jonson Street and catch a live band – this old style hotel can pull some pretty big names too; it isn't hard convincing rockstars to head to Byron.
Markets
Byron has a number of markets that offer up the area's finest produce, handcrafted goods and artworks. There's always plenty on offer for the kids too, with face painting, crafts and rides. When I was there, we went along to the Farmer's Market, which runs every Thursday from 7am – 11am. We picked up the freshest organic fruit and vegetables under the sun. They also sell cheeses, bread and coffees so you can easily pick up the whole day's supplies!
The Byron Community Market is held on the first Sunday of every month. Here you'll find music, arts, crafts, clothing and all sorts of exotic wares with over 300 stalls. Both the Farmers Market and the Community Market are located in the Butler Street Reserve.
Yoga
Whether you're a first timer or a seasoned professional, Byron is the perfect place to take up a yoga class. I did classes at the Byron Yoga Centre at 6 Byron Street to restore some inner balance and flexibility as well as strengthen your core. They have classes 7 days a week across the whole day which is perfect if you're trying to fit in with the hectic schedule of breakfast, coffee, nap, lunch, nap, dinner.
You can also do your yoga class by the beach – Beachside Yoga takes place upstairs at the Surf Club on Main Beach and you don't need to book in advance. They even offer massages – with the backdrop of the ocean and the sound of the waves, we reckon it's a pretty fab way to relax.
Stand Up Paddle Boarding
We love our Stand Up Paddle Boarding at swiish! Byron Stand Up Paddle offer classes on the gorgeous Brunswick River. They're $70 for adults to participate in Group Lessons, but if you'd prefer a private lesson, they can arrange those too, from $90. Sadly, when I was there, I couldn't go as the river had too much algae in it to be able to board down it, but I have heard from friends that the lessons at Byron Stand Up are fab and fun!
Little Ones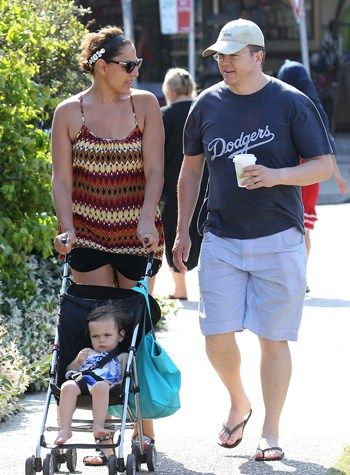 image: Matrix Media
A few people have asked me to include some info on what to do with kids in Byron. I have a 16 month old so my tips are for the very little. I basically lived at the playground on Lawson Street. It was big enough to keep Annabelle entertained for hours. I did that mornings and afternoons.
I also went to the bargain store located near Woolworths and bought her some new cheapie toys. I couldn't be bothered carting all that stuff up with me from home, plus new toys keep them entertained for a bit longer. I also bought her a small blow up pool to put on the balcony of the apartment for when I couldn't take her to the beach. It was the best $11 I've ever spent. I don't know what it is about kids and water but it keeps them going for aaaaages!
We had a few days of rain and that's really when I struggled. I looked and asked everywhere about an indoor play-centre but there isn't one!!! (If anyone is looking for a business with a captive audience and no competition then go and open a play-centre in Byron Bay!). So I would say that was the one Byron downfall. I basically just ended up taking Annabelle for little walks whenever the rain stopped and so when it started to pour for days on end and I got desperate … well I took her to Woolworths and we just walked around the aisles for an hour … or two! Desperate times call for desperate measures and look to be fair, I think she had a pretty good time!
swiish tip: Wake up early and head straight to Main Beach. Most mornings there is a lovely local Byron man, who walks down with his garden rake and creates shapes in the sand that will leave you in awe. Watching him carve out peace signs and daisies in the sand is pretty soothing, and with the sun peeping over the horizon you just feel like things are right in the world. We love it!