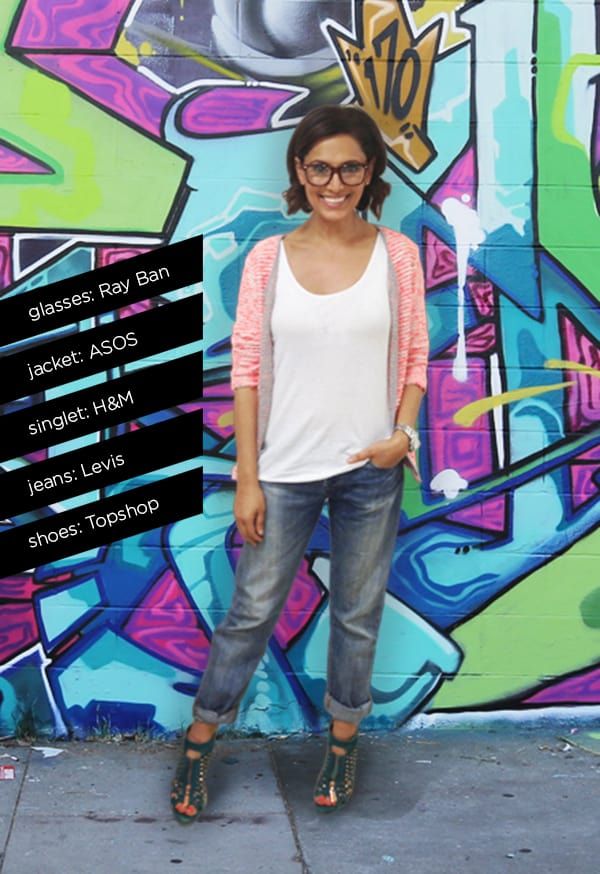 ---
Jeans: Levis
Singlet: H&M
Jacket: ASOS
Heels: Topshop
Glasses: Ray Ban
---
I had a bunch of meetings on Tuesday and I needed something that was smart and comfortable enough to take me through a ten hour day. Oh and I had about 5 hours sleep the night before (long night… Annabelle not sleeping… even longer story… won't bore you) so I also needed to keep it simple because my poor brain was struggling.
So I hit my failsafe option – boyfriend jeans. If I can't think about what to wear or if I know it's a hell of a day in store then boyfriend jeans are my go-to staple.
I kept it ultra simple – white singlet top from H&M, whenever I go overseas I buy these in bulk. They're cheap, they last and they're a great cut.
The jacket is a recent ASOS purchase – from memory it was about $70… it's simple but somehow brings anything to life.
And the shoes, well these are a personal favourite of mine. They're Topshop Boutique from about 4 years ago, bought on a trip to New York. They were about $260 at the time and I remember um-ing and ah-ing and thinking if they would be worth it. Four years and I can safely say YES, they were worth it. I've worn them a million times (ok slight exaggeration) but still, heaps of times and they look incredible. They get lets of compliments and people are always disappointed that they aren't a current in-store purchase. True story: a lady once stopped me on my way to work and asked about them then offered to buy them off me then and there! I love it when fashion moments like that happen!