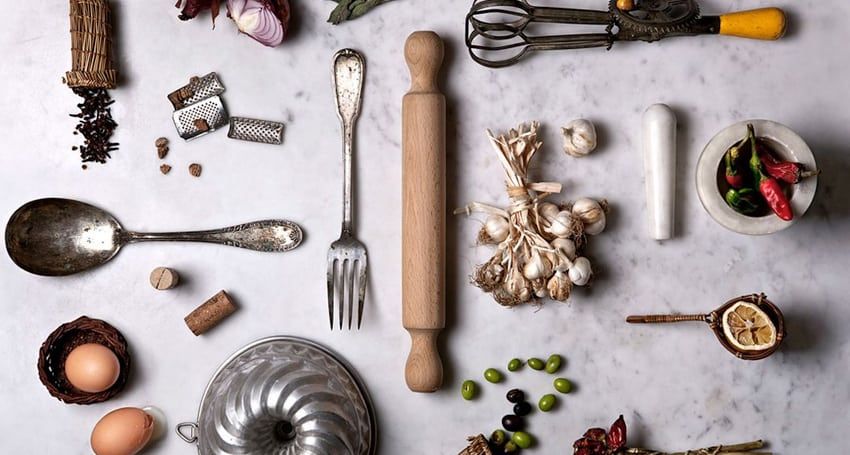 Even if you don't consider yourself a baker or a chef, these staple kitchen ingredients are an easy and quick way to amp up your beauty regime without putting a hole in your wallet.


Lemon Juice
A great natural toner for oily skin. Combine the juice of ½ a lemon, ½ cup of witch hazel, and ½ cup of warm water into a spray bottle. Mist onto the face, chest and back. Skip this one if you have dehydrated, sensitive or sunburnt skin.


Coconut Oil
This beautifully-scented oil does wonders for your face, body, hair and nails. Coconuts are naturally packed with protein, vitamin E, and fatty acids that can be absorbed into the skin and hair.  It penetrates the hair follicles and nourishes your locks from within!  It's also does double-duty as a makeup remover.

Olive Oil
This oil is already sitting on your kitchen counter just waiting to be splashed onto your skin. Antioxidant-rich olive oil is the perfect DIY-recipe ingredient for anyone with dry skin and eczema. This nourishing liquid is also a good choice for ageing skin because it contains vitamins A and E.

Castor Oil
If you're suffering from sunburn, acne, dry skin or even stretch marks, a cotton bud and castor oil are all you need! Wash it off after an hour – use morning and night for even speedier results. Our favourite thing about castor oil though? It helps hair grow! Rub it onto your scalp, brows and lashes.

Apple Cider Vinegar
This organic beauty staple will reinvigorate your locks with life and shine! Apply it to your hair BEFORE you shampoo. Combine ½ a cup of apple cider vinegar wand 1 cup water in a spray bottle, then give your roots a good spritz in the shower.  Then just wash it off after 5-10 minutes for shiny, product-free hair.

White Vinegar
This multi-tasking ingredient can be used to help prevent acne and make nail polish last longer. Before you apply polish, run a cotton pad soaked in white vinegar over each nail. This will remove any residue, moisture or oil to help your manicure last longer. 

Baking Soda
Even if you don't bake, this pantry staple will come in handy! Baking or bi-carbonate soda can be used to whiten your teeth or even as an exfoliator. Mix a few teaspoons of baking soda with fresh lemon juice or water to make a paste. First, wipe your teeth dry to remove any saliva on them. Then apply the paste with a toothbrush; leave it on for a minute and rinse immediately so as to avoid the acid affecting tooth enamel.  

Castile Soap
Castile soap is made from 100% plant oils and is completely biodegradable and cruelty-free. Use it instead of harsh detergent-based shampoo by mixing it with water in a 1:3 ratio. It also makes a gentle bath soap or body wash – use it on its own in solid form, or dilute it in a 2:1 ratio of castile to water if you prefer it as a liquid.

Honey
A natural humectant, meaning it draws moisture from the air into the skin, honey is a great remedy for dry lips, skin and hair. Use it as a moisturising mask by spreading one teaspoon of raw honey on clean, dry skin and let it sit for 15-20 minutes.  Then just wash it off and voila! Smooth, sweet skin for days…

Eggs
Eggs are a wonderful natural skincare product – and they're bound to be in sitting in your fridge! Egg whites help brighten and tighten skin, as they are rich in vitamin A, pure proteins and nutrients. It's probably the easiest face mask recipe out there! Just mix together 1 egg white, a tablespoon of yoghurt and ½ a small avocado, then apply to clean, dry skin. Wash it off after 5 minutes with lukewarm water. Nourished, soft and hydrated skin – WINNING!

Banana
Not only are bananas a popular year-round fruit and exceptionally healthy, but they also make amazing hair and face masks and even teeth whiteners! Cut off a piece of the peel and rub the inner part gently over your teeth for a few minutes, then rinse. Mash a ripe banana and apply to your face and skin for 15 mins then rinse with cold water. So easy!

Avocado
While we love eating avocados, they also make great hand treatments and face masks/cleansers.  Just mash up ¼ of avocado, 1 egg white, 2 tablespoons of rolled oats and 1 tablespoon of lemon juice.  Massage the mixture into your hands and let it sit for 20 mins.  It's worth it we swear!

Yoghurt
The zinc and lactic acid contained in yoghurt is responsible for promoting skin health.  Simply massaging these creamy cultures into the skin will help to remove dead skin cells, smooth out fine lines, tighten pores and hydrate dry patches.  Just wash it off after about 10 minutes.

Turmeric
This tasty spice doesn't just add colour and taste to food. It's been used as a beauty product for years! It is an excellent exfoliant and can help beat the signs of ageing. Use equal amounts of besan (chickpea) flour and turmeric, then add some water and a squeeze of lemon juice to make a paste. Apply evenly to your face and body and leave it on until it dries. Then just wash off, scrubbing your face gently in circular motions for a seriously skin-smoothing result.

Brown sugar
Sugar scrubs aren't cheap to buy, so why not make your own? Just mix equal parts sugar and olive/almond oil, then add any essential oils you like. Rub the mixture onto dry, clean skin and massage it in for a couple of mins before rinsing with warm water. It also makes a great lip scrub when mixed with honey!

Tea
While lemon juice might work great on naturally light hair to add highlights, it's not so effective on those with darker hair as it can turn it a brassy orange-yellow colour. Surprisingly, chamomile tea does the job just as well for brunettes! Brew 3-4 tablespoons of loose tea in hot water until it's reasonably strong, then pour the cooled tea into a spray bottle and spritz it on your hair before going out into the sun.

Milk
If you want to go back to basics, use milk as a face cleanser. It will leave your skin feeling soft and hydrated and is a great natural exfoliant. Just soak a cotton ball in milk and press into the skin for a few minutes. If you have dry skin, try mixing honey with milk and for oily skin, salt and warmed milk will do wonders!