So summer's hit and you're after a new pair of sunnies. A pair of catseye or oversized or even aviators maybe? (Personally, I want all three!). Well, when I first saw these Kitty catseye shades from TOMS, I thought that they were gorgeous, but what I didn't realise is that they do good too. But more on that in a minute.
When I went onto the TOMS website to check out said sunnies, I discovered something amazing – they have a Virtual Try-On section of the site where you can either upload a pic of yourself and see what the different styles of sunnies look like on you, or you can do a real time try on, for instant results. The camera on your computer records you in real time with a pair of TOMS sunnies digitally featured over the top of your face. But the part that spun me out was that not only can you 'try on' every pair, but it's a 360 view – so if you turn your head left or right, you see the side angle of the sunnies and how they look on your face. Incredible!
Now, if that wasn't enough, then here's the best part – TOMS Eyewear & Shoes are all about giving back to the community. They have created a brilliant "one for one" idea where if you purchase one pair of sunglasses TOMS will help give the gift of sight to a person in need, through the provision of treatment, surgery or glasses. Love it!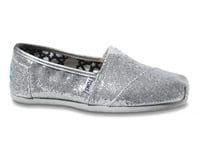 And it doesn't just stop at sunnies. TOMS have a fab range of cute shoes. My favourite pair – no surprises here! – are the Silver Glitters (around $55 a pair). They are so comfy and they sparkle! That's my kind of combo! The giving happens with the shoes too – for every pair of shoes purchased, TOMS will give a pair of new shoes to a child of need.
The idea for TOMS was started by Blake Mycoskie who came up with it whilst traveling Argentina in 2006. He witnessed the hardships faced by children growing up without shoes, so he came up with the one for one idea. Blake has also released a book called "Start Something That Matters"; it's an inspirational story that's all about giving in business.
Visit http://www.toms.com/ and find out how you can help give back as well while rocking a new pair of sunnies or shoes this summer!