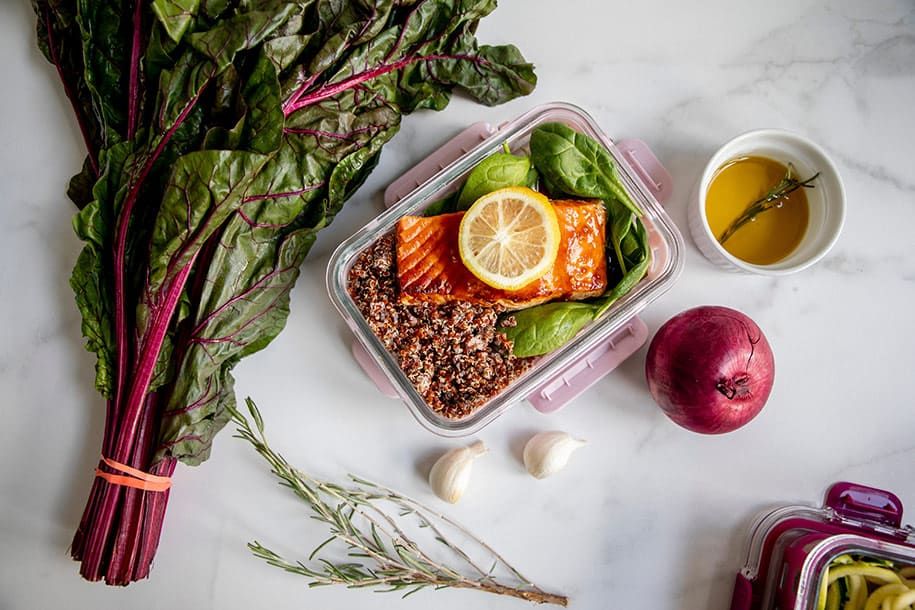 Any meal that you can prep beforehand and grab-and-go on the way to work in the morning is a winner, which is why we have this 12-Minute Miso-Glazed Salmon on repeat in our kitchen.
12-Minute Miso-Glazed Salmon
Dairy-Free / Refined Sugar-Free
Serves 2
Ingredients
2 tbsp miso paste
1 tbsp rice vinegar
2 tbsp honey
1 tsp ginger, grated
1 tsp garlic, minced
Salt and pepper, to taste
2 salmon fillets (85g each)
1 cup quinoa, rinsed
2 cups baby spinach
Lemon wedges to serve
Method
Preheat the oven to 200°C and line a tray with baking paper.
Mix the miso paste, rice vinegar, honey, ginger, garlic, salt and pepper in a small bowl, whisking until combined.
Place the salmon fillets (skin-side down) onto the prepared baking tray. Brush generously with the miso sauce.
Bake for 12 minutes, or until the salmon has cooked to your liking. While the salmon cooks, cook quinoa as per packet instructions.
Serve salmon over 1 cup of baby spinach and 1/2 cup quinoa. Squeeze lemon on top.

WANT TO MAKE IT WORK-FRIENDLY?  With a few easy shortcuts, you can make this gut and skin-friendly lunch right at the office:
Swap the raw salmon fillets for a 100g pre-cooked salmon fillet. Find this in the fridge section of most supermarkets.
Swap the quinoa for a 125g tub of brown or black microwaveable rice. We love the brown rice and the super grains blend.
Use the miso, vinegar, honey, ginger and garlic to make your salad dressing.
In a bowl, add the microwaveable rice to the spinach leaves. Add the salmon fillet on top and drizzle with the dressing. Done – and delicious!
WANT MORE? CHECK OUT OUR RECIPES SECTION AND OUR BOOKS FOR MORE NUTRITIOUS TASTY MEALS.