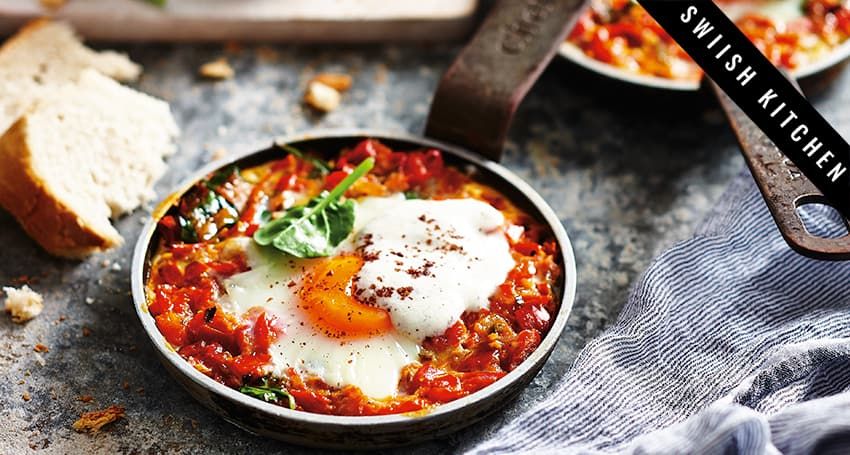 Who doesn't love soft, runny eggs on a cold winter morning? Especially when they're cooked like this… what better way to bring eggs to life than by adding some spicy, exotic flavours to the mix? Baked in a bed of sweet, vine-ripened tomatoes, spicy green chillis and capsicum, splashed with olive oil and drizzled with tangy sumac yoghurt – Turkish Eggs have got to be one of our all time faves.
We've been whipping this dish up for years, it's one of those brekkies you never get sick of, especially on a weekend morning. But having said that, we've even made it for dinner sometimes! Bold flavours like cumin, chilli and garlic mesh perfectly with the eggs and the lemony zest of sumac.  It really is heaven in your mouth.
Just because this dish is rich in flavour, doesn't mean its calorie rich too.  Like most of our recipes, this one is clean and lean.  This particular recipe is gluten free, nut free, sugar free, vegetarian and comes in at only 262 calories per serve. 262! That is so low-cal for such a crazy-delicious dish! Plus, it's vitamin rich and packed with protein, which makes it a super healthy, satisfying meal.  
Enough with just telling you about it though – it's time to make it for yourself!  Below is our recipe for Turkish Eggs with Sumac Yoghurt – tried, tested and perfected.
Oh and by the way, if you love the look of this one, you'll find a tonne of other lean, healthy, delicious, quick and easy recipes in our cookbook, THE GOOD LIFE, which you can pick up now from our online store right here.