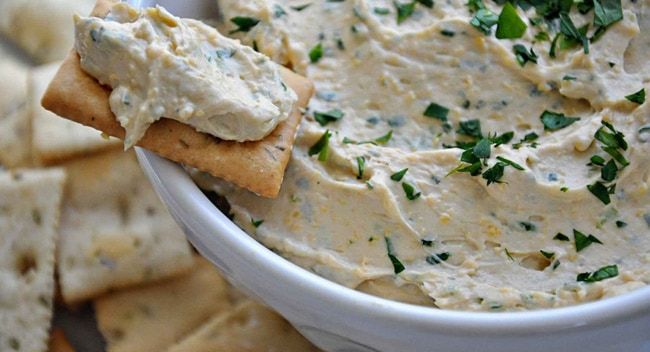 You know the deal, friends are coming round and you need some simple snacks before lunch is served. Before you reach for supermarket bought dips, why not try making your own? You're guaranteed to use the freshest ingredients (no unwanted sugars or preservatives) and the flavours will be a sure-fire hit.
Chilli Smoked Salmon Cob Dip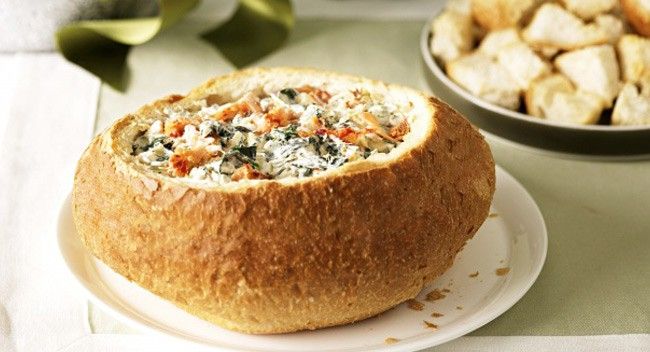 What you'll need:
1 bunch English spinach, trimmed
300g sour cream
1 cup grated cheddar cheese
3 green onions, thinly sliced
150g sweet chilli smoked salmon portion, flaked
1 x 22cm (450g) cob bread loaf
What to do:
Place spinach in a microwave-safe dish. Cover. Microwave on HIGH (100%) for 1 to 2 minutes or until wilted. Squeeze out excess liquid. Roughly chop.
Place spinach, sour cream, cheese, onion and salmon in a bowl. Stir to combine.
Preheat oven to 180°C/160°C fan-forced. Using a serrated knife, cut 3cm from top of loaf. Set top aside. Cut bread from loaf cavity, leaving a 2cm border. Cut bread and bread top into 3cm pieces.
Place bread pieces and loaf on a large baking tray. Bake for 15 minutes or until golden and crisp. Spoon spinach mixture into loaf. Serve with toasted bread.
Feta and Mint Dip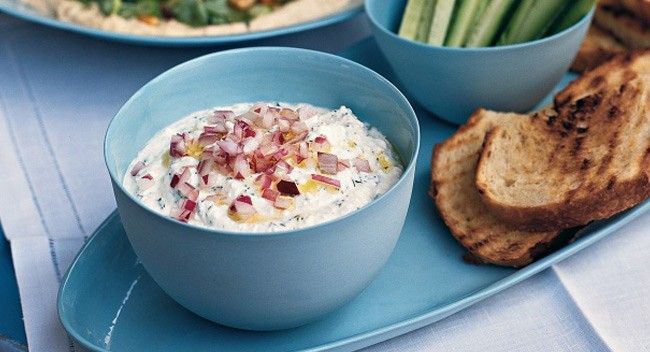 What you'll need:
200g feta, drained, crumbled
1/3 cup lemon juice
1 tbs olive oil
1 tbs finely chopped dill
1 tbs finely chopped mint
1/2 small Spanish onion, finely chopped
Extra virgin olive oil
Cucumber sticks, to serve
What to do:
Combine feta, lemon juice and olive oil in a large bowl. Using a potato masher, mash until smooth. Stir in dill and mint.
Spoon mixture into a bowl and smooth surface. Scatter with onion. Drizzle with extra virgin olive oil. Serve with cucumber.
Honey Ricotta Dip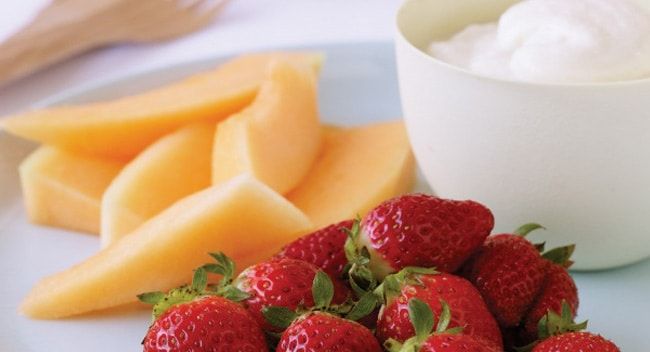 I love this; it's a fresh take on dip, to be paired with fruit.
What you'll need:
200g reduced-fat fresh ricotta
1 tablespoon of low-fat milk
2 teaspoon of honey
1 teaspoon of vanilla essence
Rockmelon wedges & strawberries to dip
What to do:
Use an electric beater to beat ricotta, milk, honey and vanilla essence in a bowl until well combined. Serve with rockmelon wedges and strawberries to dip. Simple!
*recipes courtesy of taste.com.au