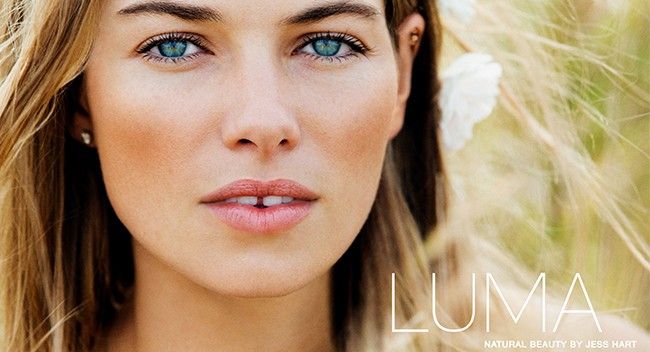 As well as being breathtakingly beautiful, Jess Hart is one of the loveliest and most easy-going celebrities around – and this certainly shines through her new beauty range, LUMA.
Made from naturally derived materials, the 100% Australian-made LUMA enhances a woman's natural beauty with products like tinted moisturiser, highlighter, lipstick and bronzing powder. Plus it's totally free of the nasties like parabens, sulphates and irritants – perfect for everyday wear. And if it leaves us looking anything like gorgeous Jess then I'm buying the whole range!
We sat down to chat with Jess about beauty, fitness and her next steps in global domination.
SWIISH: We're so excited about LUMA – where did you find the inspiration behind it?
JESS: As a model I have spent a lot of time in a makeup chair over the years so I've grown to learn a lot about what works for me and what doesn't. My beauty philosophy is very much less is more so I wanted to create a makeup line that enhances a woman's natural beauty not covers it up. It's taken over two years to get it exactly where I want it but I'm so happy with the result.

SWIISH: Can you tell us what your favourite product from the collection is?
JESS: I have two The Illuminating Highlighter and Nude Shimmer Lipstick

SWIISH: How do you think your background as a model helped in developing this brand?
JESS: Always being on a shoot and getting my make up professionally done, I've learnt to use products that compliment my colouring and enhance my natural features, which is what the LUMA range is all about.

SWIISH: What makes LUMA so different from other naturally derived cosmetic brands? 
JESS: All things natural is something that has been instilled in me by my mother since I was a little girl. The LUMA range offers over 30 products including Tinted Moisturizer, Liquid Foundation, Concealer, Finishing & Bronzing Powder, Shimmer Highlighter, Brushes, Powder Blush, Lip Gloss, Mascara, Sheer Lipstick, and Eye Shadows/Definers. LUMA has no parabens, no mineral oils, is not tested on animals, has no synthetic fragrances, low irritants and is 100% Australian made. We've managed to maintain all this and still ensure that range is sold at an attainable price point. There is not one product in the range that has not had my touch and 100% approval.

SWIISH: What does the phrase/notion of 'having it all' mean to you? 
JESS: No one can have it all, it is about being happy with what you do have

SWIISH: What's your favourite saying, and why? 
JESS: It's really silly one but for some reason I always come back to 'fake it until you make it'. I don't like anything about being fake but there's something about stepping outside your comfort zone and past your insecurities and just pretending that they don't exist.

SWIISH: Do you believe in brutal honesty or sometimes lying or omitting the truth to spare someone's feelings? 
JESS: Brutal honesty, sometimes the truth hurts but I'd still want to hear it that's why I would always tell it

SWIISH: How do you get runway-ready?
JESS: Are there any short-cuts? I have a personal trainer that works lots of different aspects. Sometimes it's more like pilates and stretching or a hard core workout. It's good to mix it up. Otherwise I love spin classes and yoga. I love running. At home in New York I go to Crunch gym and Soul Cycle.

SWIISH: What's your best kooky or unusual beauty tip? 
JESS: Sun In! Bring back the Sun In! I just found it again, the old-school brand. It works like a treat if you're naturally light anyway. It definitely lightened me up enough to prolong salon visits. And it's heat activated so you don't even have to be in the sun, you can use a hairdryer.

SWIISH: What's the one food you love so much that you would still eat even if you dropped it on the floor? 
JESS: PIZZA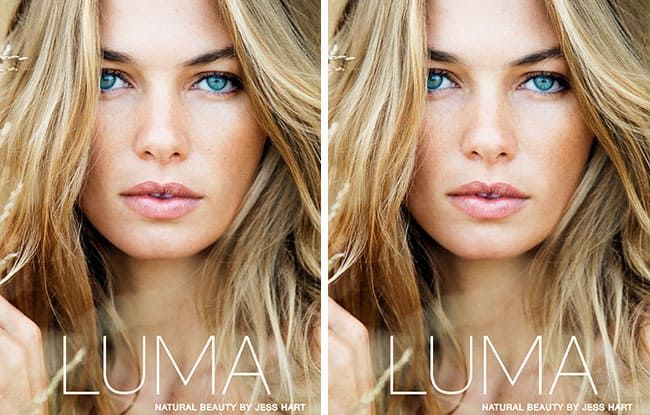 SHOP OUR FAVE LUMA PICKS HERE: