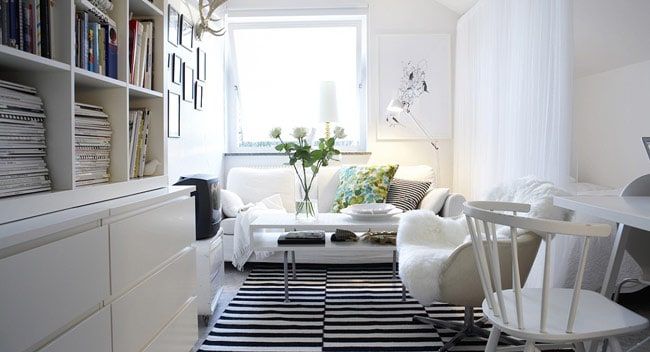 The first apartment that Marcus and I lived in together was tiny but I loved it; it let me indulge my inner savvy space saver that I still am today! Here are a few tricks to help you make the most out of your limited space without sacrificing style.
Multi Purpose
Look for furniture that serves more than one purpose: an ottoman which also provides storage for blankets or books, hidden drawers under bedding and wall units with built in workstations are all great ways to streamline a room.
Reflections
When positioned correctly, a mirror not only accentuates your home's best features but it also can make it appear a whole lot bigger. When installing a mirror take into consideration what it will reflect, whether it be a chandelier, painting or open space. Mirrors can also bring light to dark rooms as they expose any bit of light and radiate it through the entire room.
Go Big
Many people think that small spaces should be decorated with small furniture, but this isn't necessarily correct. You can create a roomier space by displaying one prominent piece, like a vintage armchair or statement sofa, which will work better than cluttering a room with loads of tiny items. Also avoid placing furniture against the wall, most pieces look better at an angle or surrounded by space.
Shelving
Free-standing wall units are a great way to clear up clutter and can be a much less expensive option than built ins. Why not go vertical? Shelving items frees up surfaces and keep clutter out of sight.
Here's a little inspiration to help you on your way: