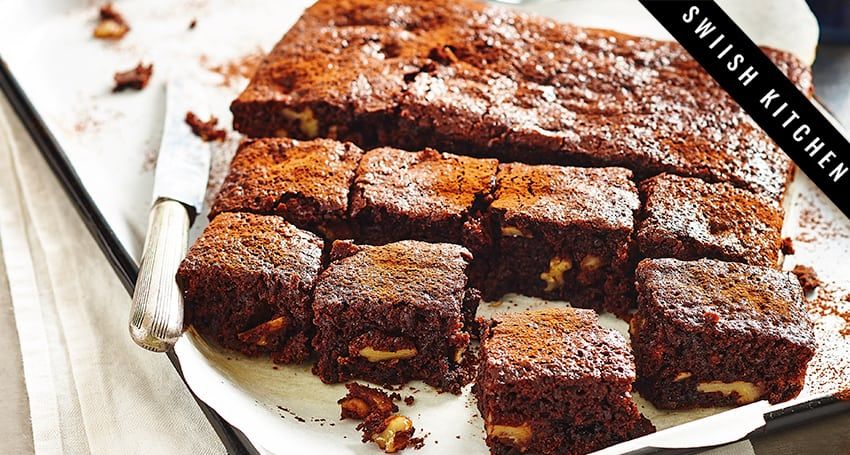 First thing's first. Happy World Chocolate Day! If this isn't one of the most important events on the calendar, we really don't know what is.
To celebrate, we thought we'd share with you our favourite super delicious, super chocolatey recipe – our Skinny Minnie Brownies. This decadent dessert has absolutely everything you'd usually look for in the perfect brownie – chewy, chocolaty, sweet, soft and fudgy – except for one awesome difference… they're low cal!  Yup, that's right. This tasty take on your traditional brownie has only 128 calories per serve. Plus, they're refined sugar free. Double win!
After a strenuous taste-testing session (which funnily enough, our SWIISH team never complained about) we reckon this recipe is perfect. We absolutely love bringing these to work, packing them in school lunches as a little treat and even taking them round to friends' places for dessert.  Whether you're hanging out with a bunch of sweet tooths or your always-on-a-diet friends, Skinny Minnie Brownies are the ultimate crowd pleaser.
So Happy World Chocolate Day everyone! We hope your day is filled with all the chocolate your heart desires. If you make the brownies, don't forget to tag us on Instagram so we can see your amazing creations!
And if you love the look of this one, you'll find more delicious dessert recipes, along with a ton of other healthy, quick and easy meals in our cookbook, THE GOOD LIFE, which you can pick up now from our online store right here.