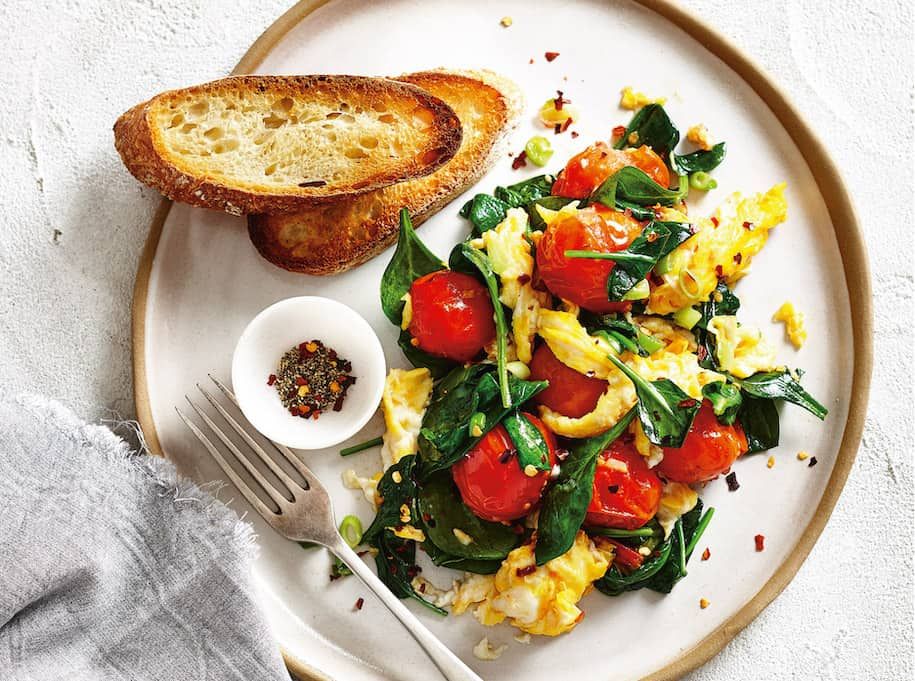 The perfect healthy and wholesome brekkie for all the savoury lovers out there.
Serves 2
399 calories per serve
Recipe from: The Good Life
INGREDIENTS:
• 250g (9oz/1 punnet) sweet cherry tomatoes
• 2 tablespoons olive oil
• 1 garlic clove, finely chopped
• 2 spring onions (scallions), finely chopped
• 180g (6 1/4oz/ 4 cups) baby spinach leaves
• Dried chilli flakes, to taste
• 4 eggs (free-range, organic)
• Sourdough toast, to serve (optional, you can also use gluten-free bread instead)
METHOD:
1. Wash the cherry tomatoes and make a small cut in each one with a sharp knife. Set aside.
2. Put 1 tablespoon of the olive oil into a heavy-based frying pan and heat over medium-high heat. Add the garlic and cherry tomatoes, stirring for about 4-5 minutes or until the tomatoes begin to blister and caramelise slightly.
3. Transfer the tomato mixture to a bowl and leave the pan on the heat. Add the remaining olive oil. Once heated, add the spring onions, baby spinach and a small pinch of chilli flakes (to taste). Stir very gently until the spinach has wilted.
4. Return the tomato mixture to the pan with the spinach, mix to combine and transfer to a bowl.
5. Crack the eggs into a separate bowl and use a fork to break the yolks and whisk lightly. Pour the eggs into the pan. Using a wooden spoon or spatula, gently stir the eggs until they have just cooked through. Fold the tomato mixture through the eggs. Serve immediately, with toasted sourdough (if using).
WANT MORE? CHECK OUT OUR RECIPES SECTION AND OUR BOOKS FOR MORE NUTRITIOUS TASTY MEALS.