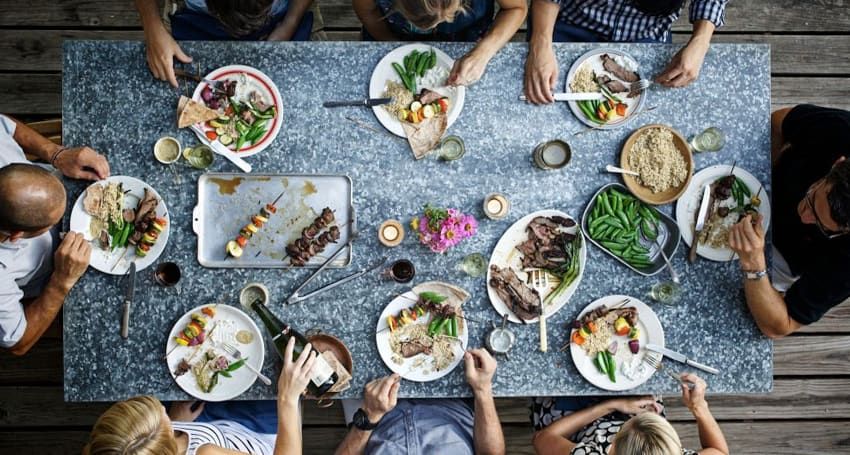 I feel like there's way too much importance placed on the 'main dish' at a dinner party these days.  I mean, why spend so much time stressing over a roast dinner when all your guests are busy eyeing off the cheesy mash?  
I've been spending a lot of time in the kitchen lately – but cooking up some seriously amazing side dishes that I had to share with you guys.  They're so good you almost don't need a main!  I particularly love the ones I've chosen here because not only do they have some seriously scrumptious elements, they're pretty simple to make too!  Move over main-meal, side dishes are stealing the show…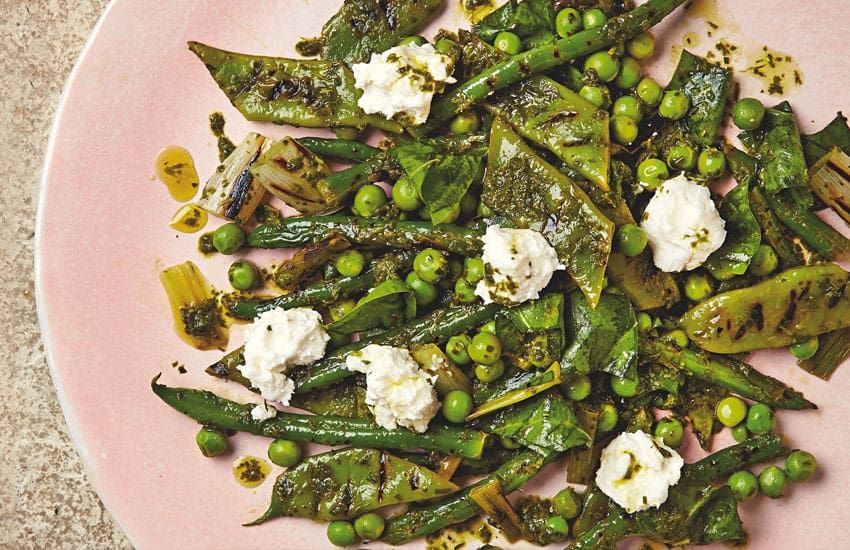 CHAR-GRILLED GREENS WITH SORREL, CHIVE & MINT
 

INGREDIENTS

300g long green beans, trimmed
200g snow peas, trimmed and threads removed, then cut into 5cm pieces
3 tbsp olive oil
Salt and black pepper
500g frozen peas, blanched briefly
200g spring onions, trimmed
140g sorrel*, chopped into 2cm pieces
20g chives, roughly chopped
15g mint leaves, roughly chopped
1 clove garlic, peeled and roughly chopped
Finely grated zest of ½ lemon, plus 2 tbsp lemon juice
150g soft goat's cheese, crumbled

 

*sorrel is available from fruit & veggie shops or specialty greengrocers. If you can't find it, you can substitute for watercress.

METHOD

Fill a medium saucepan with salted water and bring to a boil. Add the beans and snowpeas, blanch for two minutes, until just cooked, then drain, refresh under cold water and set aside. 
Once dry, put the beans and snowpeas in a large bowl, add a teaspoon and a half of oil and a quarter-teaspoon of salt, mix and set aside.
Put a griddle pan on a high heat and ventilate your kitchen. Once the pan is hot, add the beans and snowpeas in batches and char-grill for two minutes, turning throughout. Transfer to a large bowl and repeat with the remainder.
Put the spring onions on the griddle and cook for six minutes, turning regularly, until charred all over and smoky. Remove from the pan, chop into rough 2cm pieces and add to the bean bowl.
Put 60g of the sorrel in the small bowl of a food processor and add the chives, mint, garlic, lemon zest, the remaining oil, a tablespoon of water, half a teaspoon of salt and a good grind of black pepper. Blitz to a smooth paste, then add to the bean bowl and mix to combine. 
Just before serving, add the blanched peas, remaining sorrel and lemon juice, transfer to a serving platter, dot with the goat's cheese and take to the table.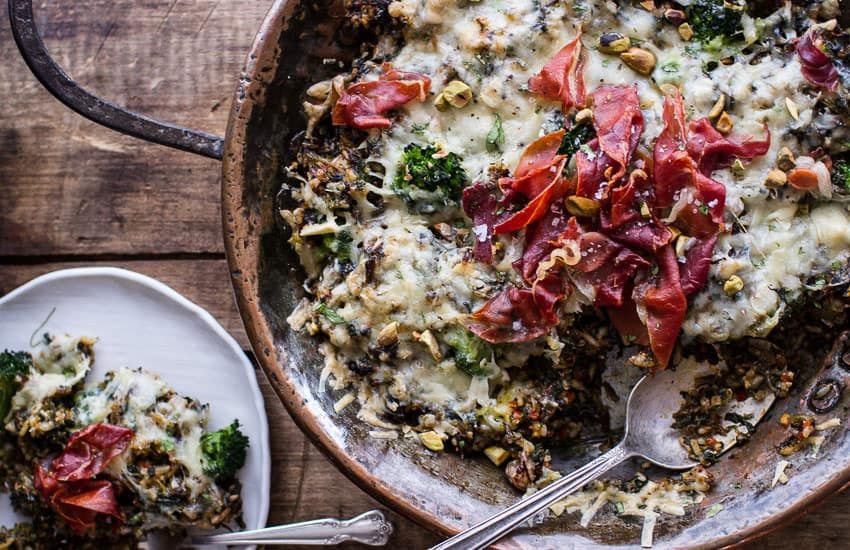 HARISSA, BROCCOLI & WILD RICE WITH CRISPY PROSCIUTTO
INGREDIENTS

1/4 cup olive oil, divided
1/2 medium onion, chopped
2 cloves garlic, chopped
4 cups cooked wild rice
1/4 to 1/3 cups harissa
1 1/2 cups frozen broccoli
350g fresh or frozen spinach (thaw and squeeze dry if using frozen)
1 teaspoon dried dill
1/4 cup fresh coriander, chopped more for garnish
good pinch of salt pepper
115g gruyere cheese, shredded
60g gouda cheese, shredded
150g thinly sliced prosciutto
2 tablespoons pistachios, chopped

METHOD 

Grease a 2-3 litre casserole dish. Set aside. Preheat the oven to 190 C.
Heat a very large skillet (one big enough to fit all of the rice spinach) over medium-high heat. Once hot add 2 tablespoons olive oil, the onions and garlic. Cook for 8 to 10 minutes or until the onion is soft and lightly caramelized. Remove from the heat.  
Stir in the cooked wild rice, harissa (I used 1/3 cup), frozen broccoli, spinach, dill, coriander, salt and pepper. Add the remaining 2 tablespoons olive oil and mix well to combine. Pour the mixture into the prepared casserole dish.
Sprinkle the cheeses over the casserole and then add the prosciutto. Bake the casserole for 20-30 minutes or until the cheese is melted and the prosciutto is crispy.
Sprinkle the casserole with fresh coriander and chopped pistachios. Serve!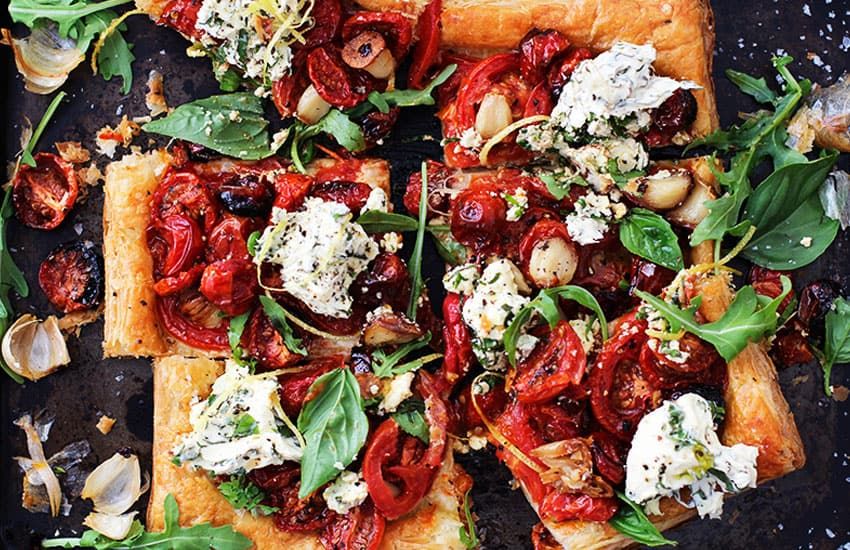 TOMATO TART WITH ROAST GARLIC
INGREDIENTS

2 whole heads garlic – tops chopped off 
10 baby Roma tomatoes – halved 
20 cherry tomatoes
3 Tbs olive oil 
Sea salt flakes and freshly ground black pepper 
1 sheet frozen puff pastry – rolled out to 20cmx20cm 
1 egg – beaten 
2 large tomatoes – sliced 
1 x 250g tub of mascarpone 
1 large handful fresh basil leaves – finely chopped 
Zest of half a lemon 
Salt and pepper to taste 
TO TOP: 
Fresh basil 
Rocket

METHOD

Preheat the oven to 180°C.
Remove puff pastry from freezer and leave to thaw
Place your garlic heads, whole and halved tomatoes on a baking sheet.
Pour olive oil into the garlic heads and coat the tomatoes.
Season with salt and pepper and pop into the oven to roast for about 30-40 minutes or until the garlic and tomatoes are nicely roasted and slightly caramelised. Once sufficiently cooled to handle squeeze out the individual cloves from the head of garlic and set aside.
Make small fork pricks in the puff pastry and blind bake in the oven for around 10 mins, then remove and set aside.
Increase your oven temperature to 200°C
Cover pastry with the layered slices of large tomatoes, leaving a 2-3cm edge.
Season with salt and pepper and drizzle lightly with olive oil, then brush the beaten egg over any exposed bits of pastry. 
Pop into the oven and bake for 30 minutes or until risen and golden.
While the tart is baking combine the mascarpone, chopped basil, lemon zest and season with salt and pepper.
Once your tart is ready, remove from the oven and allow to cool for a couple minutes.
Top with the baby Roma and cherry tomatoes, roast garlic, a few tablespoons of the basil mascarpone (keep the extra aside to add more) and fresh basil and rocket.
Season with salt and pepper and serve.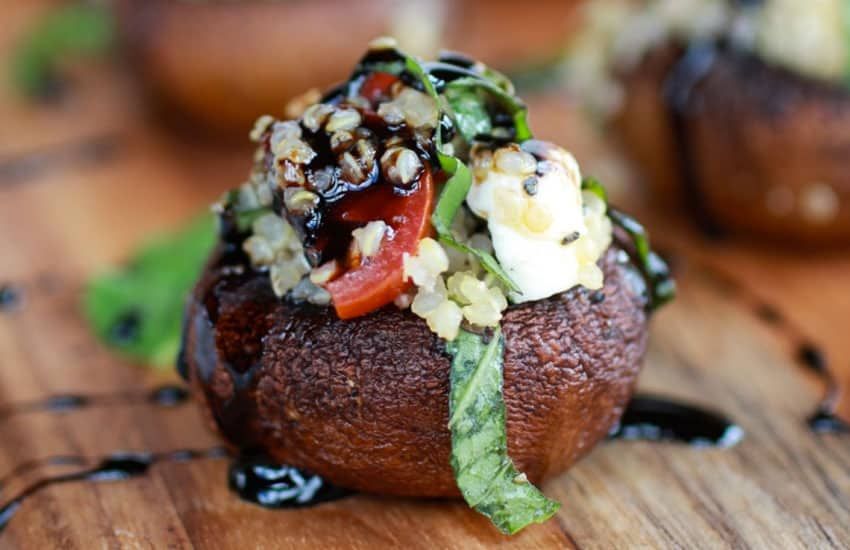 CAPRESE QUINOA STUFFED MUSHROOMS WITH BALSAMIC GLAZE
INGREDIENTS

12 baby portobello mushrooms or 2 portobello mushrooms, stems removed
1/2 cup cooked quinoa
1/2 cup grape tomatoes, diced
1/3 cup fresh mozzarella cheese, diced
8-10 fresh basil leaves, sliced or chopped
3 tablespoons extra virgin olive oil
1/2 teaspoon salt
1/2 teaspoon pepper
Balsamic Glaze
1/2 cup balsamic vinegar
1 teaspoon brown sugar (optional)

METHOD 

Add vinegar and brown sugar if using to a small saucepan and bring to a boil. Reduce to a very low simmer and cook for 10-15 minutes, until liquid reduces by about half and is slightly syrupy. Remove from heat, pour vinegar in a bowl or glass to pour, and set aside to cool and thicken.
Preheat the grill to medium high heat or heat your oven to 205 degrees F.
Toss the mushrooms with 1 tablespoon of olive oil and a sprinkle of salt and pepper. Place the mushrooms stem side up directly on the grill and grill for 8-10 minutes or bake for 8-10 minutes. Remove from the grill and discard any liquid that is in the caps.
While the mushrooms grill toss the quinoa, tomatoes, mozzarella and basil together in a medium size bowl. Add the remaining olive oil. Season with salt and pepper.
When the mushrooms are ready stuff each mushroom as best as you can with the caprese quinoa. If your mushrooms are small you may have some of the caprese quinoa leftover, just serve it along side the mushrooms. If desired place the mushrooms on a baking sheet and place back on the grill 1 minute to warm the cheese. Serve with a drizzle of the balsamic glaze and fresh black pepper.