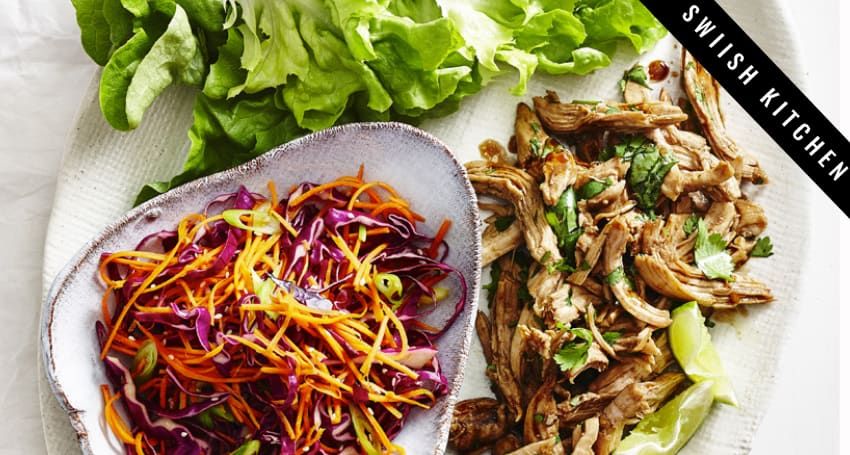 Looking for a simple and easy last-minute meal option? Then you've come to the right place. These Quick Chicken Lettuce Wraps can be on the table in under 20 minutes, not to mention each serving comes in at only around 300 calories. Got to love that!
Recipe from: THE GOOD LIFE
Serves 2
Dairy-free / Nut-free / Refined Sugar-free
INGREDIENTS
1 tbsp olive oil
1 garlic clove, minced
1/2 cooked chicken, skin removed and meat shredded (it's also okay to use a ready-cooked barbecue chicken)
1/4 cup chicken stock
1 tbsp soy sauce (or tamari)
2 tsp oyster sauce
2 tsp hoisin sauce
1/2 tsp stevia
2-3 carrots, shredded (enough to make 1 cup)
1/4 red cabbage, shredded (enough to make 1 cup)
1 spring onion (scallion), chopped
1/2 iceberg or butter lettuce, leaves separated and washed
1 tbsp chopped coriander leaves
DRESSING
1 tsp rice wine vinegar
1 tsp sesame oil
1 tsp sesame seeds
METHOD
Heat the olive oil in a frying pan over medium heat, add the garlic and stir gently. Once the garlic softens and develops a little colour, add the shredded chicken and stir. Reduce the heat to medium-low.
In a bowl, combine the chicken stock, soy sauce (or tamari), oyster sauce, hoisin and stevia, and use a fork to whisk gently. Add this to the pan with the chicken and stir to make sure that the chicken is well coated. You may need to increase the heat slightly. Keep cooking until the liquid has reduced. Remove from the heat and transfer the mixture to a serving bowl.
To make the dressing, in a small bowl, whisk together the rice wine vinegar, sesame oil and sesame seeds. Taste and season with salt and pepper.
Put the carrot, cabbage and spring onion in a serving bowl. Toss to combine. Drizzle with the dressing.
Place the lettuce leaves on a serving platter. Add the chicken to the platter alongside the lettuce, and sprinkle with coriander. To eat, spoon chicken and slaw into a lettuce leaf, roll up and eat immediately.


WANT MORE? CHECK OUT OUR RECIPES SECTION AND OUR BOOKS FOR MORE NUTRITIOUS TASTY TREATS.