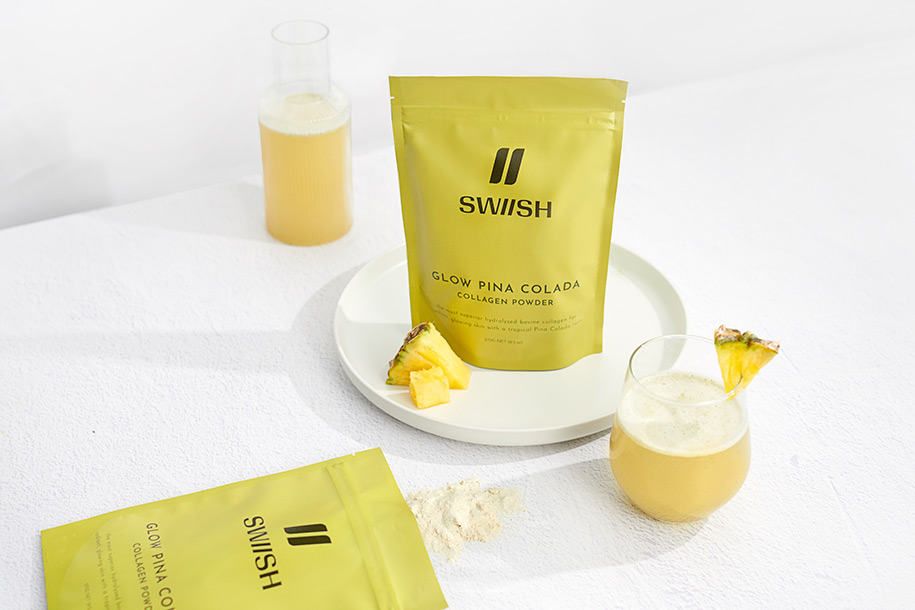 We recently introduced our latest SWIISH product to the family… GLOW Pina Colada Collagen Powder !!! *cue the cheering*
Joining our collagen range, it's, of course, a skin powerhouse, but today on Wellness Wednesday we're here to explain why.
1. 
SKIN BENEFITS OF PINEAPPLE – THE BREAKDOWN:
You can't have a pina colada without pineapple, and although these tropical goodies taste damn delicious – they work wonders for the skin as well.
High in phytonutrients and other skin-loving vitamins and minerals, pineapple contains:
Vitamin B1, B2, B3, B5 & B6

Vitamin C – helps produce collagen!

Manganese, Potassium, Copper

Beta-carotene – converts to Vitamin A in the body

Folic acid – another B vitamin essential for skin cell turnover

Fibre – for gut health which is vital for skin

Bromelain – enzyme that has potent anti-inflammatory effects
Bromelain & Vitamin C – a match made in heaven
The anti-inflammatory effects of bromelain help fight redness, swelling, and of course, inflammation!! To further this, the enzyme bromelain boosts the healing power of vitamin C, allowing it to work its magic more effectively.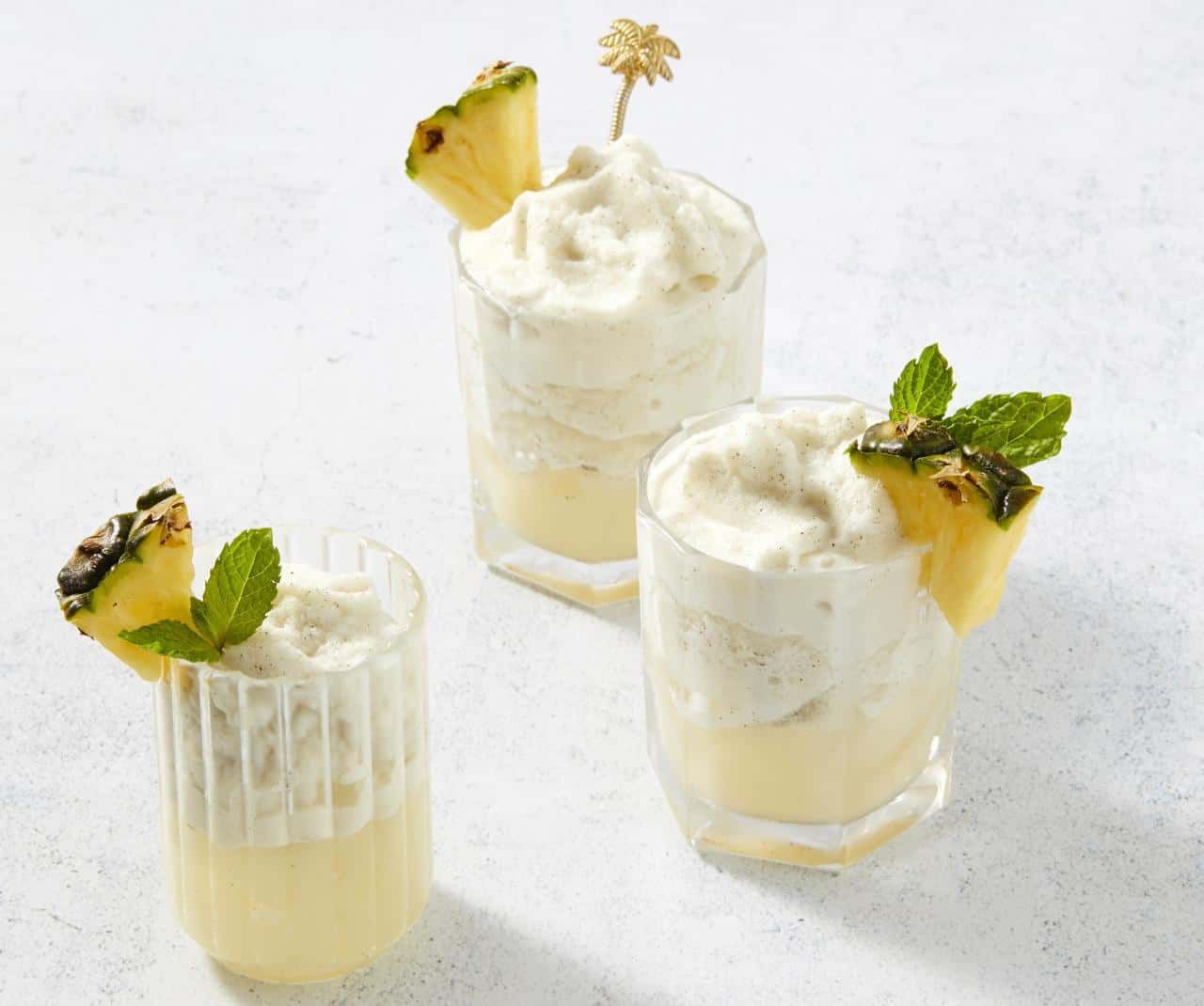 Known as a collagen "precursor" (which just means that it helps synthesise collagen in the body), vitamin C can help nourish damaged cells to boost and repair tissue. The nutrients in pineapples can also promote smooth, firm, and flexible skin ensuring full body GLOW… who doesn't want a little more of that!?!
2. SKIN BENEFITS OF COCONUT – THE BREAKDOWN:
Fights Dry Skin
If you're the type of person that constantly has a moisturiser handy to combat dry and flakey skin, coconut and coconut oil can be a saviour.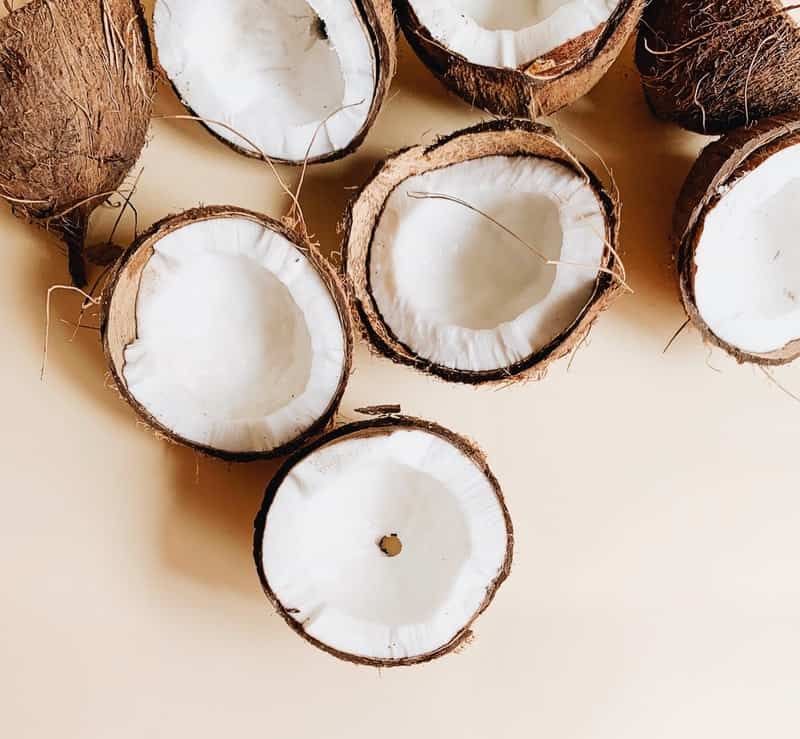 The fatty acids and vitamin E found in coconut and coconut oil can help cleanse, detoxify, and nourish your skin leaving it feeling soft and supple – just like a baby's!
Encourages Anti-Ageing
Similar to the benefits found in pineapple, coconut also boosts collagen production supporting skin regeneration. In other words… it may help increase skin firmness, reduce fine lines, and minimise wrinkles. Its antioxidant content also slows down the ageing process by tackling harmful free radicals too. Bonus!!
3. 
SKIN BENEFITS OF HYDROLYSED COLLAGEN – THE BREAKDOWN:
Collagen is the most abundant protein in our bodies, making up around 75% of skin – our body's largest organ.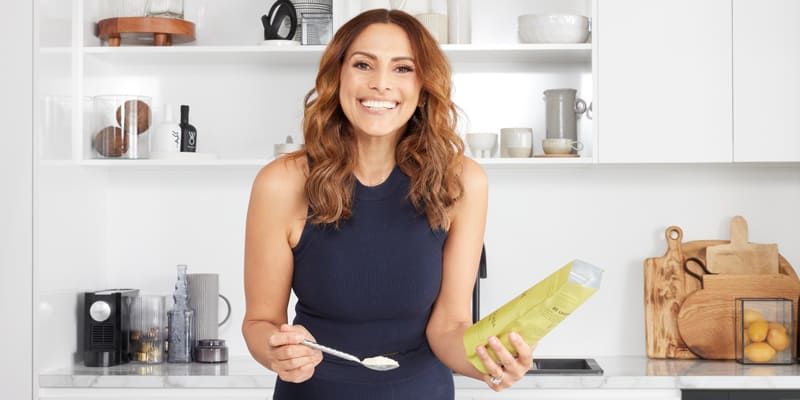 Collagen is synthesised in our bodies by tiny cells called "fibroblasts" and deposits itself most abundantly in the dermis, the deepest layer of the skin.
As we age, our body's production of collagen slows meaning that our skin, eyes, ligaments, tendons, teeth, cartilage, hair and nails have far less of it. This is when we see the signs of ageing, as these structures no longer have the strength and support that they need and thus begin to break down. (Frustrating – we know!!)
Replenishing collagen levels in your body with a natural supplement can help slow down the ageing process, enhance hydration and firmness, and plump the skin, smoothing out fine lines and wrinkles.
Ready to enjoy a Pina Colada and find your GLOW?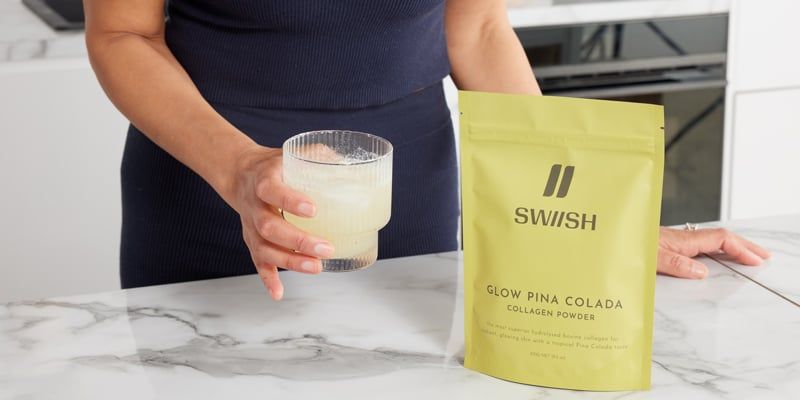 GLOW Pina Colada Collagen Powder
WANT MORE? CHECK OUT OUR WELLNESS SECTION FOR INSIDER INFO AND EXPERT ADVICE TO FEEL AMAZING INSIDE + OUT!
This content is intended for informational purposes only. It should not be used as medical advice, diagnosis or treatment. The views and information shared within this article by SWIISH and/or (if applicable) by another health professional or expert are for educational purposes only. Any views shared by a health professional or expert are the views of the expert and do not necessarily represent the views of SWIISH. We always advise you to seek assistance from a medical professional if you are looking for specific advice, answers or treatment.