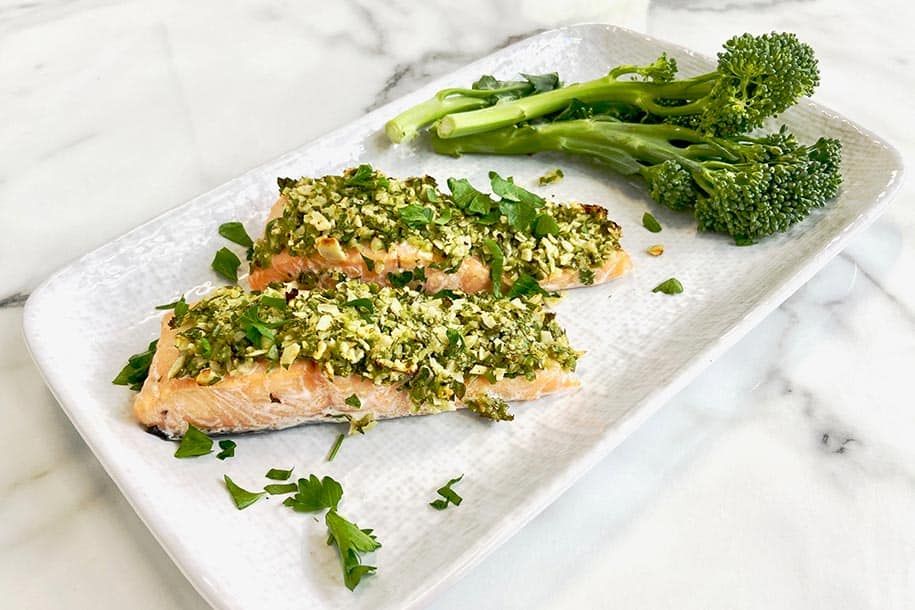 A zesty, salty, flavour-packed infusion of olives, parsley and lemon – this 12-Minute Olive and Almond-Crusted Salmon has been on repeat in the SWIISH HQ kitchen, because it's just that good. This is officially one of the easiest (and tastiest) dinners you will ever make. You're welcome.
12-MINUTE OLIVE AND ALMOND-CRUSTED SALMON
Dairy-free / Pescatarian
Serves 2
INGREDIENTS
2 boneless salmon fillets, skin on
½ cup green olives, sliced
½ cup almonds, chopped or sliced
¼ cup fresh parsley, chopped
1 tsp minced garlic
1 tbsp lemon juice
1 tbsp olive oil
Pinch of black pepper
METHOD
Preheat oven to 180ºC. Line a medium-sized tray with baking paper.
Mix all ingredients together in a bowl, except for the salmon.
Place the salmon on the tray (skin side down). Bake uncovered for 12 minutes, or until salmon has cooked through. Serve with a side of steamed greens or salad.
WANT MORE? CHECK OUT OUR RECIPES SECTION AND OUR BOOKS FOR MORE NUTRITIOUS TASTY MEALS.