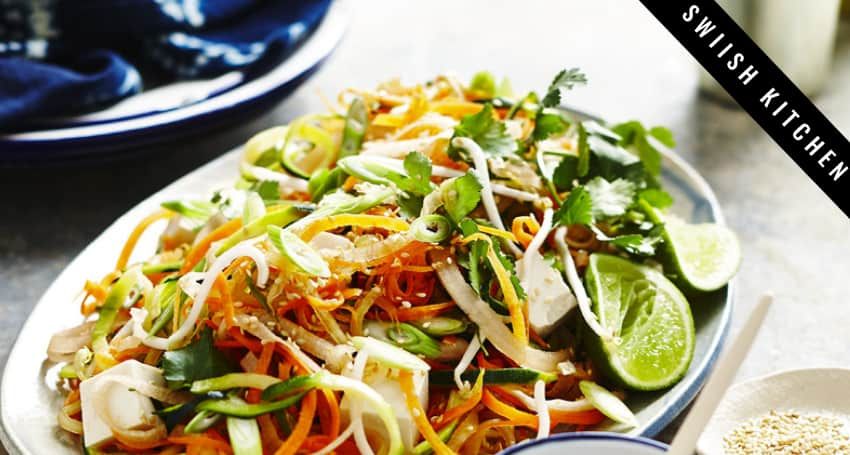 Whenever we hit up our local Thai restaurant, pad thai is always the first thing we order.  There's just something about that mix of sweet, salty and nutty flavours that's way too good too resist.  But while there's nothing quite as comforting as a big bowl of carbs, we've always wished there was a slightly lighter, leaner version to choose from as well.    
Hence the birth of this Thai-style creation – the No Noodle Pad Thai.  Made with spiralised zucchinis, carrots and radishes instead of noodles, we like to think of it as a 'vegie-fied' version of the classic favourite.  The addition of tofu (or eggs, should you prefer) only makes it all the more nutritious.  Plus, with sweet honey, tangy lime juice, spicy ginger and salty nut butter, it has all the gorgeous flavours you get in your usual pad thai – minus all the calories.  
The best part about our No Noodle Pad Thai is that it literally takes 10 minutes to make.  We love whipping it up as a quick, nutritious lunch or last minute side dish.  This recipe may be dairy-free, sugar-free and vegetarian but it is absolutely bursting with flavor.  It's definitely a go-to! 
Oh and if you like this one, you'll find heeeeeaps more lean, healthy, delicious, quick and easy recipes in our cookbook, THE GOOD LIFE, which you can pick up now from our online store right here.