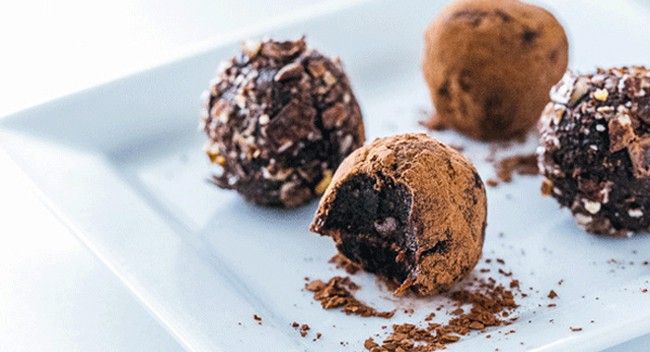 With Easter around the corner, we thought we'd share some delicious, yet healthy chocolate recipes. OK – who am I kidding? Anytime is a good time for chocolate, Easter or no Easter!
So although we don't mind ourselves a few Easter eggs, what's waaaaaaay better (and less processed without a tonne of additives) are some of these – my favourite chocolate treats – perfect for when those cravings hit.
ROSEY ROCKY ROAD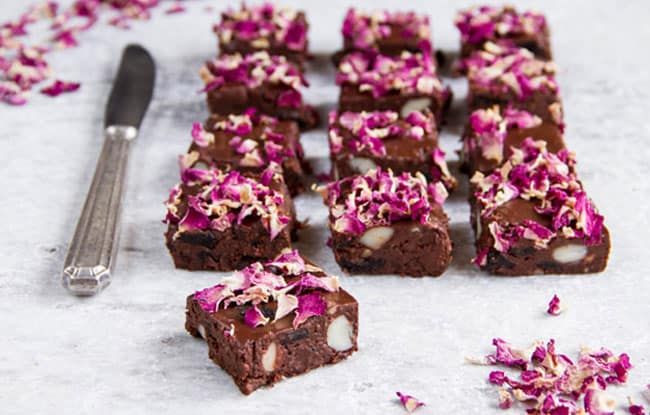 This has to be one of the best raw, vegan rocky roads I've ever tasted. Actually just make that one of the best rocky roads I've ever tasted. The fact that it's quite good for you is just a bonus. Trust me, once you've tried this you won't want to go back to any other rocky road. Plus it presents so beautifully, it is the perfect treat to whip out for any Easter entertaining you might be doing!
What you'll need:
What to do:
The Base:

1 cup of cacao butter (liquefied)
1 cup of 100% pure maple syrup
2 scraped vanilla beans (or you can use natural vanilla extract in place of the beans)
1 tablespoon of rose water
½ teaspoon of flaky sea salt
1 cup of cacao powder (sifted)

The Rocky Factor:

½ cup of walnuts, ground in food processor to a rough meal
½ cup of chopped macadamia nuts
1 cup of dried sour cherries

The Rose Factor:

Dried rose petals to sprinkle

First, make the base chocolate. Blend the first five ingredients of The Base together till smooth and creamy, then add the cacao powder and give a final blitz
Now, add the Rocky. Pour the base into a large mixing bowl, and stir in all the Rocky ingredients
Finally, make it pretty. Pour the mixture into an 8 inch pan, lined with baking paper. Sprinkle dried rose petals and happy wishes over the top to decorate, and let set in the freezer for an hour before serving.
SPICED RAW CHOCOLATE CLUSTERS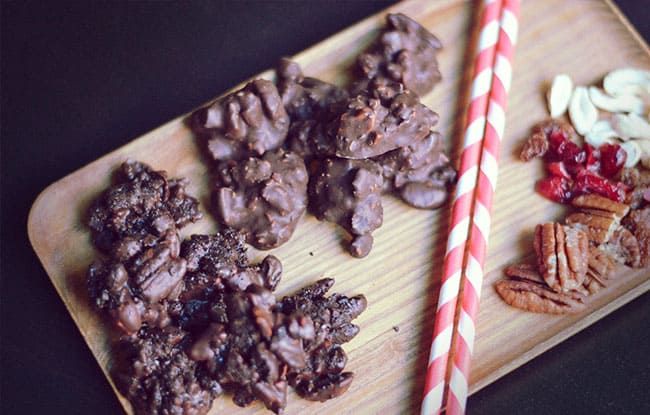 These are amazing! So much nutty, chocolatey goodness and you can make them as sweet or as strong as you like. I love having these ready to go in the freezer for those times when nothing but a cup of tea and a big hunk of chocolate will do.
What you'll need
What to do:

¾ cup cranberries (or dried fruit of your choice)
¾ cup cashews (I love also using macadamias)
¾ cup almonds (you can substitute with walnuts or pistachios – both taste great!)
4 ½ tbsp cacao powder
2 cups cacao butter
1 tsp cayenne pepper (if you want less spicy, replace with nutmeg & cinnamon)
Sea salt, to taste
Natural sweetener, to taste (optional)
Handful shredded coconut (optional)

Blend cacao powder, cacao butter, spices & salt until you get a smooth, chocolately mixture. Taste and if you want it sweeter add a natural sweetener of your choice. I like to sweeten mine a tad and tend to use rice malt syrup. I find 1-2 tbsp does the trick.
Transfer mixture to a bowl then mix in nuts & dried fruits until they're all covered.
Pour mixture into moulds or trays lined with baking paper making sure to distribute evenly. Top with a little shredded coconut.
Now place into the freezer for 30 minutes. Then take out, break into smaller pieces if necessary and enjoy!
SUGAR FREE CHOCOLATE PEANUT BUTTER CUPS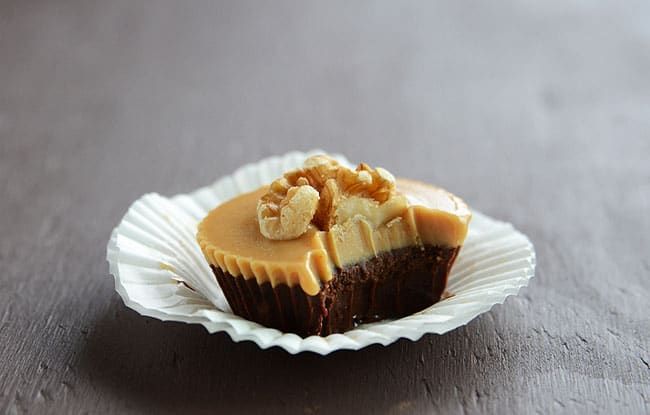 I am a major fan of Reese's Peanut Butter Cups so when I came across this sugar free version, I was ecstatic! They're the perfect anytime treat and choc full (pardon the pun) of nutritional ingredients.
What you'll need: 
What to do: 

Bottom Layer: 

2 Tbsp coconut oil, melted
1/4 cup smooth peanut butter
1 tsp pure vanilla extract
1/4 cup unsweetened cocoa powder
2 sachets stevia (you can substitute with another natural sweetener. Play around with quantities to achieve desired sweetness).

Top Layer:

2 Tbsp coconut oil, melted
1/4 cup natural smooth peanut butter
1/2 tsp pure vanilla extract
1 sachet stevia (you can substitute with another natural sweetener. Play around with quantities to achieve desired sweetness).

Line a mini muffin tray with 11 paper liners.
Stir all ingredients for the bottom layer together until smooth and divide between the wells (each should be about half full). Put the tray in the freezer on a flat surface and freeze until solid (about 15 minutes).
Meanwhile, stir all ingredients together for the top layer until smooth and divide on top of the set chocolate mixture. Return to the freezer and freeze until solid. Store the treats in the freezer.

*Recipe courtesy of Prevention RD
CHOCOLATE & BERRY SMOOTHIE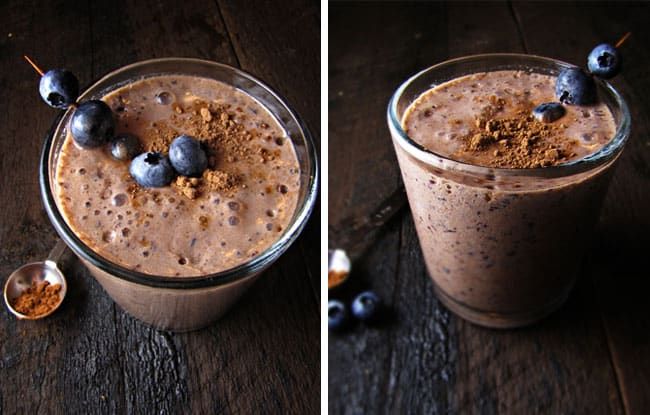 Ok – you know I love me a green smoothie, so when I can create an equally nourishing and delicious chocolate one, I'm basically in heaven. This is a good one for the kiddies as an after-school healthy treat.
What you'll need:
What to do:

2 bananas (preferably frozen for a better consistency)
3 cups almond milk (or you can also use coconut milk)
A big handful of strawberries, raspberries or whatever frozen berries you have on hand
 4-5 medjool dates
 4 tbsp raw cacao powder
A handful of greens (optional – I tend to sneak these in and Annabelle doesn't even notice)

Place all ingredients in blender and blend until smooth. Taste and add more cacao or sweetner if desired. Sit back and enjoy! This recipe makes enough for at least two glasses.
HOMEMADE NUTELLA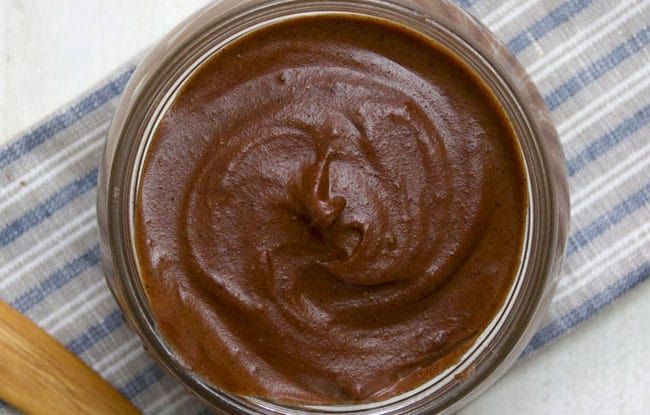 I never thought anything could surpass the original nutella but this stuff is so delicious, I could literally eat it by the spoonful. Plus no need for the guilt as it's full of nutritional goodness. Hazlenuts are packed with vitamins, minerals, protein, fibre and heart-healthy fats. Watch your kids (or your husband too, in my case) inhale this like it were the real thing.
What you'll need:
What to do:

2 cups hazlenuts
½ cup water
½ cup maple syrup
3 tbsp raw cacao powder (you can substitute with cocoa if you don't have cacao)

Bake hazlenuts in moderate oven for 10 mins and then take out to cool.
Once cool place them in a food processor and blend for about ten minutes, until they totally break down. Then add the maple syrup and cacao and blend again, before gradually pouring in the water – it's important that the first three are properly mixed before you add the water though as you may not need it all.

*Recipe courtesy of Deliciously Ella