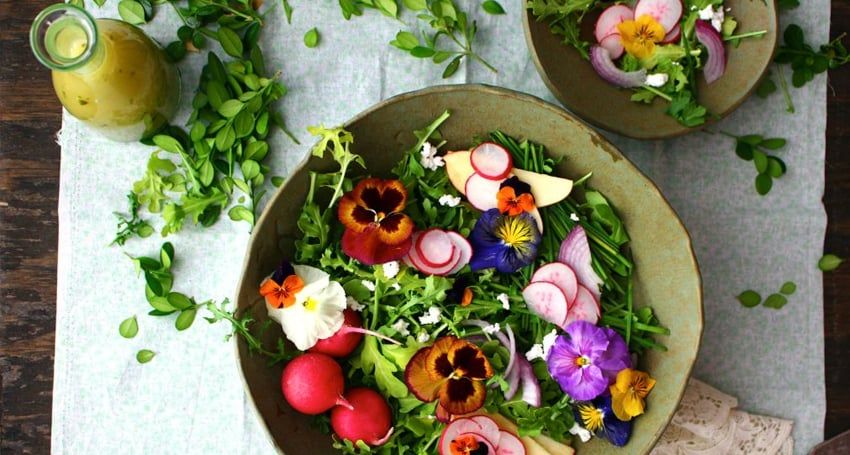 2015 was the year of kale, quinoa, cauliflower and… cronuts.  There's no doubt it was a delicious 12 months!  But according to the food forecast for 2016, there are some fab new food trends right around the corner… 
---
SAVOURY OATS
With more and more people looking for ways to cut out added sugar, it's no wonder the question has come up as to how to turn some favourite sweet foods, into savoury ones.  There's some pretty creative stuff out there but our favourite so far is definitely savoury oats.  Yep – we'll be eating ours with the likes of eggs, mushrooms and kale.  

Egg & Mushroom Savoury Oats
INGREDIENTS
75g (2/3 cup) spelt flakes

75g (2/3 cup) rolled oats

1 tablespoon coconut oil or grass-fed butter

3 fresh thyme sprigs

Pinch of salt

Toppings:

2 poached eggs

Sautéed mushrooms

Small handful chopped spinach or kale leaves

Chilli Flakes

Drizzle of extra virgin olive oil or truffled oil (optional)
METHOD
Boil the kettle with 250 ml (1 cup) of water or bring to a boil in a pan.

In a separate pan melt your coconut oil or butter over medium-high heat. Add the spelt and the oats and stir to coat. Reduce to a more medium heat and stir occasionally, making sure all the flakes are getting nice and toasty evenly. Toast for about 5 minutes, and once it's lovely and fragrant (I think it starts smelling like popcorn!) carefully add in your boiling water – and be careful, as it'll splutter!

Turn down the heat to low, until it's just barely a simmer, throw in the thyme sprigs and salt, give it a quick stir and cover. Leave undisturbed for at least 5 minutes. Once it's reached your desired consistency, take off the heat, remove the thyme sprigs, and place into bowls.

Add any and all of the list of toppings, and enjoy straight away.
---
SEAWEED
In 2016, seaweed is set to steal the spotlight from its land grown neighbour – kale.  Packed with antioxidants, fibre, iodine and good fats, it's no wonder this guy is set for the big time.  While we don't plan on getting ride of kale or spinach any time soon, we're excited to start creating more seaweed salads too!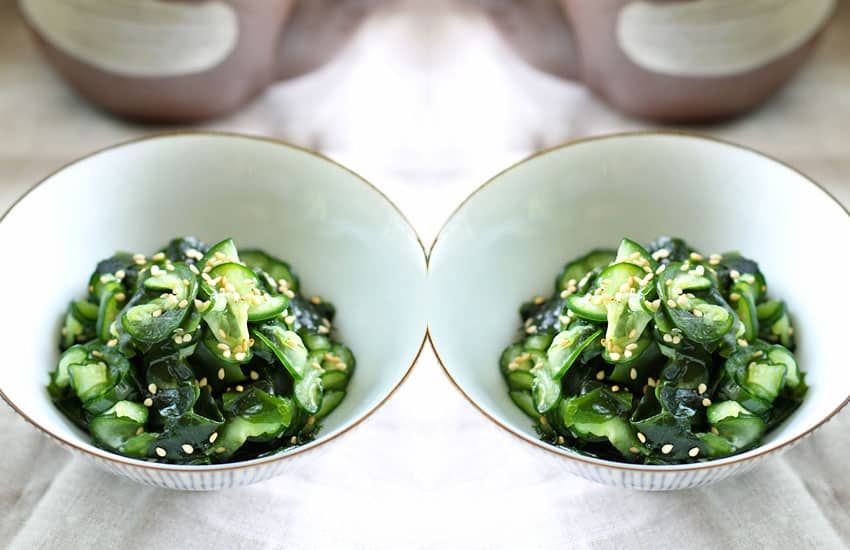 Seaweed and Cucumber Salad 
INGREDIENTS
2-3 baby cucumbers, sliced very thin

2-3 tablespoons dried wakame seaweed, rehydrated in 1-2 cups of water
Dressing:
1/4 cup rice vinegar

2 tablespoons sugar

1/8 teaspoon soy sauce

1-2 teaspoon lemon or lime juice (optional)
METHOD
Combine all dressing ingredients in a small bowl and mix well. Set aside.

Place the dried wakame seaweed in a medium size bowl and rehydrate in water according to package instructions. Once rehydrated, drain and set aside.

In another bowl, place the thinly sliced cucumber and generously sprinkle with salt. Set aside for 10 minutes. The salt will release the moisture from the cucumber. Rinse the cucumber in water to remove the salt. Using a cloth or a few paper towels, squeeze the water out of the cucumber.

Mix the cucumber and wakame together in a bowl.

Spoon a small amount of dressing over each serving (1-2 tablespoons should do it).
---
FLORAL FOODS
There are only so many different flavours you can get from the same old herbs and spices.  That's why this year, foodies all around the world will be throwing flowers into the mix.  Think lavender laced cakes and hibiscus flavoured chocolate – YUM.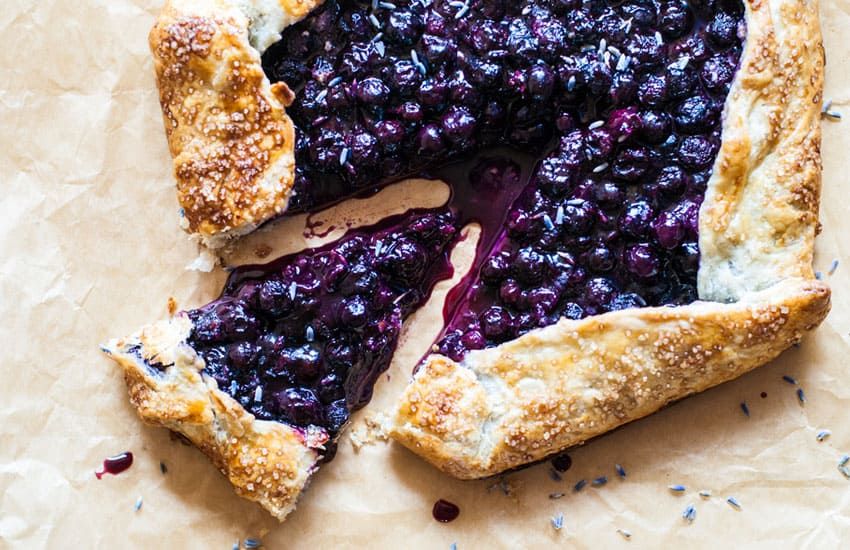 Lavender Blueberry Galette 
INGREDIENTS
Galette dough:
2½ cups flour

1 teaspoon salt

2 teaspoons sugar

½ cup (1 stick) frozen butter, cut in cubes

½ cup (1 stick) chilled butter, cut in cubes

½ cup ice water
Filling:
4 cups blueberries (frozen okay as long as you thaw)

Zest two lemons

¼ teaspoon salt

1 teaspoon vanilla extract

¾ cup sugar

¼ cup, plus 2 tablespoons all-purpose flour

1 tablespoon, plus 2 teaspoons dried lavender

Egg wash (1 egg 1 tablespoon milk)

Rapadura sugar
METHOD
To make the Galette: In a medium to large bowl, mix the flour, salt and sugar together. Use a pastry cutter or your food processor to cut in the butter. The mixture should resemble large crumbs.

Add the ice water and mix until the mixture is moist. Transfer the dough to plastic wrap and squeeze the dough until it combines to a ball. Flatten the ball to form a disc. Move to the refrigerator to chill for an hour.  Preheat the oven to 200 degrees C and line a baking tray with parchment paper.

In a large bowl, mix together the blueberries, lemon zest, salt, vanilla, sugar, flour, and lavender together. Set aside.

Divide the galette dough into two balls. Flatten and roll out into circles that are ¼ inch in thickness. Place one of the galette discs onto the baking sheet. Place half the blueberry mixture onto the disc, spreading out the blueberries out in an even layer, leaving a one-inch border along the dough.

Fold the border onto the blueberries, folding the dough onto itself as necessary. Place the second disc onto the baking sheet and add the blueberries and fold as before.

Brush the egg wash onto the folded over dough and sprinkle with rapadura sugar.  Bake for 25 – 30 minutes, or until the dough is a nice golden brown and the juices of the blueberries are bubbling.

Allow the galette to cool completely before serving. 
---
NOOCH
You can expect to see this cheesy new topping everywhere this year, especially as the whole vegan movement continues to grow.  Nooch is basically just a fun word for Nutritional Yeast, which is derived from either sugarcane or beet molasses.  Its delicious cheesy, nutty flavour makes it the perfect vegan parmesan substitute.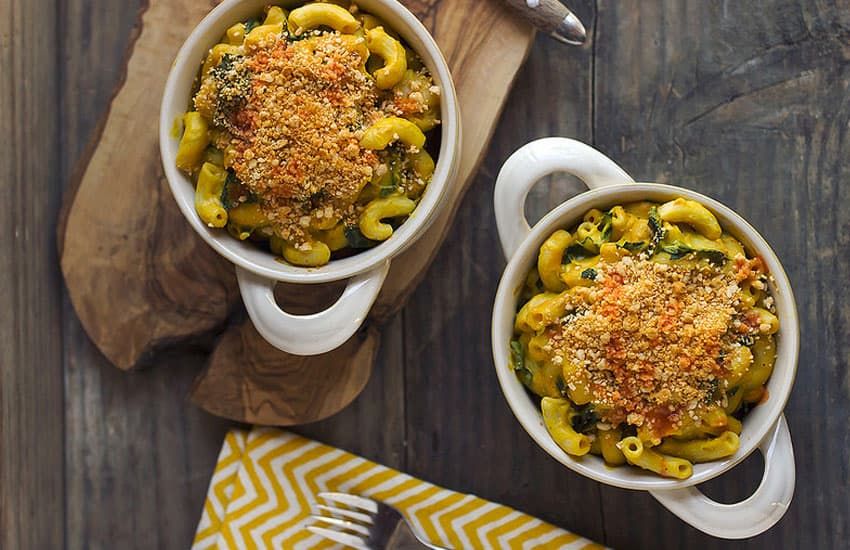 Spicy Butternut Pumpkin and Kale 'Cheesy' Mac
Serves 4-6
INGREDIENTS
1 small butternut pumpkin, peeled and diced and roasted

2 tablespoons olive oil, divided

340g brown rice pasta

1 bunch kale, stems removed, roughly torn

1 small onion, diced

1 clove garlic, minced

1 cup unsweetened coconut milk or other non-dairy milk, you may need a bit more when blending

2 tablespoons arrowroot starch (tapioca or corn starch will also work)

1/4 cup nutritional yeast

1 teaspoon dry mustard

1 teaspoon sea salt (or more, to taste)

1/2 teaspoon ground turmeric

pinch or two cayenne pepper, to taste

2 teaspoons sriracha or other hot sauce (more, to taste)

1 tablespoon lemon juice
Spicy Crisp Topping:
1/4 cup gluten-free breadcrumbs

2 teaspoons sriracha or other hot sauce
METHOD
Prepare your pasta to package directions. While cooking, roughly tear the kale into bite-sized pieces and place into the colander where you will drain the pasta. Pour the pasta and water over the kale in the colander, allow to drain. Meanwhile, start the sauce.

In a large pot, heat the remaining 1 tablespoon of olive oil over a high heat. Add the onions and garlic, saute for 3-5 minutes, until tender. Add the milk and bring to a low boil, then sprinkle the arrowroot starch over top. Whisk rigorously to combine with the milk, until there are no lumps. 

Reduce the heat to a low-medium and add the nutritional yeast, dry mustard, sea salt, ground turmeric and cayenne (if using). Whisk to combine. Once combined and thickened, turn off the heat.

Add 2 cups of the cooked pumpkin to a high speed blender.  Add the thickened coconut milk mixture, sriracha and lemon juice. Blend on high until smooth and creamy.

Add the pasta and kale back to the large pot where you started the sauce, pour the sauce over top the pasta. 

Toss the breadcrumbs with the hot sauce, until well coated. Divide the cheesy mac into individual oven-safe dishes, sprinkle the breadcrumbs on top and place the dishes on a baking sheet into the oven for about 10 minutes, or until the breadcrumbs are lightly browned and crisp. Drizzle a little more sriracha sauce over top, if you'd like. Serve and enjoy!