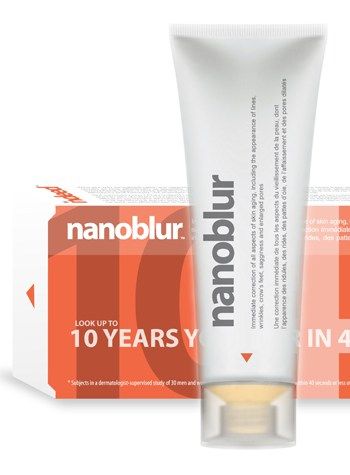 This ground-breaking skin corrector has a cult following in the UK where one is sold every 9 seconds.
When I heard that, I paid immediate attention. Every 9 seconds? That's crazy! Well, that may be so, but it's also totally understandable.
Nanoblur was originally intended for on-camera presenters and actors to "blur" out imperfections that are visible with HD camera technology.
This skin correcting solution combines millions of micro-prisms and works instantly to smooth out fine lines, wrinkles, enlarged pores and uneven skin tone within seconds, without any tint at all. Why is that so important? Well – it means that you can apply it on top of liquid makeup or underneath your powder makeup. It can fit into your skincare routine, by blending with your daily moisturiser. You can also use it on your neck, hands or anywhere that you want to blur fine lines. And the best part is that it lasts all day until it's washed off. Sign me up!
Nanoblur, $29.99,  is available from Priceline or pharmacies.