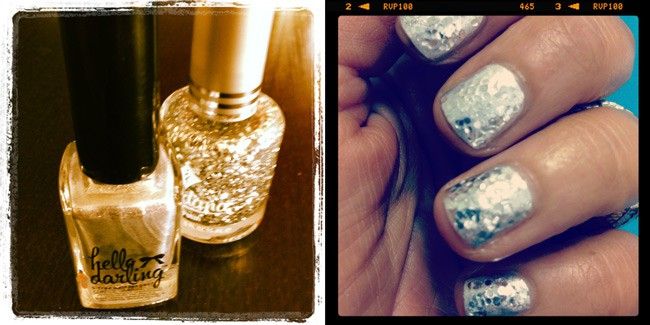 Ok, so we all know I love sequins and sparkles. And try as I might, age has not diminished my love for either, so when I saw the new sparkly nail trend I was hooked. 
I finally got around to trying it this week and here are the results.
I put two coats of Hello Darling's 'Gorgeous' on first – this is an amazing shimmery silver colour (even if sparkles aren't your thing then you must try this colour – it's the perfect way to get the metallic nail trend without going overboard like I have!). Then, I put one coat of Silver Jewel by Jordana (this was a cheapie $5 bottle I picked up from one of those bargain makeup stores).
The result? Well, I love it! It's a bit full on if you usually wear pale pinks but truthfully I think it's a nice change. It's fun, festive and it shines in the dark.
Warning: It's not exactly a corporate look, so this is one for holidays.